Homemade sweet treats are the remedy and reward for any situation your might find yourself in. But due to the dearth of space for the various necessary pots, pans, utensils and a large enough fridge to stock ingredients, cooking in your dorm can easily turn into a nightmare.
That's why we've scoured the Internet for some of the best dessert recipes that you can easily prepare in your dorm kitchen so long as you're armed with a mug, utensils and a microwave. Guaranteed to make a delicious serving for one (or two, if you're feeling really generous), these recipes can fulfill your sugary needs without making you feel like you need to run a few hundred miles to compensate.
Nutella Mug Cake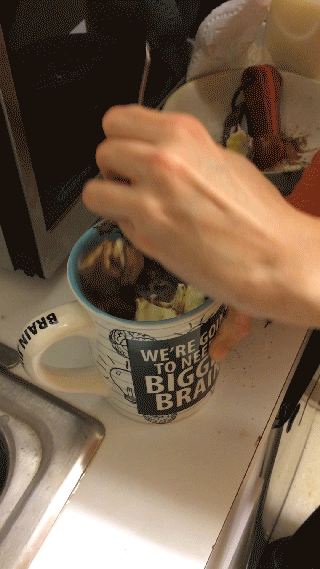 There's no denying that Nutella is good enough to eat straight out of the jar, but if you want to take everyone's favorite spread to the next level, this mug cake is the simplest way to do it. Here's what you'll need:
4 tablespoons flour
4 tablespoons sugar
3 tablespoons cocoa powder
3 tablespoons milk
3 tablespoons olive or vegetable oil
1 egg
1. Simply crack the egg into a mug, add in all the other ingredients and whisk with a fork until the mixture is smooth.
2. Stick the mug in the microwave for 1 1/2 to 3 minutes, depending on wattage. To be safe, go with the shorter amount of time and adjust as needed.
3. Grab a fork and dig in.
Also, be warned: a large mug is definitely recommended for this recipe to avoid a cake explosion (although the authors can confirm that the dessert will taste incredible whether in a mug or on the walls of a microwave).
Peanut Butter Mug Cookie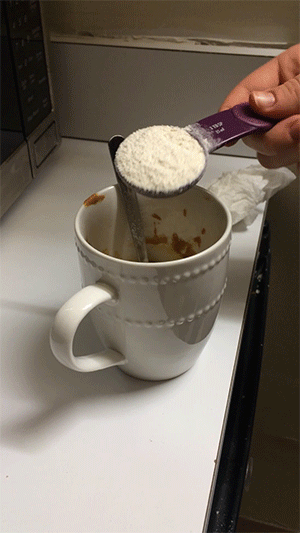 If you're craving something a little crispier, this cookie is sure to hit the spot and is just as easy. Gather the following ingredients:
3 tablespoons flour
2 tablespoons sugar
1 tablespoon butter
1 tablespoon peanut butter
1 egg yolk
2-3 drops of vanilla extract
A pinch of salt

1. Soften up the butter and peanut butter in the microwave for 30 seconds.
2. You know the drill. Combine all the other ingredients and stir. Be sure not to add the egg white, or else your cookie will have a cake-like consistency.
3. Microwave the mixture for about 45 seconds. Again, this time may vary slightly depending on your specific appliance.
4. Enjoy the deliciousness. Not a peanut butter fan? Feel free to use almond butter, sunflower seed butter or cookie butter - whatever your hungry heart desires. You can also throw in some crushed nuts or chocolate chips for good measure.
Mug Cheesecake
You may be cooking with a microwave, but that doesn't mean you're limited to the mundane. Make this cheesecake for a less conventional but equally tasty treat. All you'll need is:
4 tablespoons cream cheese
2 tablespoons plain Greek yogurt
2-4 tablespoons sugar
1/4 teaspoon vanilla extract
1 egg
1. Throw everything into a mug and mix.
2. Heat up the mug in the microwave for a total of 90 seconds, taking it out every 30 seconds to
3. Bon appétit! The next time you want something sweet, all it takes is 5 minutes, a mug and a microwave to satisfy your stomach. And the best part? There's only one dish to wash.