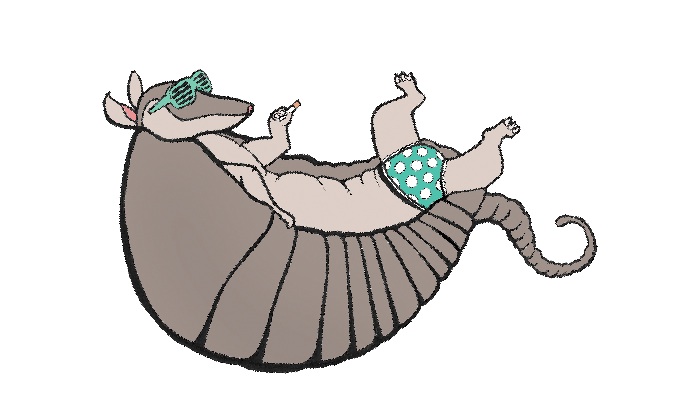 It's the greatest time of the year: Dillo season. The frat tanks have been ordered, the handles of tequila have been purchased and your Facebook is flooded with Mayfest's event invites. With a day full of debaucherous activities ahead, ranging from shotgunning PBRs in some rando's backyard to dirty grinding to Danny Brown, the only thing that might make the inevitable hangover tolerable is waking up in someone else's bed. Whether your happy ending is in a freshman's dorm room or an ex's parked car, we've got the rundown on the dream hookups you might experience on Dillo.
Early Morning: Shower Beer & Bang
Everyone loves to kick off Dillo Day with a good shower beer. Why not make it more exciting by inviting more than Mr. Corona to shower with you? Turning your ordinary shower beer into a shower beer-&-bang could turn out to be the most efficient activity of your day. Nothing's better than getting squeaky clean while doing the downright dirty. You're simultaneously getting ready, getting drunk and getting off. Consider this hookup a triple threat in all the right ways.
Lunchtime: Lunchtime Lovin'
After all the morning drinking, you'll probably be hungry for more than just a sandwich. Whether you're texting an old hookup buddy or meeting someone at one of the many pre-noon parties, you won't regret some lovemaking right around lunchtime. Beware though: If you don't want to spend the rest of your day with your hookup, make sure you have a plan of action to reconnect with your buddies. Set up a checkpoint location such as the Arch or Taco Bell to resume day drinking shenanigans with your besties.
Early Afternoon: It's Half Past 3(Some)
Dillo Day is a time vortex. After leaving your first pregame, it'll probably feel like 10 a.m.—until suddenly the day's half over. And sometimes you'll suddenly find yourself in between the sheets and in between that annoying kid from your poli sci discussion and the hottie from Hinman Sunday brunch. With the whole day at your disposal, why not take some time to try out something a little more risque?
Late Afternoon: Porta-Potty Party
Forget the free henna and photo booths that Mayfest offers on Dillo Day, and make your way to the Porta-Potties provided for everyone's urinary needs. These blue coitus containers are great for taking a break from the Lakefill festivities for some quickie action. With the tight space, you and your hookup will surely be getting hot and heavy while the scent of your two bodies colliding combines with the smell of your comrades' broken-seal pee. You'll emerge from the porta-potty with an effervescent blue glow and perfectly tousled sex hair.
Evening: Lakeside Field OTPHJ
It's the end of the night, and you're having a blast at the nighttime headliner. You start grinding with the cutie you were eyeing from across the Lakefill earlier that day and end up in a tangle of limbs and skin. You get the sense that someone's more than just a little excited after a protrusion forms under his waist. It's a classic over-the-pants handjob opportunity. After a little friction and tease, you decide to head back to your room to put Dillo Day to rest and start some smanging.