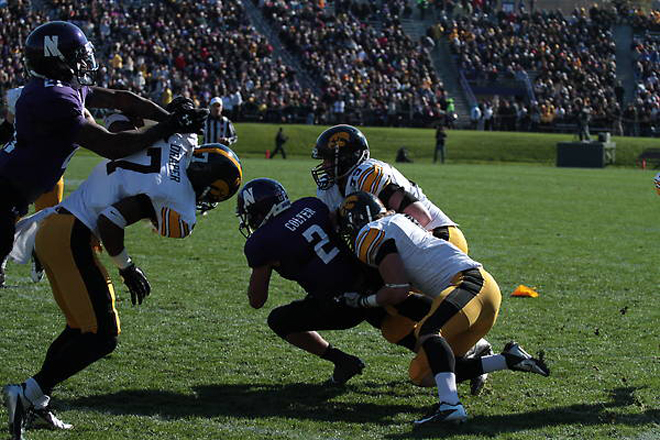 After the 'Cats played Ohio State, if you were a student here and said that Northwestern would end up struggling to secure a slot in a bowl game, you would have been strongly urged to transfer. During that Saturday night game, the 'Cats appeared as if they would be a lock for 10 wins. The offense looked superb, and they even put some pressure on OSU quarterback Braxton Miller.
For the 'Cats (4-3, 0-3) to be where they are now, after coming off an embarrassing 20-17 loss to Minnesota at home Saturday, is nothing short of a major letdown. Going into this year, the team and the Northwestern faithful had high hopes, with some even predicting that NU would come out as champions of the Big Ten.
That hope is merely a faint dream at this point. Against Minnesota, the Wildcats were held to less than 350 yards of offense and only had one or two drives in which they looked even remotely like the team that beat down Syracuse and fell just short against Ohio State. For the second straight week, junior quarterback Trevor Siemian was overthrowing and underthrowing receivers left and right, and aside from a few clutch fourth-down conversions at the tail end of the game, there was almost nothing positive to take away from his performance.
It's become quite apparent how much this team misses its senior quarterback, Kain Colter, who's been plagued by the injury bug all season long. Luckily for the 'Cats, he is expected to play this weekend. But who knows how much of a factor he'll be?
"He's one of the more dynamic players in this conference, and not to have that kind of weapon in our offense, you see the result the last two weeks, and it's been pretty darn close to puke," head coach Pat Fitzgerald said. "It'll be great to have him back because he's a special player."
The 'Cats now have to rebound from their third straight loss on the road at Iowa this Saturday. While there isn't such a thing as a "must-win game" according to Coach Fitz, he is aware of the state of the program going into Saturday's contest.
"There's a great sense of urgency right now with us obviously not being in the win column yet in Big Ten play, and that's incredibly disappointing. But at the same time, you can use that frustration as fuel, and I think that's what the guys are doing."
Scouting the Iowa offense
On the offensive side of the ball, Iowa's big threat comes from junior running back Mark Weisman, who's currently third in the Big Ten with 676 yards on the ground. He's also no stranger to busting out for a big game every now and then. He exploded for 180 yards and two TDs against Missouri State and gashed the Minnesota defense for 147 yards.
Against Ohio State, Weisman wasn't much of a factor, but quarterback Jake Rudock stepped up big time. He threw for 245 yards and three touchdowns, which kept the Hawkeyes in the game until the fourth quarter.
Overall, the Hawkeyes' offense is not up to par with the rest of the Big Ten, as they are averaging just more than 400 yards per game, which puts them at ninth out of the 12 teams. However, watching them put up 24 points through three quarters at Ohio State last weekend might have shown the rest of the conference that Iowa is starting to pick it up on the offensive side of the ball.
Scouting the Iowa defense
Iowa's defense is the hallmark of the team. It's given up a mere 319 yards a game in the Big Ten, good for third-best in the conference, and has allowed 14 points or fewer in three games thus far. The linebackers in particular have attracted the attention of Fitzgerald, a former linebacker himself, who said that Iowa has "probably the best linebacking corps in the league from a three-man group.
"I mean, there's great linebackers in this league, but these three understand the defense inside and out."
The corps he's referring to is led by senior Anthony Hitchens, who's averaging 10 tackles a game, good for second-best in the conference.
Their secondary isn't something that the 'Cats should hope to exploit, either. The Hawkeyes are fourth in the Big Ten with nine interceptions, and the unit as a whole is giving up just more than 204 through the air per game.
"The secondary is very opportunistic," Fitz said. "They do a great job keeping the ball inside of the front."
Outlook
So, what will it take for the 'Cats to pull off this upset? Well, if Colter isn't close to 100 percent, then Siemian will have to live up to his image as the pro-style quarterback in the dual-QB system. Fitzgerald expects his quarterback to bounce back and forget about the past two weeks.
"I remember growing up as a kid watching Michael Jordan play, and when he missed shots, he just kept shooting. He didn't stop shooting," Fitz said. "I expect Trevor to keep playing and keep gripping it and ripping it. That's his strength, and sometimes when things don't go your way, you don't sit there and panic, you don't pout about it. You just keep doing what you do."
Another thing the 'Cats must do is establish the running game, which has almost been nonexistent as of late. In their four wins, they were averaging nearly 250 yards on the ground, but that number has plummeted to 77 over the past three games.
Who knew that Northwestern's biggest concern would be its offense? That's certainly been the case thus far, and the players and coaching staff must make adjustments on that side of the ball for the team to have a fighting chance against the Hawkeyes.