Introduction from North by Northwestern on Vimeo.
If the scariest part of Halloween for you is finding a costume, the spookiest horror movie the one in which you wake up with an empty closet, and the creepiest ghost story is where you're haunted of regrets because of a lame get-up on October 31st, just know that you're not alone. When I came to college, I was unaware that this holiday takes the orange-and-black cobweb-covered cake for being college's biggest bash – how was I supposed to know that I wouldn't need just one kick-ass costume, but at least three?
If you're anything like me, you don't have the time or money to leave campus more than once for the sake of a couple of dark basement parties and endless Instagram photos. What you need is a costume that you already have, right there in your dorm room closet – and it's not as hard as you might think.
1) For best friends… Angel and Devil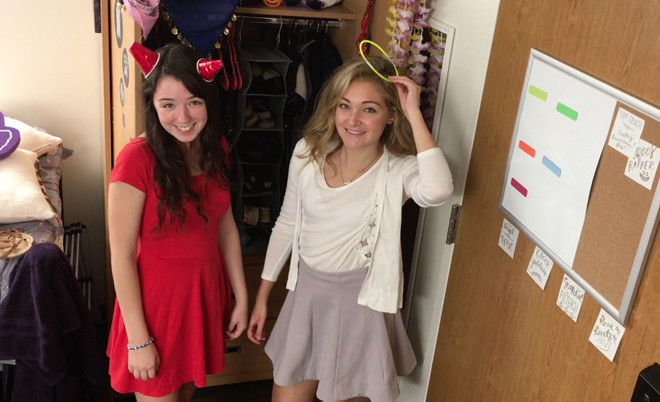 What you need:
All-white and all-red outfits
Red headband with devil horns, white headband with halo
Angel_Devil from North by Northwestern on Vimeo.
If you and your roomie are planning on going out together, look no further than this classic pairing. For the more devilish of the pair, pick some red clothing of any shade (or black, if you're desperate) and a horned headband to make the look devilishly simple. As for your heavenly sidekick? They say you're not supposed to wear white after Labor Day, but we'll give you a pass since this holiday is arguably the most important day in college. Top it off with a halo and wings and everyone will be able to tell you were sent from heaven above.
2) For the toga-party fans… Greek God/Goddess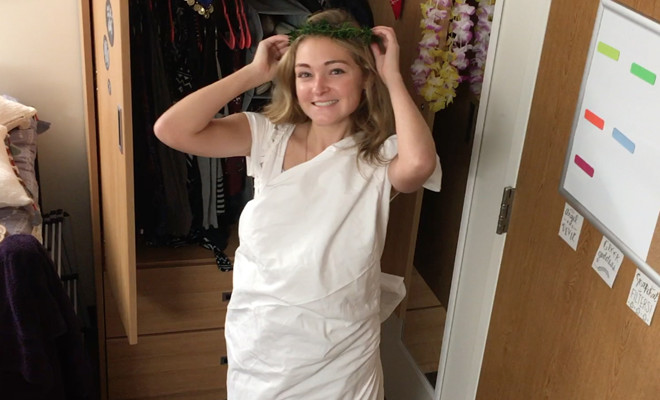 What you need:
White sheet
Faux vine crown
GreekGoddess from North by Northwestern on Vimeo.
We know you've used this look before for the last toga party (if you've ever had one)… so it's not like you only use your white sheets for sleeping. Update the look a bit by adding some greenery in your hair. In a pinch, plants from the real outdoors wound around a metal notebook spiral will suffice.
3) For an update on your cliche cat ears… Snapchat Filter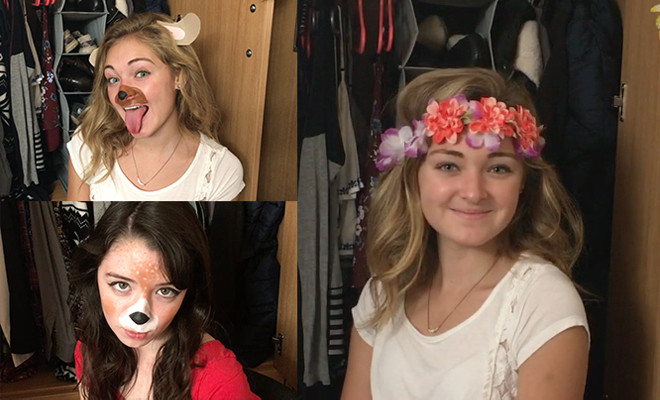 What you need:
Headband with dog ears OR
Flower crown OR
Deer/fawn makeup
Filters from North by Northwestern on Vimeo.
With such iconic looks, no one will be asking what you are at the party, but they will be asking to take pictures with you. The most recognizable look will be the dog filter, created purely from makeup and soft ears. If you have the time and ability to get a little crafty, the flower crown filter might turn out well, too. Finally, if you're a makeup guru, everyone will be fawn'd of your twist on the cute lil' deer filter. Snap away.
4) For any Halloween feminists… Rosie the Riveter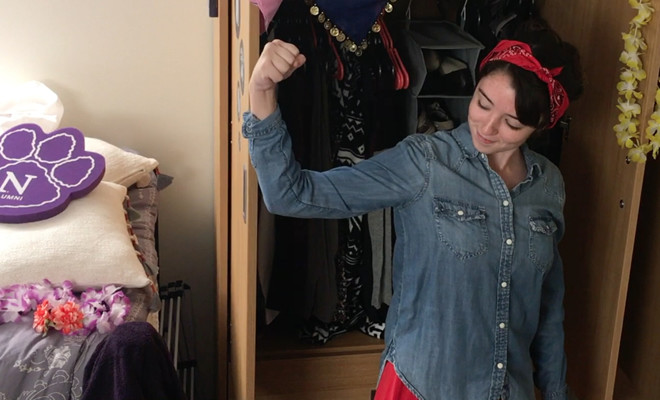 What you need:
Denim button-up
Classic red bandana
Red lipstick
Decent biceps
RosieRiveter from North by Northwestern on Vimeo.
What was once just a humble poster is now your cutest costume idea yet, especially if you have the brown hair for it. Anytime you're asked what to dress up as, don't answer: just pop into the pose and you'll leave them speechless. You can do it!
With such clever costumes, there's no way anyone will know you threw your look together at the last minute! Ditch your cliche cat-ears-and-crop-top ensemble and trade it for one – or more – of these quick yet effective ideas. There's no need to run down into Evanston or order something from Yandy for the upcoming Halloweekend. Everything you need is already in your closet. With all the money you saved, you'll be able to spend more on the seasonal essentials, like... candy!