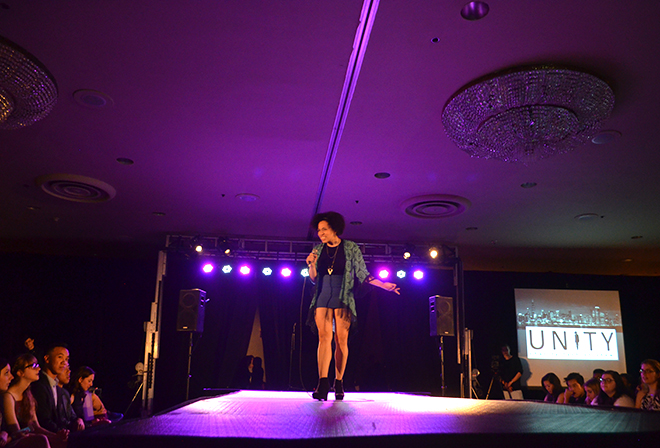 Stormy weather didn't stop hundreds of people from making their way to Sunday's eighth annual UNITY Charity Fashion Show at the Hilton Orrington in downtown Evanston. The show featured Northwestern student models and performers who strutted, strolled and gyrated around stage with tons of enthusiasm.

The collections modeled included pieces donated from Tommy Bahama, Gap, Gigi Bottega and many others. One of the night's models, McCormick senior Aalap Herur-Raman, was very impressed with how UNITY ran the show and said he had a great experience on the runway.

"Being on stage was amazing and just feeling the crowd, and everything was pretty smooth backstage," Herur-Raman said. "A lot of stuff came together last minute, but it went really well."

The show featured performances from rapper Prez Harris, violinist Jun Sung Ahn and dance group Afterparty. Prez Harris said he was really psyched to perform at the show and it might have been the first step in fulfilling one of his dreams of performing at the Victoria's Secret Fashion Show "just like Kanye."

The night's proceeds went to supporting NoStigmas, a Chicago-based non-profit focused on raising awareness for suicide and mental health issues. Jacob Moore, the U.S. founder of the non-profit, detailed his personal history struggling with mental health as he spoke to the crowd during an intermission between collections.

Communication junior Gabrielle Enrique, a member of UNITY's public relations team, says she's been really pleased with their work with NoStigmas and believes that the charity is a great partner for them to continue with in the future.
"I think that it's a cause that's really near and dear to a college campus, just because it deals with like mental and emotional health awareness," Enrique said.
Check out more photos from the event here.