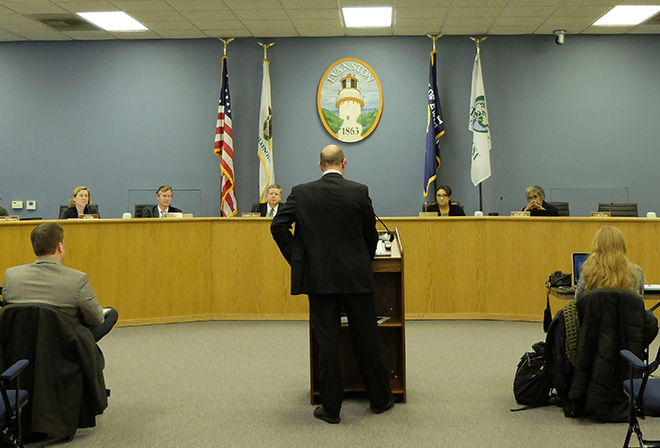 Animated voices of children filled the City Council Chambers on Monday night as Evanston City Council kicked off its meeting with the Paint Evanston Plow Awards.
Mayor Elizabeth Tisdahl presented plaques to the winners of the annual contest in which eight schools competed to best depict this year's theme, "Imagine… Fountain Square," through murals on city snowplows.
The awards for the three categories – Best Theme, Evanstonian Choice, and Mayor's Choice – went to St. Athanasius School and Haven Middle School, St. Athanasius School, and Dawes Elementary School and Chute Middle School, respectively.
As the parents filtered out of the Chambers with their children, the meeting continued with discussions regarding Entrepreneurship Week, Evanston's soon-to-be spotlight in social media and snow awareness.
Divvy bike-sharing rolling into Evanston
Evanston City Council approved a motion to expand Divvy, Chicago's bicycle-sharing system with 3,000 bikes and 300 stations across the city, into Evanston.
The State of Illinois Department of Transportation is investing $3 million to add 700 new bikes and 70 docking stations in Evanston, Oak Park and Chicago neighborhoods. Of these, Evanston would receive 80 bikes and eight docking stations.
According to official documents, in order to make this Divvy expansion possible, Evanston must come up with $80,000 to match the funding provided by the state.
Sustainable Programs Coordinator Catherine Hurley said that five tiers of sponsorships — sustaining sponsors, capital sponsors, adopt-a-station sponsors, community sponsors, and friends of Divvy sponsors — can help cover this expense.
"Capital sponsorships are one of the more popular tiers which most communities [with bike sharing programs] have," Hurley said of the second-tier sponsorship in which the sponsor would work with the City to help install and determine a bike share station's location. "Sponsorships can support capital costs, offset operating expenses and promote bike education and safety."
Hurley said that a van will be going between the eight stations, making sure the distribution of the bikes between them is relatively even.
"Personally, I am extremely disappointed with the way that the product was developed and the cost," Alderman Donald Wilson (4th Ward) said. "The van part of it defeats the environmental component of bike sharing."
An annual membership to participate in the program is $75, with every use lasting a maximum of 30 minutes before increasing overtime fees kick in.
"The concept is that you go on short trips from station to station," Alderman Ann Rainey (8th Ward) said. "I think that we ended up getting this is just great."
Once the City Manager negotiates an agreement on the program with the City of Chicago, it will take about five months for the Divvy equipment to arrive in Evanston.
Evanston Entrepreneurship Week and WildHacks this week
Economic Development Coordinator Paul Zalmezak announced the celebration of the first Evanston Entrepreneurship Week, part of the larger Global Entrepreneurship Week, which is happening in over 150 countries from Nov. 17 to 23.
Three marquee events are happening this week out of a dozen planned, Zalmezak said. The first one, the Evanston Edge Startup Showcase, is on Tuesday night from 5 to 8 p.m. and will hosted by Rotary International at 1560 Sherman Ave. The showcase will consist of five companies, all Evanston-based, who have a total of 15 minutes each to pitch their businesses and answer questions from a panel and the audience.
On Wednesday, the local culinary center, Now We're Cookin', will sponsor an inaugural, "long-awaited" Women's Entrepreneurship event, Zalmezak said.
Zalmezak said that because one of Evanston's newest types of entrepreneurship is brewing and distilling, on Thursday, the Evanston Chamber of Commerce is sponsoring a brewery tour in downtown Evanston.
As part of this week, Northwestern is hosting WildHacks from Nov. 22-23. WildHacks is an intercollegiate computer hacking contest where colleges compete to create web and computer projects for a cash prize. The university will host more than 400 hackers from around the region to spend 24 hours hacking in Norris University Center.
Mini Abe visits Evanston
Mini Abe, the icon of the Illinois Office of Tourism, which has the largest tourism budget in the United States, is coming to visit Evanston next week as part of the program's partnership with the Big Ten Conference.
Starting on Nov. 22, prior to the Nov. 29 "Land of Lincoln" Big Ten Football game between Northwestern and the University of Illinois, an Abraham Lincoln doll will make appearances at all of Evanston's business districts.
"The state [of Illinois] has a really large social media following," said Gina Speckman, executive director of Chicago's North Shore Convention and Visitors Bureau. "Hundreds of thousands, even millions, of people have seen the MiniAbe commercials on YouTube. The week of November 22, they are going to be showing, and retweeting, and posting – on Facebook and Instagram – everything in Evanston, because that's where Mini Abe is going to be."
On game day, Mini Abe will split his time between strolling on Central St., tailgating and attending the Downtown Evanston Tree Lighting Event, where he will be available for photos.
"The fact that the state and this whole MiniAbe movement is going to be shooting out pictures of Evanston is going to be great for all of us," Speckman said. "This opportunity has been given to us on behalf of the state, so it's a great way to expose Evanston to tons of people throughout the country, the world."
City promotes Snow Awareness Week 2014
In response to the record-breaking snowfall last winter, the City Manager's Office and Public Works are promoting a Snow Awareness campaign from Nov. 17-21 to inform Evanston residents of their upcoming winter-weather responsibilities.
Throughout the week, the Citizen Engagement team will post interactive Snow Awareness content on City Facebook, Twitter and Instagram accounts.
The team has already sent out a mailer to every Evanston address that explainins snow removal options, as well as information on parking regulations and utilities.
In addition to the new feature that allows you to sign up for notifications when you search for snow-related information on the City website, the ICMA Local Government Management Fellow Cindy Plante said that residents now have 24/7 access to information about snow parking just by texting "SNOW" to 847-448-4311.
Plante said that the City is also recruiting volunteers for the Senior Shoveling Program, a program designed to link volunteers with those who are not able to shovel snow.