It's the summer after your high school senior year. Having only recently graduated (or rather, escaped) from high school (or rather, the clutches of hell), incoming college freshmen are bursting with the youthful vitality and elation that upperclassmen will probably describe as "oh so freshmen." Who better to share this excitement with than the other 2,000 freshmen who you're about to start the new adventure of college with? And what better way to do it by posting "relatable" posts in the Facebook group?
These are the humble origins of some of the Facebook celebrities in each class at Northwestern.
Class of '20
In the freshman class' Facebook group, one of the celebs is none other than Weinberg freshman Mohammed Ramzan. His reputation in the 2020 class can be pretty well summarized by a description from his fellow freshman Jake Holland: "meme god." Ramzan's rise to fame stemmed from his "occasional dumb s**tposting and mindless memeing (with a side of terrible puns)," Ramzan said. On a side note, Ramzan is also the only freshman that is Facebook friends with the legendary memer Josh McKenzie, Director for the First Year Experience.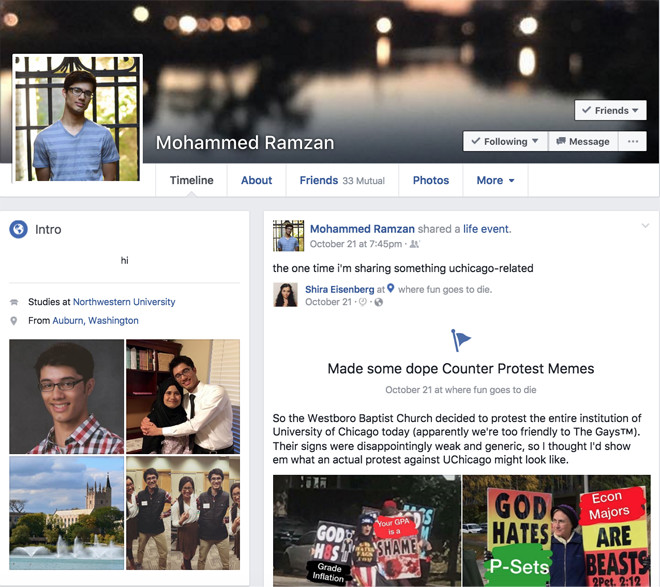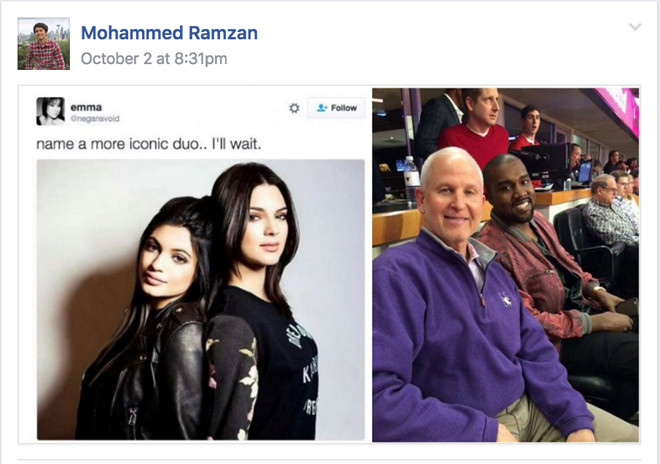 Class '19
Weinberg sophomore Jette Axelrod found her fame by posting or commenting on the same struggles that every freshman has to endure - forms to fill out (AlcoholEdu, housing selections, health insurance, tuition bills - so much fun!), placement exams, pre-orientation hassles and more.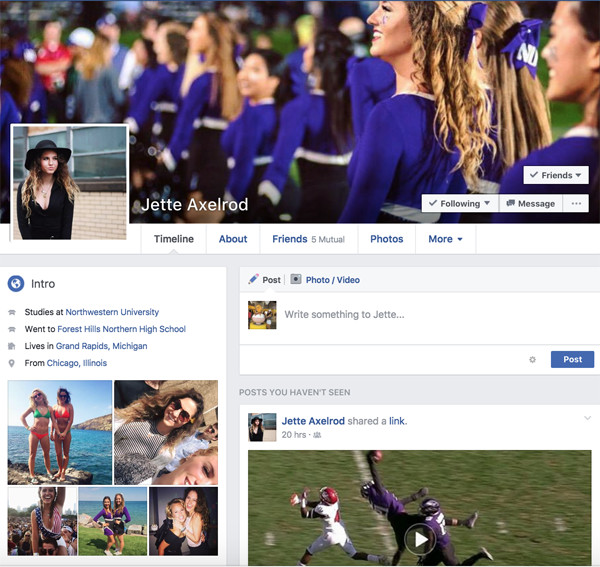 Class '18
One of the junior celebs, RTVF major Chelsea Jacobson said, "[Being a Facebook celeb] was funny at first, then became a little embarrassing, and now is just really funny to me because I posted a lot and embarrassed myself so much."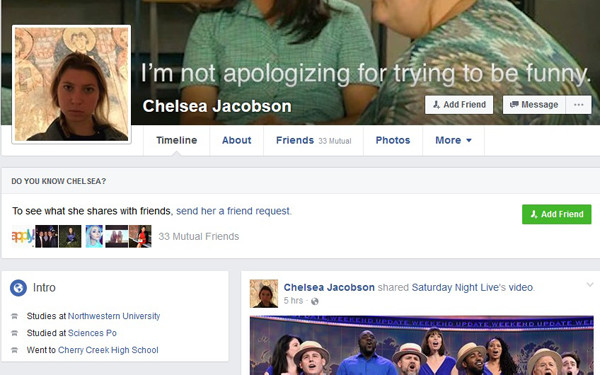 Class '17
After staying at Northwestern for a good three years, the Facebook fame that's all the rage for freshmen is probably only a blurred memory to most of the class of 2017. Still, Weinberg senior Jacob Jones, the Facebook celeb of his class, said most seniors "still remember the madness."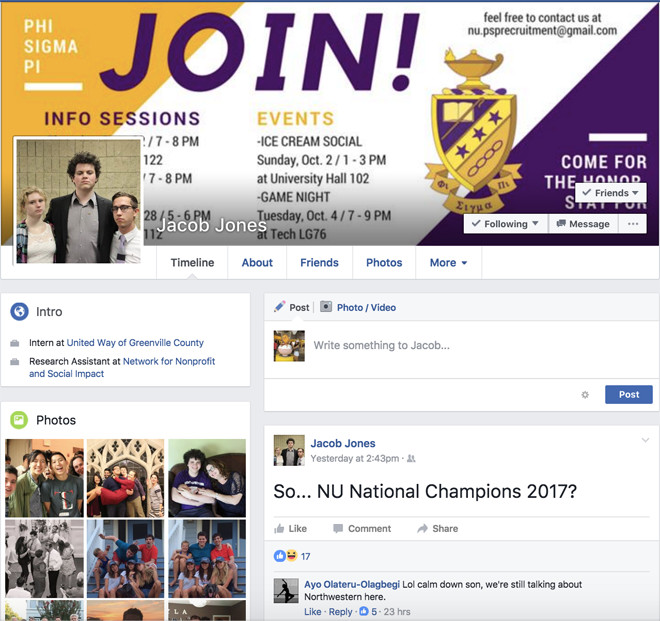 He established a reputation in his class' Facebook group by being the answer to all problems.
"A decent amount [of posts] was me answering questions other people had," Jones said. "I took it upon myself to learn everything I could online, so I had a fair amount of answers to the point where a few people said they thought I was a PA."
On their reasons for posting…
Becoming a celebrity overnight for posting memes is probably going to be somewhat surprising.
"Honestly, I didn't even think much of it," Ramzan said. "I post the randomest [stuff] on the page, and sometimes I used to think to myself, 'Darn, what a great way to get people to know how...weird I am.'"
On the first recognition of fame…
It's definitely strange when you realize that the majority of the new student population knows you through your posts on the Facebook group. The celebs realized their fame at different times throughout the year.
Ramzan said his first recognition of fame came before school even started when someone at a local send-off event recognized him as "Mohammed from Facebook," and later on, "Mohammed the Meme."
Jones realized his fame at one of the biggest events of Wildcat Welcome.
"I didn't really realize that I was a 'celebrity' until I was at our Millennium Park event," Jones said. "Suddenly there were people taking selfies with me throughout the day [and] Wildcat Welcome."
For Axelrod, her experience was more low key than the first two.
"People say they've heard my name somehow," Axelrod said. "And then [they] realize it's because of Facebook, but I have literally zero recollection of being super relevant on there."
On being approached by strangers…
It's awkward when you forget someone's name. But it's even worse when you have absolutely no recollection of the person. This was an experience that the celebs had to go through a lot, and inevitably, it gets weird.
"A few people snuck pictures as if they were some sort of paparazzi, one person would yell my name as they rode by on their bike, but they went so fast I couldn't tell who it was," Jones said. "The one thing that I had to get used to was essentially forcing people to introduce themselves. I'd have to ask them their name because they already knew mine."
However, it's still pretty cool when you have people coming up to you and introducing themselves to you out of nowhere. Yay for socializing (but without the effort)!
"It's cool to be known and all, especially because it's a cool conversation starter, and it's super easy to make 'NU' friends," Ramzan said. "This fame or whatever kinda expedites the initial 'gettin to know ya' stage of friendships."
Thoughts on being a celebrity…
Being a celebrity isn't necessarily easy.
"I have mixed opinions, to be honest." Ramzan said. "But I feel that internet persona and meme status has come to semi-define me, which I don't like the concept of. PSA, I am more than a meme, y'all!"
The fading stardom, for Jones, wasn't a problem in regard to his social life.
"I guess the decline in the attention paid to the saga of Jacob Jones affected my 'popularity' in the sense that I don't get as many random strangers talking to me," Jones said. "Just less selfies and meetings where people already knew me."
Ultimately, these Facebook "celebs" are human, too. The urge to rush up to these celebs may be irresistible, but don't forget that, at the end of the day, they are also students. If you see Morty, however, that's a different story.