Making fancy drinks can be a lot of fun, but it's good to give your bank account a break from trying to spice up your liqueur. Fall has arrived, and as it finally starts to get cooler, it is the perfect time to celebrate the season (and finishing up your midterms) with some autumn-inspired cocktails. By now, we have all spent our paycheck on comfort food (like that family-sized tube of cookie dough hanging out in my freezer) to get us through the endless hours of studying, so here are some college twists on fall flavors that will bring the great tastes but leave you with some money in the bank.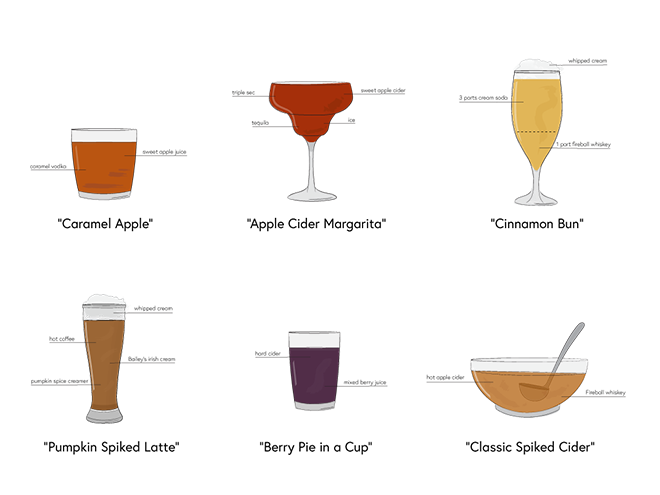 Caramel Apple: Pair a few shots of caramel vodka with sweet apple juice and it will be a crowd pleaser for sure.
Cinnamon Bun: Mix one part fireball whiskey with three parts cream soda. Put a plop of whipped cream and a sprinkle of cinnamon on the top for a perfect finish.
Pumpkin Spiked Latte: Starbucks isn't the only one bringing this high demand drink to your table. Grab some hot coffee, Bailey's Irish cream, a ton of pumpkin spice creamer (or just pumpkin spice itself) and top it all off with whipped cream. What could be better?
Apple Cider Margaritas: If you are a margarita person, never fear, there is an apple twist to the classic tequila drink. Mix tequila, triple sec, ice and some sweet apple cider. Coat the rim of the glass with cinnamon and sugar for a sweet aftertaste.
Classic Spiked Cider: Hot apple cider mixed with a few (or more) shots of fireball will definitely get you in the mood for fall. Extra points if you serve it out of a pot with a ladle.
Berry Pie in a Cup: Heat up some mixed berry juice and mix it with hard cider. This will taste like your favorite fall berry pies, but in a cup.
These drinks will be something sweet and special to switch up your usual wine and cheese nights and put a fall twist on your hang outs. Take the usual festive fireball shot one step further.