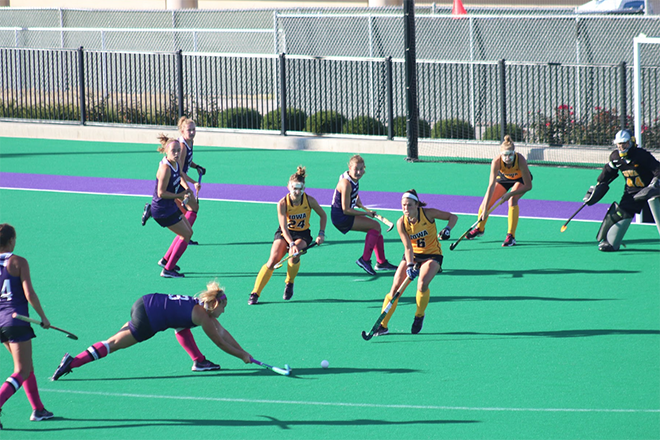 Field Hockey: 10-5 (4-2 B1G)
Before this past week, Northwestern field hockey hadn't lost a game since an overtime heartbreaker to No. 4 Duke back on Sept. 4. Now, after dropping their third straight contest on Friday, a debilitating 2-1 defeat to No. 16 Iowa in OT, the Wildcats are scuffling and running out of time to turn things around.
Early in the first period of their match against Iowa (10-6, 2-4 B1G), the 'Cats were poised to bring their modest two-game winning streak to a close. In the 20th minute, Northwestern senior Isabel Flens struck a beautiful pass past three Hawkeye defenders to junior Elena Curley who found the back of the net to put the Wildcats on the board, one-nil. But Iowa wouldn't go down without a fight, tying things up at one in the 39th minute after a long range missile from Katie Birch just got past NU senior goalkeeper Lindsay von der Luft.
This one went back and forth for the remainder of regulation but would eventually head to overtime. It wouldn't take long, however, for the Hawkeyes to put the Wildcats away. Only 90 seconds into the extra period, Iowa's Sophie Sunderland struck a penalty corner past von der Luft and gave the 'Cats their fifth loss of the season.
With only four contests remaining, NU will host the No. 12 Michigan Wolverines this ucoming Friday and then will hit the road to face off against Central Michigan, Michigan State and Stanford looking to finish up 2016 on a high note.
Volleyball: 7-13 (0-8 B1G)
Northwestern volleyball continued to struggle immensely this week, dropping two more matches, both in straight sets, tallying their 12th and 13th losses of the season. NU hasn't won since Sept. 16 and hasn't captured a single set since the 21st. In other words, not good.
No. 18 Michigan had no trouble with the Wildcats, leading the 'Cats handily in every single statistical category – from points, to kills, to blocks and to digs. Michigan's MacKenzi Welsh had a day, dishing out 31 dimes and serving two aces. For the 'Cats, junior Symone Abbott led both teams with 15 kills, but simply put, from start to finish, NU stood no chance against the mighty Wolverines.
Next up for the Wildcats was No. 24 Illinois (13-6, 6-2 B1G) and this contest was no different than the last. The Fighting Illini had a dominating 54 points, along with a commanding 38 kills and 67 digs to Northwestern's 29, 24 and 59. After another across the board defeat, the Wildcats fell in this one by a decision of 11-25, 15-25, 22-25.
Northwestern will look to end their nine-game slide and tally their first Big Ten win of the campaign this Friday against No. 22 Purdue.