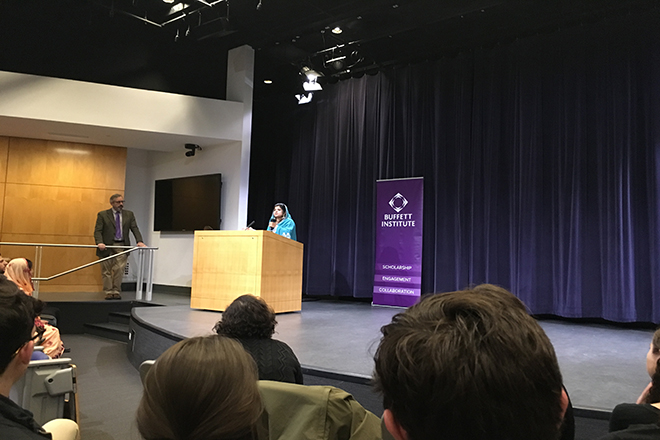 Khalida Brohi, founder of the Sughar Empowerment Society in Pakistan, received the inaugural Buffett Award for Emerging Global Leaders from the Buffett Institute this evening at a ceremony held at the McCormick Foundation Center. Northwestern undergraduates nominated and voted on the recipient of this year's award.
"All women need is the unleashing of the potential that is within them," Brohi said. "They don't need empowerment from outside, they need something from inside."
When Brohi was a teenager, her friend was murdered at the hands of her friend's father and uncle. Brohi said this event changed the course of her life, leading her on a path to educate women and end long-standing practices, such as honor killings.
Brohi has been given a number of other awards and recognitions, including being named one of Newsweek magazine's 25 under 25 and being given the Women Excellence Award by the national government of Pakistan. She said her goal is to change the lives of one million women in Pakistan in the next ten years.
Diego Henriquez Garcia, co-director of the Global Engagement Summit, said it's not hard to see why she is so successful.
"There is something about her that makes you want to walk up to her and just give her a hug and ask about how you can help in what she's done, and that's not something you can't fake," Henriquez Garcia, one of the two students who presented Brohi with the award, said.
GES brings college-aged social entrepreneurs and change makers from around the world to Northwestern for a five days each year built to challenge them and help take their ideas to the next level. Brohi was a delegate who attended the student-run Summit at Northwestern in 2012.
Since receiving a grant of over 100 million dollars last April from Roberta Buffett Elliot, the Buffett Institute has been brainstorming and developing new opportunities for students. The annual Buffett Award for Emerging Global Leaders is one of their recent initiatives. The Buffett Institute invited Brohi back to Northwestern almost exactly four years after her time on campus as a delegate at the Global Engagement Summit to be recognized for her accomplishments.
"What we want to do is bring to campus people who are really extraordinary leaders in effecting change in the world," said Brian Hanson, Director of Programs, Research and Strategic Planning at the Buffett Institute. "So many of our programs are trying to help students who are interested in being part of change in their communities in many ways, to find pathways to do that, and to be able to honor and bring to campus those people who are examples to our students."
Weinberg freshman Caroline Laguna said that she thinks the award is a great way for the Buffett Institute to put some of the large gift to use.
"It's hard to tangibly make a change in the international setting, especially through a University's institutes so I think it's really cool that they're bringing in people from outside of the University, not only to inspire students, but to also make international change," Laguna said.