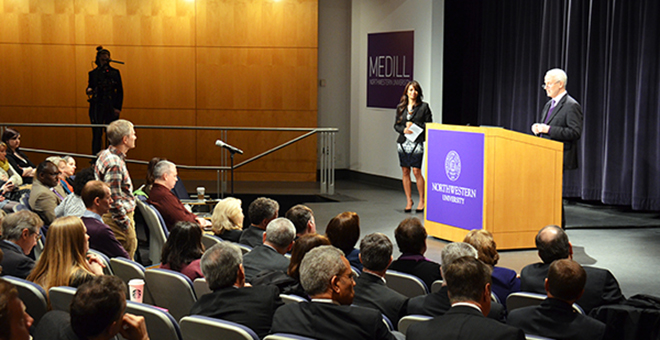 President Morton Schapiro addressed an audience today in the McCormick Tribune Centers Auditorium for one of Northwestern University Staff Advisory Council's "Conversations with the President."
In the hour long conversation, Schapiro discussed advances and problems that arose within the 2013-14 school year.
Schapiro began by praising the work of faculty on both the Chicago and Evanston campuses, and then he said the university is working to increase mobility on the career ladder for employees. The president also discussed Northwestern's alignment with Northwestern Memorial Hospital in Chicago, which will have an extraordinary effect on both revenue streams and the opportunities for medical programs.
He expressed pride in Northwestern's growing prestige in research, saying that NU rose from 41 to 20 on the Association of American Universities' ranking of top research schools in recent years.
"We're getting money, but we're also changing lives," Schapiro said. Yet he remains determined to rise higher in these rankings, saying, "If you take your eyes off that prize, you plummet."
Despite this pride in Northwestern's research, Schapiro emphasized that it is not the only important asset of the university. He addressed his plan to remodel buildings that house humanities and performing arts classes, including Kresge Hall.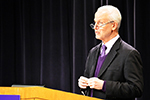 "STEM fields keep us alive and they keep us healthy, but they don't make life worth living. At least not for me," Schapiro said.
This increased focus on both the humanities and research is one of the reasons Schapiro believes NU has been receiving an increasing amount of applicants each year, with its acceptance rates reaching a low of just under 13 percent.
He believes that this increase in applicants can help lead the university in a more diverse direction. Northwestern has moved from 10.7 percent Latino and African American students in 2008 to 21 percent now, a higher percentage than many other top twenty universities.
"I think we're becoming a leader in inclusion," Schapiro said. However, he realizes "it's a work in progress."
In the following school year he plans on expanding the successful Sustained Dialogue program, which brings students of different cultural, racial, sexual and economic backgrounds together once a week to discuss controversial campus topics. This program, which Schapiro refers to as the "perfect manifestation of uncomfortable learning," will include staff members next year. He also hopes to enhance the diversity on campus by helping children from Chicago Public Schools through a program that will help students prepare and train for college.
"The reality of it is, it's not easy to do," he said. "It's not easy to create an environment where everyone, regardless of background, can equally avail himself or herself to everything we offer."
Schapiro also hopes to increase economic diversity on Northwestern's campus. Northwestern is not yet a leader in this aspect, yet it has increased its Pell eligible students to 14.9 percent. He recalled reading posts about financial problems on the Facebook group "NU Class Confessions," as a reminder that "we have a long way to go."
At the end of his conversation, Schapiro spoke about safety on campus, particularly against sexual assaults.
"Until I had my daughters, I didn't really understand the vulnerability out there. I live every day in fear that one of them is going to be sexually exploited, sexually assaulted or sexually harassed. So it's very personal for me."