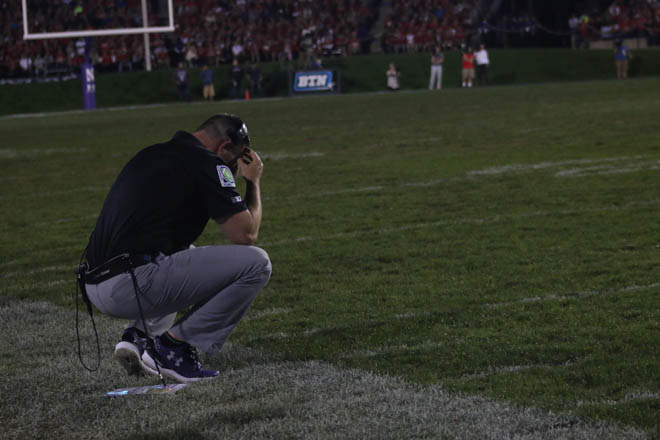 In the Big Ten season opener for both teams, the Northwestern Wildcats (1-3, 0-1 B1G) were outmatched by the #20 Nebraska Cornhuskers (4-0, 1-0 B1G), falling by the score of 24-13.
It took Nebraska less than 60 seconds to showcase their high octane offense and break off a huge play. On only the third snap from scrimmage, Nebraska's Terrell Newby found some running room and was headed 49 yards unscathed straight for the house. The 'Cats would catch a huge break as Newby, while diving for the pylon, lost control of the football and fumbled through the back of the endzone, resulting in a touchback and change of possession.
If this first drive was any indication, the 'Huskers were set to do serious damage in this one. Nebraska's Tommy Armstrong Jr. had a stellar day under center, carving through the Northwestern defense with both his arm and legs, coming away with 381 all purpose yards and one touchdown.
The senior quarterback, along with Alonzo Moore, Terrell Newby and Mikale Wilbon were all responsible for countless big plays down the field and NU's debilitated defense was simply outmatched across the board.
"Obviously a disappointing loss," head coach Pat Fitzgerald said. "The reccuring theme is the self-inflicted wounds, the missed field goals, missed extra points and missed tackles."
Offensively, Northwestern roared out of the gates poised to put up big numbers and build upon their 24-point performance against Duke a weekend ago. Early on, Clayton Thorson looked cool, calm and collected in the pocket, having no trouble finding Justin Jackson out of the backfield as well as Austin Carr cutting across the secondary.
But as the game progressed, Thorson had less and less time to operate, as NU's offensive line was once again incapable of giving Thorson the time he needed. The Cornhuskers came away with three sacks and were in the backfield on seemingly every possession, forcing Thorson into two costly interceptions.
Despite the picks, Thorson's maturity and composure was apparent throughout the entire contest. With nine minutes left in the first half, Thorson took matters into his own hands, rushing 42 yards right up the gut on a QB draw and finding the endzone to put Northwestern in the lead.
Thorson would finish with 249 yards through the air – on 24-37 tosses – with 60 yards on the ground on 10 carries. Likewise, the red hot Carr would continue his recent dominance, catching eight passes (a career high) for 109 yards. Mister consistency Justin Jackson rushed for 84 yards on 20 touches.
Bottom line, however, was that the 'Cats just had too much trouble containing the 'Huskers on defense in the second half. Any time Northwestern would put together a good drive, Nebraska managed to respond.
Without protection on the offensive line or a kicking game to finish off drives (as Jack Mitchell missed a field goal and extra point on the night), it won't matter how well Thorson and Northwestern's other key offensive contributors are able to perform.
"I think we had an opportunity to win all three losses and we didn't," Fitzgerald said. "You're expected to perform, and if you don't, you don't deserve to be out there."
Northwestern now heads into October, with Iowa, Michigan State and Ohio State all looming, and faces the task of turning their season around.