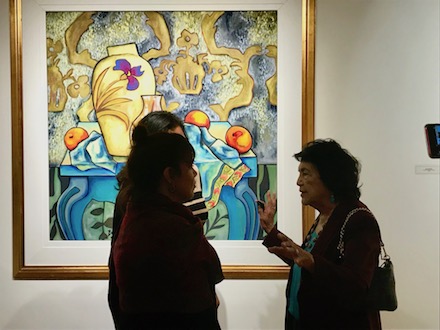 Pick-Staiger concert hall erupted in applause and a "sí, se puede" chant enveloped the room as speaker and life-long activist Dolores Huerta riled up audience members with the chant that she herself coined.
The Northwestern Women's Center hosted Huerta as the keynote speaker for their speaker series on gender, work and power. Huerta delivered a speech and answered a few questions afterward. It was meant to kickstart a dialogue for the rest of the year.
"[The event] would help energize the campus community and give them a sense of why we chose the topic of gender, work and power," Sekile Nzinga-Johnson, director of the Women's Center, said.
Having seen her speak at the Chicago Foundation for Women's luncheon, Nzinga-Johnson and associate director of the Center, Njoki Kamau, both thought Huerta was the right fit for the job.
"Here this woman is, 88-years-old, having done so much work around labor's rights and women's rights and you know, on immigration, on so many social justice issues," Nzinga-Johnson said. "For me too, as the director of the women's center, I tend to be inspired by two groups of people, people who are older than me who remind me to endure and continue and people who are younger than me that have this energy and this fire. Between the two populations, she represents that energizing force."
Frances Aparicio, director of the Latino/Latina studies program, considers Huerta to be a symbolic figure.
"She represents and embodies the long history of struggle that Chicanos, Mexican-Americans, Puerto Ricans and other Latinx groups have been engaging since the 1960s," Aparicio said.
Huerta focused on that topic during her speech, emphasizing the "forgotten history" of many marginalized groups that are not taught about in schools, such as Indigenous peoples and Latinx communities in the United States.
To cure this "abysmal ignorance," she said, kids need to start learning at a very young age about these topics.
"Students are probably the most important element in our society today because we know that they are not only the future, but they are also the present and especially in the times we're living in right now," Huerta said.
Christian Reyes, a senior in SESP, agreed with many of the comments Huerta made about children not receiving an education about marginalized communities.
"I totally agree because I didn't start to learn about my own ancestry until I came to college," Reyes said. "I think that definitely, the earliest that children can start learning about the true history of the United States and colonialism and their own ancestry, I think it would be very important."
Huerta also spoke about apathy, voting and civic engagement in hopes of "building a wall in Congress," as she said.
"The main thing I hope to instill is to really encourage people to become involved, to become activists and especially in the political realm, because it is so important, especially in the crisis we are living in right now," Huerta said. "We have all of these people that are now being affected by the policies of this administration, and so we have to really realize that we can make a difference and we can stop all of this terrible stuff that is happening."