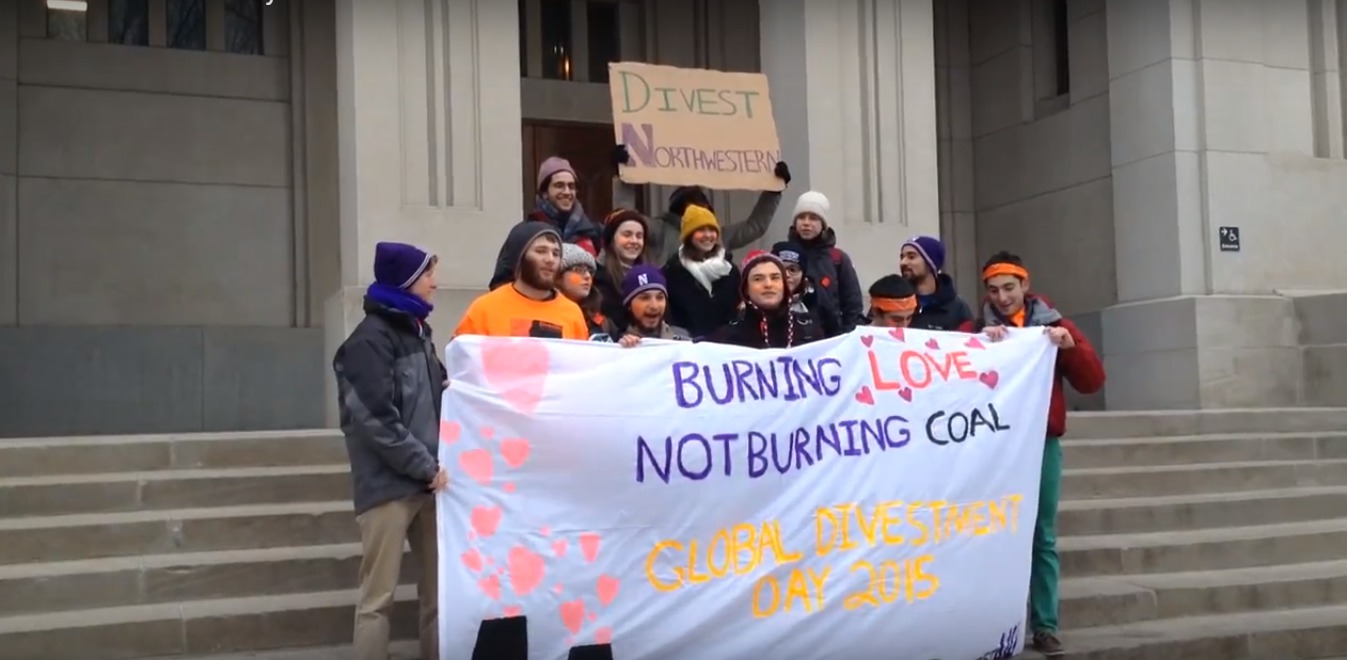 Northwestern's purple pride has gone green in flashy ways this past year. Last October, the EPA recognized the University for its use of renewable energy. In November, Northwestern signed the United Nations' Principles for Responsible Investing (UNPRI), which calls for socially and environmentally responsible investment practices. The press release, perhaps a bit smugly, pointed out that Northwestern was following in the footsteps of Harvard University and the University of California at Berkeley.
But for three years, the University's Board of Trustees has been resisting calls for divestment from coal companies which contribute directly to climate change. Fossil Free NU (FFNU), formerly known as Divest NU, spearheaded the campaign for coal divestment in 2013 and ever since then the group has been advocating for coal divestment. The campaign has the support of ASG, the Faculty Senate and nearly three quarters of the student body.
The group has hosted teach-ins and actions on campus, marched for climate justice and rallied outside of the Board of Trustees' meetings. Representatives from FFNU have met with individual members of the Board, but they have been asking to meet with the full Board in order to present the case for divestment.
"At this point in our campaign, we want to have everyone hear our arguments directly from us as opposed to from an intermediary," said Christina Cilento, a SESP junior who is involved with the campaign.
On Feb. 15, however, FFNU released a statement through its Facebook page, saying that the Board had refused to allow students to meet with the full Board in order to discuss divestment further.
The Investment Office declined to comment on the issue, and the Office of Administration and Planning provided a statement through University Relations, reiterating that FFNU has had access to the chair of the Investment Committee and and the full Investment Subcommittee. The statement also credited signing the UNPRI to FFNU's activism.
Cilento, however, said that simply signing the document doesn't go far enough. "Implicit in adopting the UNPRI is a re-evaluation of what we're already invested in," she said. "If the board is committed to socially responsible investing, which signing the UNPRI would suggest, they should translate that into divestment from things we already know are not socially or environmentally responsible."
In other words, Fossil Free NU isn't going anywhere. This coming Friday, preliminary plans are in place to demonstrate at the Board's meeting on the Chicago campus. FFNU is planning to increase its outreach to alumni and donors, whose voices might hold more weight with the Board. "It's a realistic threat if donors don't donate, so that's an untapped resource we want to tap," Cilento said.
FFNU is also in ongoing discussions about forming a coalition with NU Divest and Unshackle NU. "We are thinking more broadly about how we can work together to make sure that Northwestern as a whole is more conscious in the way it invests, and that in these causes we want to see advanced, we're supporting each other," Cilento said.
Unshackle NU was not available for comment, but Ruba Assaf, a Weinberg junior and representative from NU Divest, agreed that the power in numbers could help all three movements move forward. "We're all fighting against the same oppressive structures," she said, pointing specifically to capitalism that profits off communities of color and institutional racism. "The same structures bring about the Palestinian occupation, the prison industrial complex and climate injustice."
Members of NU Divest have asked FFNU to clarify their stance on racial justice before moving forward as a coalition, Assaf said. "The climate injustice issues that FFNU talks about impact people of color disproportionately, more than anyone else," she said, adding that institutional racism plays a role in "the poisoning of water in predominantly black and brown communities" such as Flint, Michigan.
Cilento declined to comment on specific aspects of the conversation among the three groups, but said that the she hopes to work towards establishing a socially responsible investment committee that would require more transparency from the Board of Trustees. "It's an intersection of our movements and it's in our common interests to do that."
Despite the setback with the Board, FFNU's members remain hopeful and committed to the cause.
"Divestment is happening at so many campuses across the world and it's really encouraging," Cilento said. "It's heartening to see that the movement itself is going somewhere, even if it's not going the way we want at Northwestern."
According to the international Fossil Free campaign, 505 institutions have divested almost $3.5 trillion from fossil fuel companies. These institutions include religious councils, pensions, non-profits, universities across the world and city governments ranging from Oslo, Norway to Ann Arbor, Michigan.
"What we're working on is so important," Cilento said. "Even if it seems like it's vain, it's not something we can just say, 'You know what, this doesn't matter anymore.'"