It's 2 a.m. and knowing Northwestern's party scene, the dance floor is sparse, the alcohol is gone and the only people left have already coupled up. Time to go home. You go to get your coat, but you're confronted with a sea of similar-looking puffy coats. The situation has stopped you in your tracks and the sticky goop of questionable substance that seems to coat most frat floors is now starting to solidify on your shoes. After regaining possession of your shoes and ability to walk, you look around for a bit and are hit with the realization that your $300 Northface parka is missing. Shit.
You need a jacket you can just throw on a dirty frat floor and not have to worry about stains from mystery liquids. You need a fracket.
.........
Girls
Faded Glory - Women's Hooded Puffer Jacket
Price: $15
When buying a winter coat, Walmart is usually not a girl's first place to look. However, Wally World is fracket-seeker heaven. It's cheap and will allow you to wear that skanky top in the dead of winter while avoiding hypothermia. For just $15, you get a hood and can choose from 4 colors (red, blue, black or brown). What a steal.
Chevron Quilted Coat
Price: $39.95
Unfortunately, it doesn't qualify for Amazon Prime so no free shipping for you, but it's a little bit longer than the Walmart one. Trust me, during the winter, every inch of warmth counts. Navy, ivory or black are your choices. Hood included. It's currently on sale. Get it while you can.
.........
Guys
Caribou Creek Logan Ski Jacket
Price: $49.99
It's pretty cold in the mountains so if this jacket can keep you warm while you're flying through wintery air (most likely on your way to completely eating shit), it should be able to handle some Chicago wind and nights on the quad.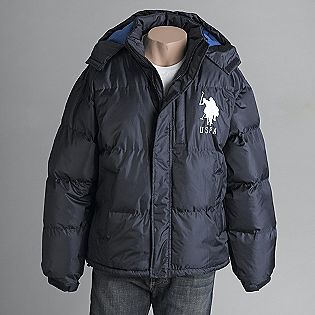 US Polo Assn. Men's Logo Bubble Jacket
Price: $49.99
It's a puffy, black coat. Perfect for nights on sticky frat floors. It's only $50 for a short time so move fast. It'll keep you warm. What else do you need?
.........
So save yourself some heartbreak and get yourself a fracket. You won't regret it.