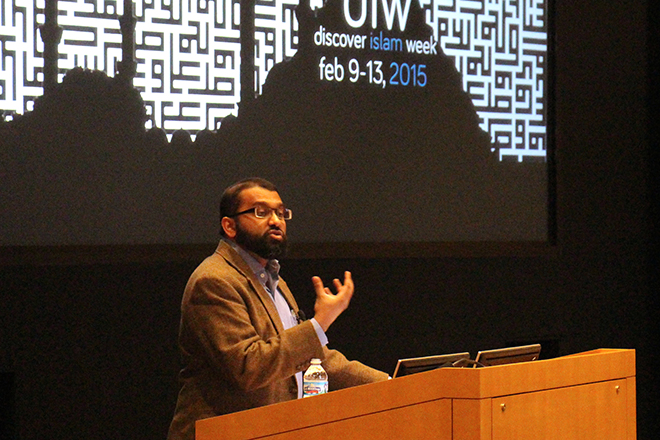 Shaykh Yasir Qadhi', the dean of academic affairs at AlMaghrib Institute, spoke Thursday night about issues surrounding the intersection of freedom of speech and religion, specifically focusing on Islam.
"My talk today is not meant to dissuade you from the position you walked into the room with," Qadhi' said. However, he added, "perhaps the issue is not as black and white as one might initially assume."
The speech, put on by the Muslim-cultural Student Association (McSA) and titled "Sticks and Stones: A Look at Free Speech and Faith," was the keynote event for Northwestern's annual Discover Islam Week. The event was held in the McCormick Foundation Center and attended by an audience of about 90.
"This year, the topic that we've chosen is looking at freedom of speech and faith," said Baber Malik, co-president of McSA and a senior in the Weinberg College of Arts and Sciences. "This is just looking at these two basic, fundamental rights in general and looking at...how easily they fit together."
Qadhi' spent much of the evening speaking about the recent attacks on and related to Charlie Hebdo in France.
"This is why this question of free speech and Islam is on everybody's mind," he said. "There is this assumption that Muslims, because they believe in blasphemy laws...they're willing to kill people merely because a cartoon of the Prophet is drawn."
Qadhi' dismissed these assumptions as "simply wrong." From there, he spoke on the nature of free speech in general.
"Every single society in this entire world places some limit on the execution of free speech, because at the end of the day free speech takes place within the context of competing values," he said. "Ultimately, none of us believes in unconditional free speech. We only differ about where those lines should be drawn."
Many in attendance found the talk thought-provoking and engaging. Samantha Schmidt, a freshman in Weinberg, appreciated the perspective Qadhi' brought to a prevalent issue.
"I'm really interested in free speech, especially considering everything that's been going on lately," Schmidt said. "He definitely had viewpoints that I hadn't really considered before."
Basharath Khan, a recent graduate from Loyola University, found that the speech provided a wider context than the topic of free speech and religion is usually given.
"I personally thought the topic was pretty relevant for what's going on right now in mainstream media with freedom of speech," Khan said. "I really appreciate that he made that effort to paint the broader picture for that issue."
Qadhi' ended by challenging the audience to look beyond the controversy of free speech to the consideration of those affected by the debate.
"All I'm asking for is a little bit of sympathy and respect to understand this isn't a freedom of speech issue," Qadhi' said. "This is a common sense, decency issue."