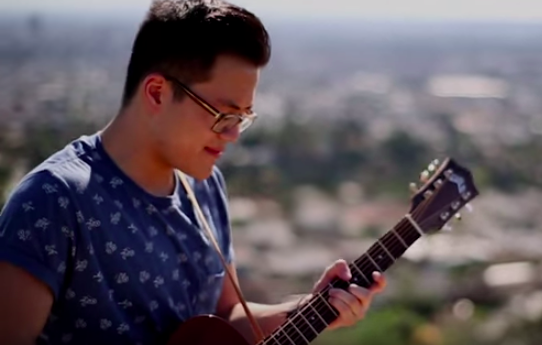 Matt Wang is not your average freshman – at the age of 18, he's already recorded an album in his bedroom and released it on Spotify. A vocal performance major who is also pre-med, Wang recently joined the a capella group Purple Haze. Wang taught himself how to record and produce his own music. From numerous paid gigs during high school to the release of his EP album The Nimbus in September, Wang is no novice to the music scene. While the transition from high school to college can be difficult, he remains dedicated to his music.
When did you first start making music?
Matt Wang: I started playing piano when I was five, and I was classically trained. I started playing drums when I was eight, and I started singing and teaching myself guitar when I was 12.
Are your parents also musicians?
MW:My parents are both engineers. Whenever I got in trouble, all my friends would get their phone or Xbox taken away, but my mom would take away my guitar because she knew that would hit home.
How would you describe your music style?
MW: I would like to say that I'm heavily acoustically influenced, but on the same side there's this paradox of acoustic music and this insane "Marty McFly, Back to the Future" rock, you know what I mean? Well, not exactly rock, but like blues-rock. I have this Ed Sheeran, sensitive vibe on my acoustic guitar, but I also have this Albert King, Stevie Ray Vaughan insane electric guitar. On the same side my voice is more R&B, like Aretha Franklin or Brian McKnight. If you incorporate everything, I'd be acoustic, blues-rock and R&B.
How do you communicate your personal life and experiences into your songwriting?
MW: Every song that I wrote goes through a specific experience that I've had in my life. I'm not that guy that's saying, "Oh I was at school yesterday, and my crush said 'No' when I asked her on a date." Some people write like that, but I can't. What I always do is glaze it over with a metaphor so you should be able to figure out exactly what's going on, but if you're not paying attention to the lyrics or can't tell by the feel of the music, you won't really understand. It creates kind of this enigmatic exclusive feel to the music, and I feel like a lot of people who do grasp onto that fact and can sympathize with that part of the music really love it.
Can you tell me about the creative process for The Nimbus?
MW: Everything you hear is raw from my bedroom. All the guitar is me, and everything is mixed and tracked by me. I got help from a sound engineer to master it to make it sound a bit more professional. I started recording this project spring break of my senior year. At the end of summer, I just locked myself in my room for five or six hours a day trying to find different inspirations or sounds I wanted to incorporate into the music.
Do you have any advice for a budding songwriter?
MW: Number one: Never write a song because you wanna write a song. Number two: Write what you feel. Don't try to sugarcoat it too much and to a point where you're trying to make your song more profound than it is.
If you could perform alongside any other artist, who would it be and why?
MW: John Mayer. He is a genius at incorporating deep, rich, meaningful text in his lyrics and incorporating insane musical style and musical complexity into his music.
How do you balance your music with your educational responsibilities?
MW: It's tough, but music has always been the stress reliever in my life. I'm never gonna have a problem fitting music in my life, because I'm always gonna need that downtime to have solace and solitude with myself.
What are your plans for the future?
MW: Right now I have no idea. Ultimately, I would love to perform my original songs, or I'd like to be a songwriter and write for somebody who's gonna perform. And if not, then I might want to look at medical school or becoming a professor of music or something like that.
How do you get the word out about your music here at Northwestern?
MW: I'm just telling people by word of mouth. I guess when it comes up, I low-key slip it in there, like "Oh yeah this summer I worked on an EP, and it's on Spotify." And usually that's the kicker. When I say it's on Spotify, people are like, "You're on Spotify?!"