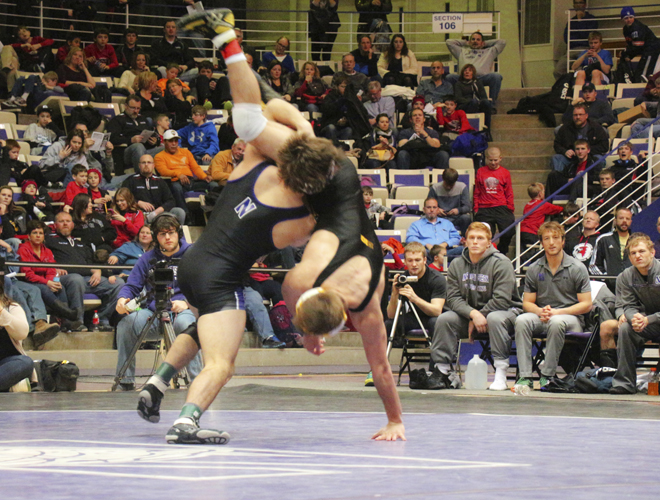 If you journey to the Northwestern wrestling team's practice facility, you'll pass through a hallway littered with photos of NU wrestling legends, many of who are now members of the school's Hall of Fame.
Then, if you continue down that hallway, you'll run into the current wrestling team, which includes players vying for their own spots on the Wall. Among them are Weinberg freshmen Mitch Sliga and Jacob Schmitt, who suggest a bright future for NU wrestling, despite having quite a long way to go to reach the wall themselves.
The two young wrestlers certainly aren't short on accolades and achievements. Sliga was the 2012 and 2013 Indiana State Champion while competing at 195 pounds, and he compiled a four-year record of 178-4 while winning 99 consecutive matches.
Schmitt's résumé is equally impressive: he's a three-time Michigan High School Athletic Association State Champion on top of being a member of the state-title-winning team for all four high school years. Naturally, both were heavily recruited out of high school, with Schmitt choosing Northwestern over Michigan State while Sliga drew interest from Big Ten rivals Michigan and Minnesota.
However, both wrestlers said Northwestern was a perfect match for them.
"It was just the right fit for me, between everything I was looking for," Sliga said. "It had the academics, a good team, I liked the coaches, and the location especially. It's not too far away from home."
Schmitt, who intends to major in physical therapy, agrees.
"The main point for me was academics," he said. "It doesn't get much better than Northwestern."
Aside from Sliga and Schmitt's impressive skill sets and competitive nature, the future is especially bright for these freshman phenoms because of the nurturing environment the upperclassmen have created for them.
"They've helped me through different positions, wherever I get confused," Sliga said.
Schmitt also notes he's gained plenty of important technique improvements thanks to instruction from the team's more experienced members. In particular, Schmitt said he's received help from veterans Pet Greco, Dominick Malone and Jason Tsirtsis. That's a pretty solid trio to learn from, considering Tsirtsis is 19-3 this season while Greco and Malone have combined to go 63-56 in varsity careers that include particularly tough competition–the Big Ten holds the top three spots in this year's NCAA rankings, as well as nine of the top 20.
Schmitt and Sliga have combined to wrestle in only five matches this year, but that stands to change over the next two years, considering the team currently features 11 upperclassmen. These freshmen will be relied upon in the coming years, whether they like it or not. Luckily, it appears they're up for the challenge.
Indeed, when asked about his goals at Northwestern, Sliga said he's interested in "being a leader, being a captain and leading by example."
That desire for the success of the team, in addition to simply individual accomplishments, is what sets the two young wrestlers apart. They appear to have realized that just winning matches isn't all that NU wrestling entails; helping the young talent develop is just as important. Being the benefactor of that mentality this season, Sliga wants to return the favor when he eventually assumes a leadership position on the team.
"I just want to work hard and do my best and bring other people up with me," Sliga said.
With that type of mentality, the future is indeed bright for wrestling at Northwestern.