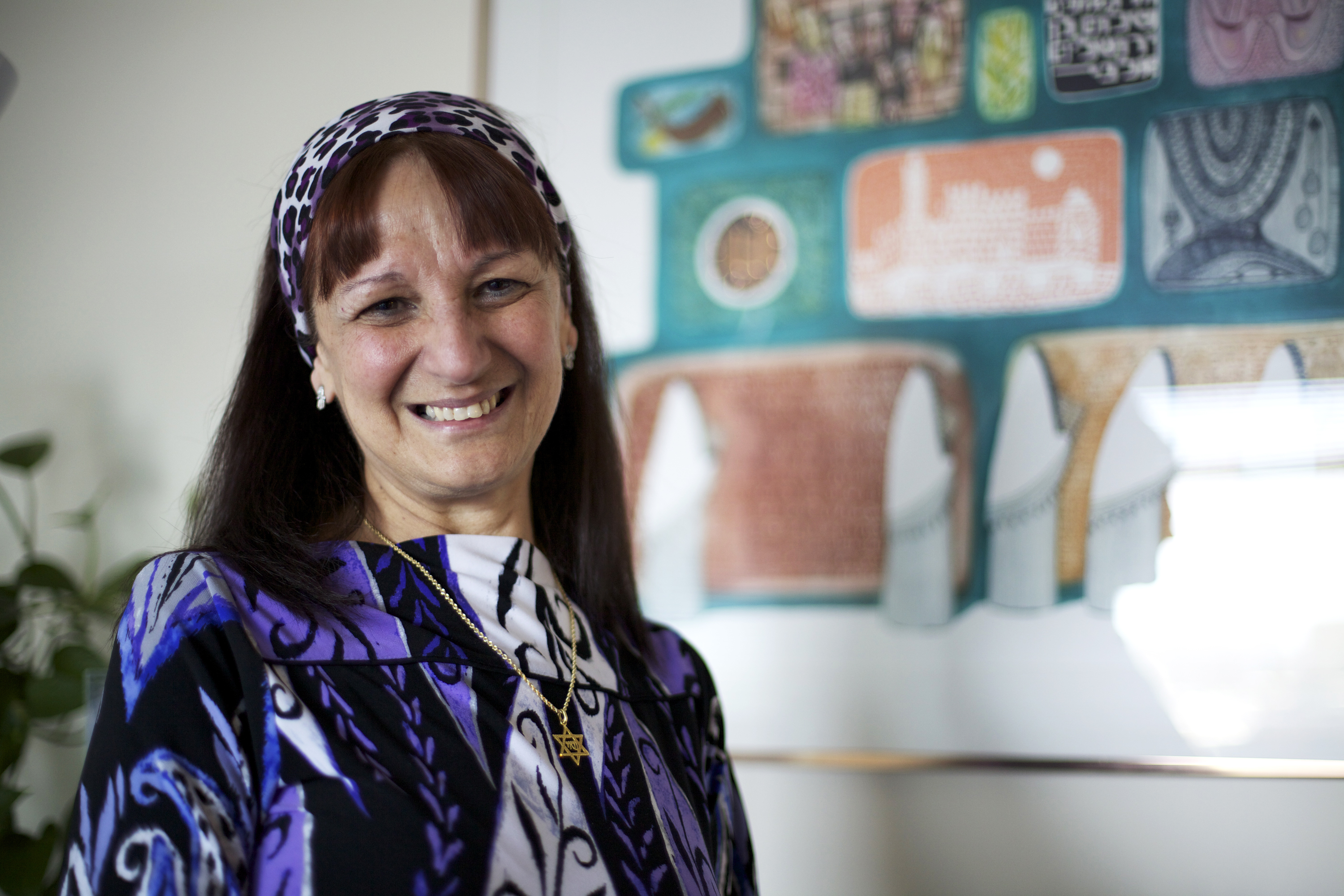 Stepping into Northwestern Spanish professor Rifka Cook's apartment is a true departure from campus. Cook's unique heritage—a blend of Sephardic Judaism and a native Venezuelan upbringing—is reflected by the artifacts that decorate the rooms. I grew up in a very Orthodox family," Cook says.
A Star of David, sombrero, hamsa hand and raffia calendar hang along the walls of the apartment, where she lives with her husband, Bill. Dozens of other trinkets greet visitors at the couple's home.
Almost every Friday evening, the Cooks welcome Jewish students of Northwestern to their home for a traditional Shabbat dinner. In true Orthodox fashion, all electronics, work and displays of affection are suspended for about 25 hours, until the first three stars of Saturday night appear. The student guests generally stay for the first three hours of Shabbat, where they're treated to a home-cooked meal and conversation with the Cooks late into the night.
"It's something that I normally don't get to experience, as a not-really-practicing Jew," says Jordan Butchen, a Weinberg freshman. He attended his first Shabbat with Cook in early April after Cook, who taught Butchen's Spanish class, personally invited him to the meal.
"I think that each student is my kid," says Cook, who has no children of her own. "That's the reason I like to spoil them."
When she started teaching at Northwestern in 2001, she immediately began inviting students over for Shabbat meals. After word of her good cooking spread, Cook also began offering Sunday brunches and dinners for students who don't observe Shabbat.
"She's such a nice woman, and I feel like she has such an interesting story," says Erika Elliott, a Weinberg freshman who attended Shabbat with Cook in early April and returned for a Sunday night dinner two weeks later. "She loves to hear from the students and be a part of their lives, so I think it's nice that I'm able to share that with her. For her to be able to share her culture and just talk about where she's from, that's meaningful to me."
"I think that each student is my kid. That's the reason I like to spoil them."
Cook serves each Shabbat on spotless white linen in a room lined with potted plants of every size. As a thank-you gift, Elliott brought a bouquet of white hydrangeas, placing them among the pink lilies and peach carnations that already decorated the two dining tables.
Despite its Midwestern location, the Cooks' apartment is brimming with memories of a life near the Equator. Cook left Venezuela in 1998 to marry Bill, with whom she fell in love through an online dating website.
Their union was prompted by a request from her aging mother. "She said she wanted to see me married before she died," Cook says. "My mom told me, 'Marry him. He's a good person.'"
That was not the only time Cook's mother intervened on behalf of her daughter. When Cook was a child, her mother decided to move from their tiny hometown in Venezuela, where they had no Jewish neighbors, to the capital city, Caracas, so Cook could grow up in a Jewish community. This meant, however, that Cook's father had to stay behind in the suburbs to work and support his family.
"The only day I used to see my father was Shabbat," Cook says. As a result, she says, Saturday became her favorite day of the week.
Cook's current life is a stark contrast to what it had been in Venezuela. Despite all the changes though, Shabbat has been a constant.
"Shabbat for me is very, very special," she says. "It means family. It means happiness."