Northwestern (1-3, 1-1 B1G) will travel to East Lansing this weekend to take on #20 Michigan State (3-1, 1-0 B1G). After last week's second-half heartbreaker, the Wildcats will look to put together a solid four quarters against the Spartans. NBN Sports breaks down what to watch for on offense and defense on Saturday.
Offense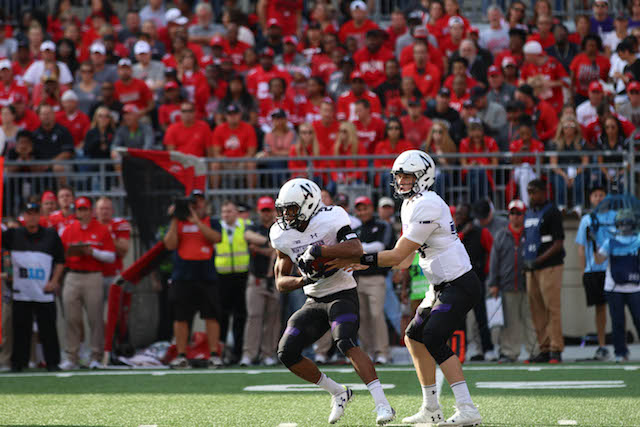 In order to halt their early season skid, Northwestern's offense will need to finish strong. The squad has only put 6 points on the board during the fourth quarter this season, and has surrendered a halftime lead twice. In Michigan State, Northwestern finds an opponent with similar second-half struggles. Against a bigger Spartan team, endurance into the 4th quarter will be a key if the Wildcats are to find a way to win.
Clayton Thorson, Northwestern's senior quarterback, started the Michigan game 9/10 passing as the 'Cats jumped out to an early lead. Thorson was firing on all cylinders and keeping the ball moving throughout most of the first half. However, his completion percentage dropped throughout the game as Michigan adjusted to the short-range passing game and Northwestern was forced to throw downfield.
Last Saturday, Thorson was sacked six times as the Northwestern offensive line struggled to fend off the Michigan pass rush. Michigan State's pass rush is similarly formidable, with the key man to watch being defensive end Kenny Willekes. Willekes comes in with four sacks in as many games for the Spartan defensive side. Limiting the pass rush and giving Thorson time to breathe will be a major key for the 'Cats this Saturday.
Meanwhile, Northwestern's receiving corps will look to continue their balanced attack. Flynn Nagel, Ben Skowronek and Ramaud Chiaokhiao-Bowman combined for 13 receptions against Michigan. The trio will face a Spartan defense with seven interceptions, making for compelling battles in the slot and out wide.
After losing running back Jeremy Larkin recently, Northwestern is still figuring out things on the ground. Junior John Moten IV took 13 carries for 36 yards and a touchdown against Michigan. Moten IV has been primarily a kick returner in the past for the 'Cats, but now shoulders a much greater responsibility. Michigan State closed down Central Michigan to only 63 yards rushing last week. If the Spartans shut down Northwestern's backs, the Wildcats have little hope to break out offensively.
The Wildcats will be asking big things of their offensive line and running back against #20 Michigan State, but Thorson and his receivers have proven capable of putting drives together. With a put together, four-quarter offensive performance, Northwestern can put a statement on the scoreboard.
Defense
Until halftime last week, Northwestern's defense contained an explosive Michigan squad that had scored 56 points the week before. In the second half, the Wolverines wore down the Wildcat defense, resulting in two sustained drives ending in field goals before scoring the go-ahead touchdown.
This Saturday, the 'Cats will need four full quarters of aggressive defense to slow down quarterback Brian Lewerke and the Spartan O. Lewerke, who is second among Big 10 quarterbacks in interceptions, has been most effective running the ball. Last week against Central Michigan, he ran for two touchdowns in the first half, giving the Spartans a lead they never relinquished. However, the Spartans' second half performance revealed their vulnerability if the offense becomes one-dimensional. Joe Gaziano, Paddy Fisher and company will look to neutralize the running game to force Lewerke into uncomfortable situations.
The Spartan O-line remains the team's biggest question mark. If Michigan State can control the line of scrimmage against Northwestern, they'll feel much stronger heading into tough matchups against Penn State and Michigan in the next two weeks.
Northwestern's defensive line should have a good day if they can restrict Lewerke's mobility and pressure his passing game early on. Another key for the 'Cats will be limiting wide receiver Felton Davis III's impact. The All-Big 10 preseason selection is a constant offensive threat but is currently in a touchdown drought. With a number of injured receivers, Michigan State may lean heavily on Davis III on Saturday.
Confining the Spartan run game to the middle of the field could stall the offense, taking away their biggest threat. Last week Michigan State found success running the ball wide so the 'Cats should focus on locking down the outside of the field. Both teams had strong first half showings last week and faltered after half-time. In all likelihood, Saturday's game will come down to who can execute in the fourth quarter.
Predictions
Jacob Munoz (2-2): Northwestern 17, Michigan State 28
Jono Zarrilli (3-1): Northwestern 28, Michigan State 24
Meredith Ellison (0-0): Northwestern 14, Michigan State 28
Shreyas Iyer (2-2): Northwestern 17, Michigan State 27
Stephen Council (0-0): Northwestern 17, Michigan State 33