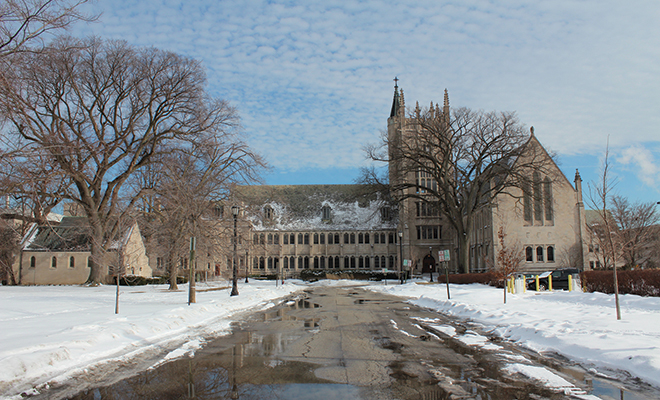 As Northwestern students, we've all made the trek to Tech at least once in our student careers, if not every day when you're a pre-med student. And during the walk down Sheridan Road, while simultaneously weeping because of the bitter cold and trying to avoid eye contact with that person you only sort of know, you might have noticed a large, cathedral-like structure on the east side of the road. What is that mysterious stone castle, you ask? It's Garrett-Evangelical Theological Seminary, of course.
Garrett, which has its permanent home here on the Evanston campus, is a graduate school of theology founded in 1853 as the Garrett Biblical Institute.
"The school was founded by a woman—Eliza Garrett. She felt strongly that Methodist clergymen needed to be well educated, not just be religious persons who went around preaching," says Lallene Rector, current president of Garrett-Evangelical.
With a student body of approximately 400 scholars, Garrett-Evangelical provides for its students as any other institution would, offering a wide variety of classes, degree programs (including a Master of Divinity and Master of Theological Studies), in-school housing and of student activities.
Graduates of Garrett-Evangelical can be found in professions such as pastoral care, counseling, clergy, and social justice work. Rector, who just began her term in January, serves as the school's first female president. She now spends her days doing administrative and developmental work and nurturing relationships with the school's Trustees.
"I like to think that Eliza Garrett would be pleased!" Rector says. "It is a privilege to serve in this role for a school I believe has been and will continue making a positive difference in the world."
Before taking the presidency, Rector worked as the Associate Professor of Psychology of Religion and Pastoral Psychotherapy, and served as the academic Dean for the past seven years.
Seeing as Garrett-Evangelical stands at the geographical center of Northwestern's Evanston campus, Rector hopes to continue the strong friendship the school has with NU—more specifically, with President Morton Schapiro.
Garrett-Evangelical and the University strengthens this relationship with a long-standing tradition of a biannual lunch meeting for clergy and local Evanston leaders, co-hosted by the presidents of both schools.
"Our former president established an important relationship with President Schapiro, and I intend to continue that," Rector says.