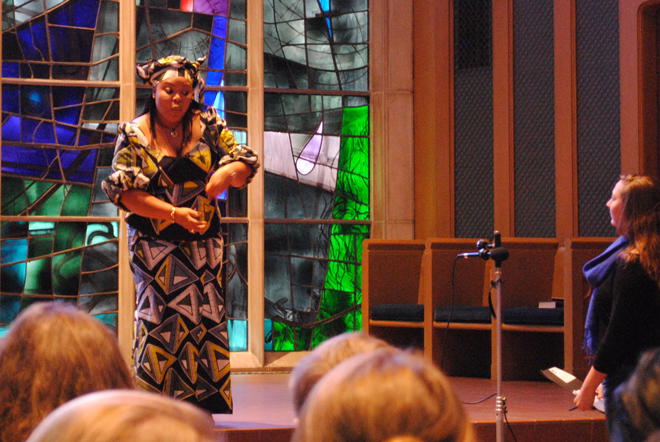 Nobel Peace Prize recipient Leymah Gbowee urged attendees at the GlobeMed Global Health Summit to "be the change" during her keynote address Saturday afternoon at Alice S. Millar Chapel. Gbowee discussed her work as an activist and offered motivation at the summit.
Gbowee (pronounced like the last name of the androgynously-styled singer of "Changes" and "Rebel, Rebel") was awarded the Nobel Peace Prize in 2011 for her role in ending the 14-year Liberian Civil War and the reign of Charles Taylor in 2003. She has written a book and was featured in a documentary about the Liberian women's rights movement.
"I was in the middle, the heat of the war in Liberia," Gbowee said. She witnessed child and spousal abuse in her community and began to work with women to change their personal and political situations. In addition to her work in Liberia, Gbowee spoke about working with women in Sri Lanka, the Democratic Republic of Congo and Kenya.
"The world is upside down and it's going to take a lot of good hands to put it right side up," she said.
Gbowee stressed that attendees should discover "that vision that keeps you awake at night," and to work tirelessly to achieve that change. She referenced Mahatma Gandhi, Martin Luther King Jr., Nelson Mandela and Desmond Tutu throughout her address.
"I don't know how she could've been any better," said Melody Qiu, a Princeton freshman who came for the summit. "Everyone is very overwhelmed and motivated, but the hard part is going back to our own communities."
Brian Hanson, a Northwestern political science professor and chairman of the GlobeMed board, introduced Gbowee. Over 300 students from across the country descended upon the Evanston campus for the summit, which ran from Thursday to Saturday.