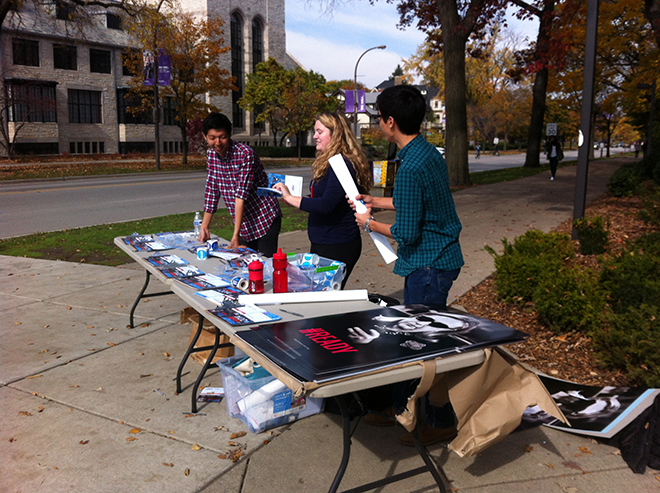 Ready For Hillary, a grassroots organization whose mission is to encourage Hillary Clinton to run for president in 2016, found support among students Friday as the group came to the Arch to collect contact information from potential voters and hand out free merchandise.
"We're hoping to raise awareness and attention to the fact that Hillary Clinton would be a great president," said Kevin Cheng, a junior studying political science and the political director of Illinois College Democrats. Though Cheng is not officially affiliated with Ready for Hillary, he helped with Friday's event after being contacted by the organization.
According to Seth Bringman, the group's communications director, Ready for Hillary currently has more than 3 million supporters. Currently, the organization is conducting a bus tour, visiting college campuses in states with critical midterm election races, including Northwestern.
The group set up a table near the Arch from 11 a.m. to 2 p.m. Friday, asking students to provide their contact information in exchange for a free poster. Volunteers also handed out Hillary Clinton buttons and bumper stickers.
The table had a steady flow of traffic throughout the afternoon, and most students who stopped were supportive of the cause.
School of Communication freshman Jake Rothstein said he liked the event he thought it was happening too early, "because we don't even know if she's running yet."
One of Ready for Hillary's goals in coming to Northwestern before the 2016 presidential election was to campaign for Governor Pat Quinn of Illinois, who is up for reelection this year.
"If [college students] support Hillary, we want them to support Pat Quinn as well," Bringman said.
Not every student would support Hillary Clinton as a presidential candidate, though.
Taylor Sheridan, a Weinberg freshman, said, "I haven't really given much thought to it, but I personally wouldn't vote for her." Sheridan added, "It's still cool that the group is here, though," stressing how impressive it was that a national organization chose to come to Northwestern's campus to look for supporters.
College students make up a significant portion of Ready for Hillary's target demographic due to their potentially strong presence in Clinton's base.
"Students are a critical part of her constituency should she decide to run," said Kendall Bensten, a Ready for Hillary Young American organizer. "They have so much energy and they're vibrant."
Bringman emphasized Clinton's popularity among young people thus far, saying, "There's been a lot of enthusiasm from students across the country for Hillary."
Despite their clear partisan support, Ready for Hillary volunteers stressed the importance of every student voting in upcoming elections.
"Regardless of which side they're voting on, voting is important," Robert Bourret, a SESP sophomore and a staff member on the Pat Quinn campaign, said.