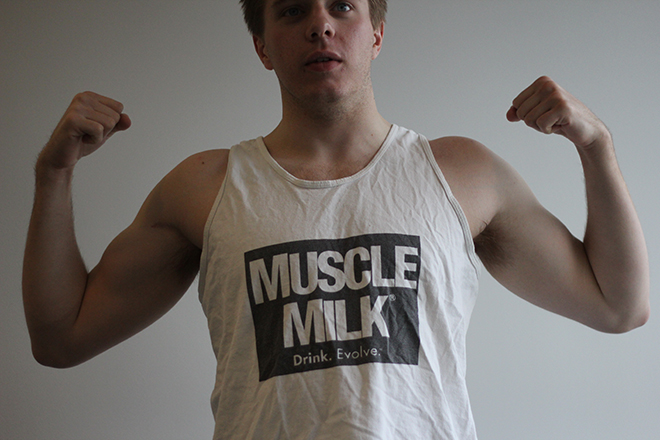 It's really hard to find a bad time to wear a tank top. Off the top of my head, the only reasons I can think of are "winter" and "job interview".
They are the Swiss army knives of chest covering clothing. You can wear any of them as pajamas, workout clothes or just when it's freaking hot out. Your basic tank tops will run you about $15, but why stop there? Find something that fits your style, be it bro or hipster.
Bro Tanks
We all know them. We all roll our eyes. The obvious example is that "Back to Back World Champs" tank you bought off of TFM in high school. Be warned, bro tanks have a huge stigma, because they're pretty obnoxious, but don't always jump to conclusions about their wearers.
When you want something a little bro-ey, funny, and not over the top, this Blue Mountain State tank fits the bill for $25.
If you want to step your bro energy up a notch, you should probably wear something with an American flag and the word "fuck" on it. Or if you feel like a greasier type of bro, why not get this $25, equal parts cringe-inducing and bro tank from the Jersey Shore?
If you really want to push into the try-hard territory, check out anything from the TFM store, which usually range from $25-$30.
Tanks for working out
Wearing a tank while lifting has so many advantages to a T-shirt. You get an extended range of motion for your shoulders, there're no pit stains when you finish and the obvious great view of your biceps when curling.
Whether you're just an average sized dude or if you're that guy in the corner benching three times your body weight, just a plain gray tank for $15 will work. Of course, if you want to let everyone know how huge you are, put down those '80s you were curling and go buy a Gold's Gym ($20) shirt to help channel your inner Arnold.
We also all know old basketball jerseys make you play way better on the court. Your best bet to find any are eBay (but from actual personal experience, Toronto thrift shops in the summer), but prices can get pretty high pretty quickly: a Hakeem Olajuwon runs for $60, while Bill Murray from Space Jam starts at $30. Old college jerseys are widely available, but they're also pretty pricey.
Hipster
Hipster tanks are the summer edition of those heinous sweaters they wear. Multi-colored geometric shapes, fonts people will say "are from the '50s," and probably some pencil drawn animal highlight the style.
For general summer concert wear, just hit up some thrift shops in Wicker Park. By definition, any tank you buy in Wicker Park is a hipster tank, and it will be way cheaper than what could buy online. In the same vein, if you're a true fregan type hipster, you already turn any tank top you wear into a hipster tank.
If you're looking for something that will make a statement, those really expensive online tank tops still exist: I guarantee you someone will wear this $50 diamond tank to impress people this year.
To really complete the hipster look, deep grey or gray-green skinny shorts or pants will do well. A personal favorite I've seen around is washed out skinny jeans torn into capris paired with any TOMS.