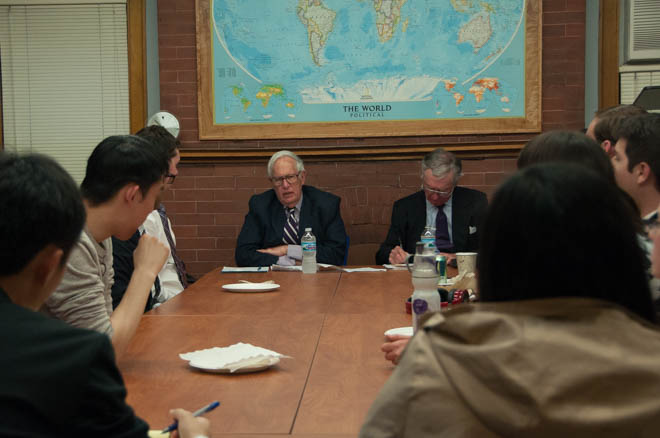 Former Northwestern President Henry Bienen and John E. Rielly, president emeritus of the Chicago Council of Global Affairs, debated President Barack Obama's foreign policy on Monday at an event put on by Northwestern University Political Union.
Rielly spoke in favor of Obama because of his action in various situations, such as ending the pariah status the United States had before coming into office. He said Obama bettered the situation he inherited.
"Two-thirds of Germans said in 2007 that the United States was a greater threat to the peace of the world than Iran," he said.
He also praised the president for negotiating the Iranian Nuclear Deal, killing Osama Bin Laden, imposing sanctions on Russia, continuing engagement with China while working to reduce China's carbon emissions and restoring Cuban relations. He said Obama "saved the world from a financial crisis."
Bienen critiqued the president because of his lack of military action against ISIS and lack of humanitarian intervention in Syria, among other places.
"He has used force selectively in Yemen, in Libya, in Afghanistan, in Syria and in Iraq, but he hasn't used enough force or used it wisely enough to have really controlled the outcome in any of these places." Bienen said.
He also criticized Obama's policy shift from the Middle East to Asia, saying that although we are less dependent on Middle Eastern oil at the moment, much of the world still depends on it.
Bienen critiqued Rielly's point about sanctions, saying they affect Russia's internal economy but have yet to show progress on ending the violence in Ukraine.
Rielly critiqued Bienen's assertion that the president has not sufficiently intervened, pointing out that while the president is sometimes hesitant to send troops to battle, he has used drones and covert action.
At the end of the event the floor was opened for questions to the approximately 25 students in attendance.
Bienen has a history of foreign policy of his own. He was president of Northwestern when NU-Q, Northwestern's Qatar campus, was established. He mentioned at the event that he was opposed to their funding of foreign "bad apples" including Jabhat al-Nusra, a break-off of al-Qaida. However, he told NBN that this did not affect his decision to open up NU-Q.
"There are lots of foreign policies I don't like but I'm not for not going to places and having relations with them."
Bienen also served during the fight for an Asian American studies program which included a hunger strike in the 1990s. This issue recently resurfaced and led to the eventual creation of the major desired by those who fought twenty years prior.
"I was never against Asian American studies as a program or a major, I just wanted it to go through the process," he said, "rather than people say, 'I'll hold my breath until I bust if you don't do it.'"
The debate host group, Political Union, was also formed under Bienen's presidency.