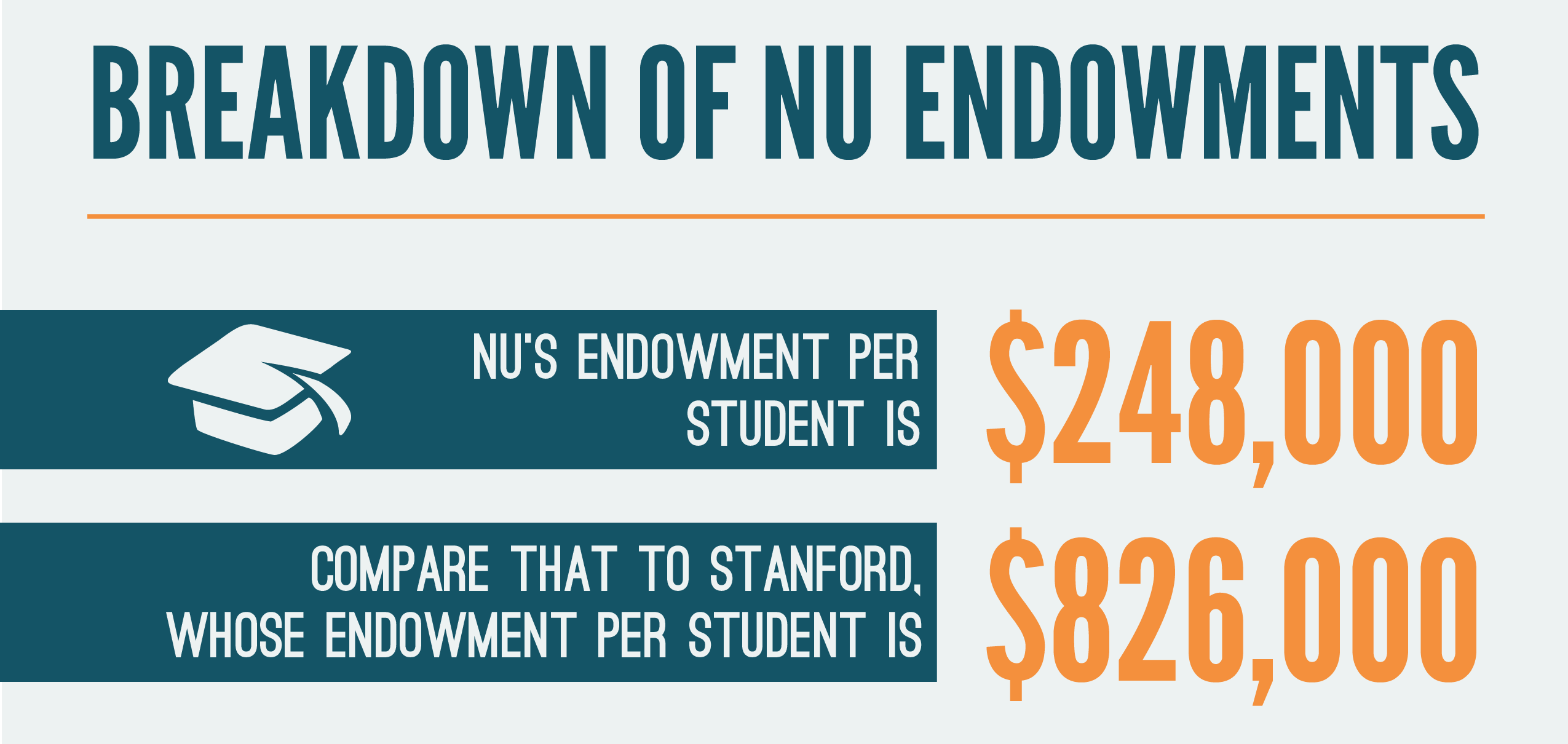 As college students, any news about more affordable higher education is sure to hit home, especially at Northwestern, where total tuition and fees can soar up to almost $70,000, an enormous investment to ask most families to make.
Earlier this month, Stanford University announced that it would waive tuition for all students coming from families earning less than $125,000 a year. Princeton has had a similar policy, with their threshold at $140,000.
With a $9.8 billion endowment, it's hard to imagine that Northwestern couldn't afford to do the same. However, even though Stanford's endowment is only roughly twice that of Northwestern's, their endowment per student is remarkably higher, with more than $826,000 per student, while Northwestern is just at $248,000.
Northwestern focuses on improving aid policies
This number is on the rise, especially with the success of the "We Will" campaign, according to Northwestern's associate provost Michael Mills. Like many elite universities, Northwestern is fundraising partially in order to increase financial aid packages as an attempt to increase the population of low-income students in the undergraduate student body.
"Morty has a goal to try to make sure 20% of our freshman class of 2020 are Pell Grant recipients," Mills said. "On average, a Pell Grant recipient has about a $30,000 annual income, and at Northwestern this fall we had about 1200 Pell recipients."
According to Communication senior and President of Northwestern Quest Scholars Network Amanda Walsh, if Northwestern meets this goal, Northwestern will be at the top-tier of its peer institutions in terms of socioeconomic diversity. However, Walsh added, currently Northwestern sits at the lower end of the diversity spectrum. On the New York Times Access Index, Northwestern received a score of -0.5, while many schools received positive scores.
Walsh leads Northwestern's Quest Scholars Network, a partner of the Quest Scholars Program, which connects high-achieving, low-income students to top universities.
"If we want to consider ourselves a top-tier institution, we cannot just be top-tier in academics, we need to be top-tier in offering aid to students, so that the best and brightest students across the nation can come to Northwestern," Walsh said. "The only way that we can catch up to our peers is if we allow all students from all different backgrounds equal access into our institution."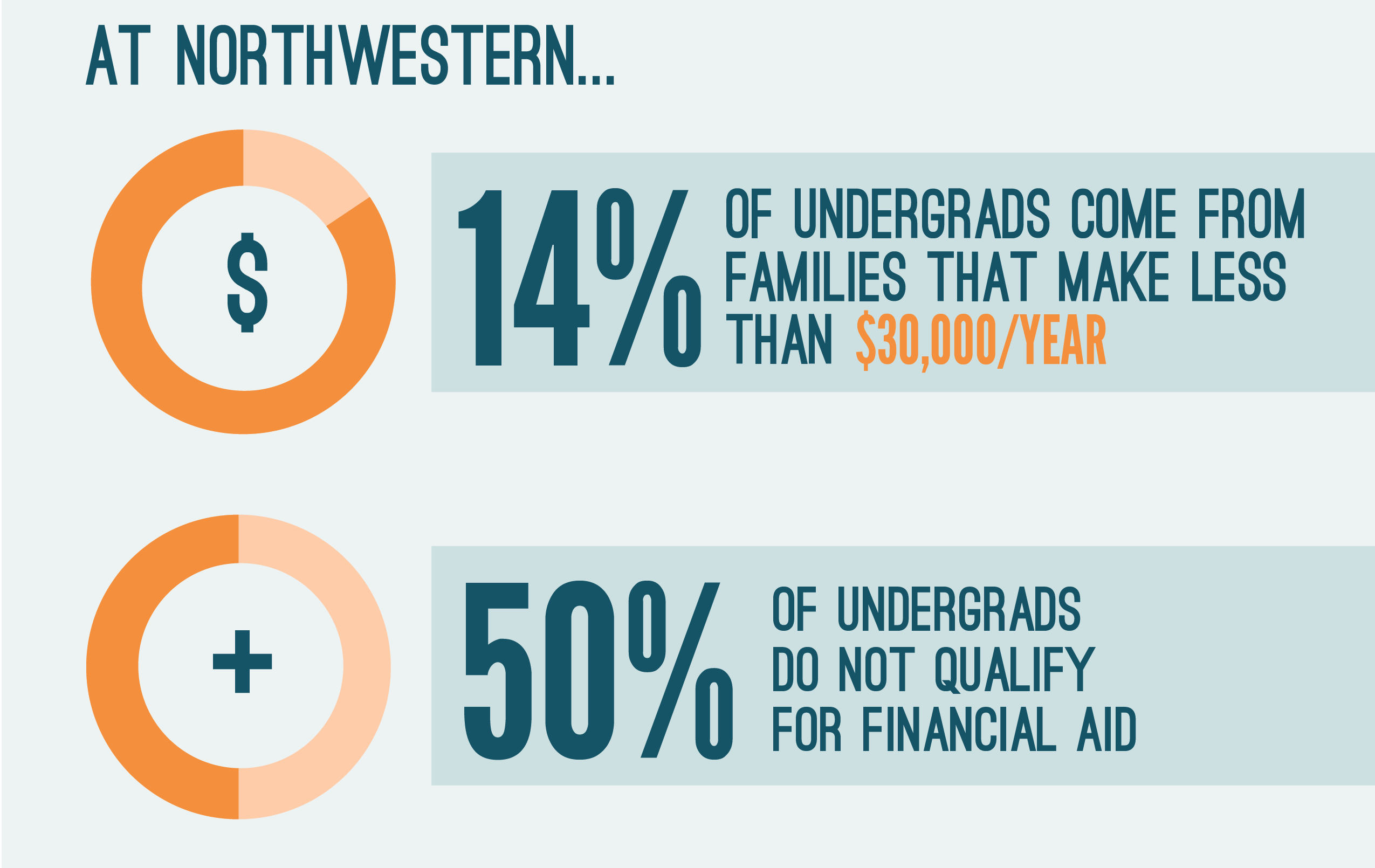 Beyond financial aid
The lack of socioeconomic diversity at Northwestern has serious effects for the experiences of low-income students, according to Walsh. Thus, Quest Scholars Network extends its work past admissions and onto campus, continuing advocacy for low-income students by focusing on academics, extracurricular and leadership opportunities, and social life.
"There are students that come up to me who say 'I feel so uncomfortable in this space,'" Walsh said. "They say, 'I feel like I cannot function at Northwestern, and I feel like I don't deserve to be here.'"
Like many other low-income students at Northwestern, Walsh came to campus from a much more diverse high school and said she experienced culture shock when she realized that Northwestern's campus had, in her eyes, a dominant culture of privilege.
"For the first six months, I didn't tell anybody that I was a low-income student, and the people I was hanging out with at the time didn't know," Walsh said. "When I started to let them know that I was having trouble financially at the university, they looked me straight in my face and said, 'We cannot be friends with you if you cannot keep up with the financial obligations of our friendship.'"
Since then, Walsh has been working with Quest to improve the experiences of low-income students at Northwestern. She has helped implement programs such as inclusion training for student groups, mentorship programs and making sure students can afford course materials, in addition to advocating for better financial aid policies.
Administrative action
While initiatives like Stanford's new tuition waiver and Northwestern's 20 percent Pell Grant students by 2020 goal are essential to increasing diversity on campus and certainly help boost their reputations, they are not the final step in a larger necessary cultural shift, Walsh said.
"Quest is really excited to be a part of a campus culture that really seems to be listening, but it's really important to keep in mind that listening isn't really enough anymore," Walsh said. "These initiatives are not reflective of a real cultural shift, and we are not going to be an inclusive campus until everyone realizes that these initiatives are not enough."
Associate provost Mills acknowledged there is much else to be done in addition to aid distribution to make Northwestern's campus more inclusive and open to socioeconomic diversity.
"Pell kids more than non-Pell kids feel that Northwestern is lacking a sense of community," Mills said, citing a survey he took from last year's graduating seniors. "However, Student Affairs has created a new office called Student Enrichment Services, and their charter basically is to be an advocate for low-income students and to help them with their expenses."
Mills added that the center is still in its early stages and has many kinks to work out, especially finding a way to market it so that students do not feel marginalized.
Where are we heading?
Issues beyond making college tuition affordable are definitely on the forefront of higher education policymaking, according to Dan Allen, a SESP professor and expert on higher education administration and policy
"When schools that have the ability to reduce the costs for low and middle-income families, it is never a bad idea," Allen said. "However, the one thing that we miss in this conversation is what happens beyond the tuition program."
Allen outlined a three-part approach to making sure low and middle-income students apply, attend and succeed at elite private universities.
"First, there needs to be programming and communications that are built in, so that during the admissions and recruiting processes families are aware that these schools are options," Allen said. "Step two is providing the economic resources to allow that enrollment to happen, and step three is the implementation of infrastructure and resources to stay enrolled and succeed."