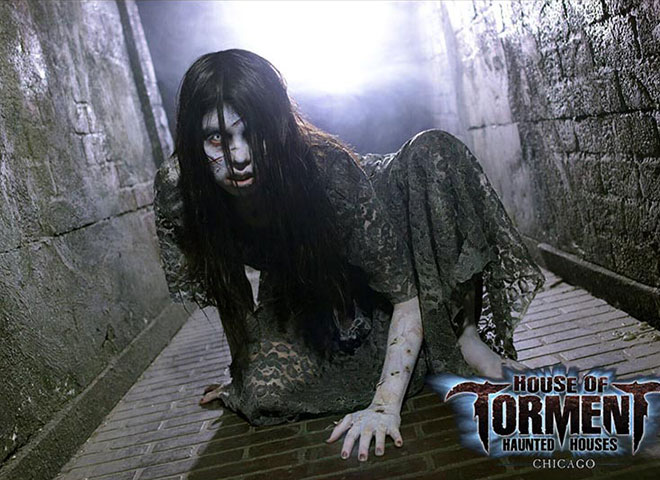 Renowned and nationally recognized haunted house brand House of Torment arrived in the Chicago suburbs for this year's Halloween season. Crowds of suburban Chicago residents ranging from avid haunted house veterans to rookies seeking to get their Halloween fix flooded all hours of opening week. The effort that goes into the production of House of Torment, combined with the expertise of makeup and special effects artists, makes for a delightfully terrifying Halloween experience.
Attendees are greeted by employees disguised behind hours of makeup and costume on arrival and are chased into an eerie reception area. Costumed employees provide spooky entertainment for those waiting in line until they are admitted in groups of around six people. An actor playing the part of Hellen, the most malevolent of demons in the Abandoned, refused to break character, and stated that, "I was going to say that [working at House of Torment] is my life, but I'm dead. It's satisfying."
The house consists of two attractions, each with their own unique theme. Bryan Kopp, general manager at House of Torment Chicago, described the first attraction, Contagion, as a "post-apocalyptic Chicago ruined cityscape where the undead and monstrous Nemesis has once again begun terrorizing planet Earth". The Abandoned, a second attraction of the House of Torment, is an old abandoned high school swarming with the most vocal and malevolent of demons.
The heart of the haunted house appears mazelike to terrified customers as they zigzag through corridor after corridor in desperate attempt to avoid the periodic sneak attacks. The labyrinth of disturbingly decorated classrooms gives the genuine sensation of being lost in the bowels of a haunted high school. The group moves in a petrified huddle from room to room of lifelike horror movie-esque scenery. Authentic sounds echo throughout the building.
Much goes into the preparation for actors' roles and makeup; physical warmups precede every performance, including character preparation to figure out which particular character inhabits which particular scene, according to Kopp. "Every aspect [of each actor] from head to toe is wrapped into the character they are playing," said Kopp.
"I like the look of the House of Torment because the effects are very realistic looking and very cool," said Jonah Frueh, a Weinberg freshman with relatively little experience with horror attractions. "I would say I'm more excited than scared and I decided to go because I love Halloween and this seems like a great way to celebrate."
As can be expected, people fleeing from House of Torment are relatively entertaining to employees, who make a game of watching what each attendee will do. "I've had people come out sweating, and I've had girls and guys come out crying," said Adriana Jaworsky, a House of Torment employee who has been preparing with the production for about three weeks. "Some people full speed ran out the door. People have lost their voices from screaming because these actors are doing everything they're supposed to."
Kopp said House of Torment is not for the faint of heart. "It's very intense and very scary," he said. "Everyone is welcome to come; they will get scared and they will have a good time."
According to Kopp, the original location is still alive and well in Texas as of 2003 and the response to the expansion into Chicago was "overwhelmingly positive". Numerous publication and haunted house industry websites, including the increasingly trendy Buzzfeed, list House of Torment with promising reviews.
It is recommended that tickets be purchased ahead of time to avoid a long wait; prices range from $24.99 to $29.99 depending on the time of the week and an extra $20 can be added on for immediate access. Located in Morton Grove, it takes approximately 25 minutes driving from South campus. For more information, visit houseoftormentchicago.com.