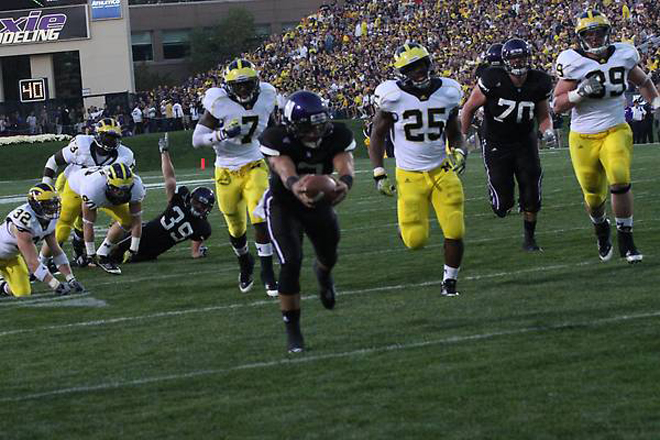 The Northwestern football team is in a downward spiral, but fortunately for the Wildcats, so is their opponent on Saturday.
The Wildcats have lost five straight games and must win two out of their next three in order to become bowl-eligible. Before the season, this team was projected to finish third in the Big Ten according to ESPN, but because of poor execution and untimely injuries, Northwestern (4-5, 0-5 Big Ten) has been unable to meet expectations.
On Saturday, head coach Pat Fitzgerald's team faces Michigan, who has been struggling as well. The Wolverines have lost three of their last four, and have had a hard time putting points on the board. It's a great opportunity for Northwestern to snap the losing streak, but the team still has to shore up several issues.
One major concern is that while the Wildcat defense has stepped up over their last several games, the offense has been almost nonexistent. In the past three games, the 'Cats have allowed an average of 358 yards per game, but their offense has been held to just 327.
The Wildcats had a chance to win all three of these contests, which makes their skid even more frustrating. They could be sitting pretty with a record of 7-2, but instead they have to claw their way into bowl contention.
They'll try to get this effort started in a game that's raising money and awareness for the Wounded Warrior Project. Fitzgerald talked about how this organization puts things into perspective for the team.
"I think it just solidifies just how fortunate we are and that we don't take anything for granted in this program," he said. "We're honored to be a part of it."
But while the 'Cats show off their new American flag-themed jerseys, the main focus won't be on patriotism. It'll be on taking down Michigan.
Scouting the Michigan offense
The Wolverines have the fourth-worst offense in the Big Ten, averaging 385.3 yards per game, and the unit has struggled as of late. They put up fewer than 200 yards in losses against Michigan State and Nebraska over the past two weeks. Moreover, the Wolverines rushed for -69 yards total in those games. While that's a bit hard to believe, Fitzgerald doesn't think that too much should be made out of it.
"That's a little bit misleading," he said about their rushing totals. "The sack yardage takes a lot off. I still don't understand why sacks count for rushing yardage – it's a pass play – but then again, I'm a believer that stats are for losers."
What's helped Michigan thus far on this side of the ball is the play of dual-threat quarterback Devin Gardner. He's thrown for more than 2,000 yards this year, along with 14 touchdowns and a completion percentage just more than 60.
He's also very effective in the run game, which is something of which Fitzgerald is quite aware.
"We've got to make sure that we keep the quarterback run game [in check]," he said.
When these two teams faced off last year, the Wolverine offense put up 38 points and managed 419 total yards of offense in the victory. Fitzgerald said Michigan was effective with double moves and throws down the field in that game, so Saturday will show if the proper adjustments were made in the NU secondary to prevent the deep ball.
Scouting the Michigan defense
While their offense has been stagnant, the Wolverine defense is well above average. The unit is the fifth-best in the conference, allowing just 350 yards per game.
"I thought they played outstanding against Nebraska," Fitzgerald said. "Up front, they are fast and physical. They're playing a lot of young guys in the front seven, and those guys are playing their tails off."
Michigan's defense is led by redshirt sophomore cornerback Blake Countess, who is tied for the Big Ten lead with four interceptions, and senior linebacker Cameron Gordon, who leads the team with four sacks.
Fitzgerald mentioned that the Michigan secondary has been faced with several injuries this year, so look for the 'Cats to try to exploit them in the passing game.
Outlook
Due to Michigan's recent two-game skid, it's not a huge surprise that the 'Cats are favored in Saturday's home game. Still, a lot will have to go right for Northwestern to avenge its loss to the Wolverines a season ago.
For one thing, quarterback Trevor Siemian has to get back on track. After the Ohio State game in which he threw for 245 yards and two TDs, he just hasn't been the same. Against Nebraska, Siemian was just 4-13 for 36 yards and no touchdowns. He's going to have to regain his early-season form if the 'Cats are to have a chance.
Also, the running game has to keep it up. Northwestern rushed for 248 yards against the Cornhuskers, which is quite impressive considering how poorly they did on the ground throughout October, when they averaged 114 yards on the ground per game. With senior running back Venric Mark officially out for the rest of the season, the 'Cats will have to rely on junior running back Treyvon Green to help out senior quarterback Kain Colter in the running department.
If they get the job done, this will be NU's first Big Ten win of the season. Who would have thought they still would be winless in conference play by mid-November? Looking to the future, they have Michigan State and Illinois left on their schedule, and it's unlikely they beat the former. A win Saturday is essential for the 'Cats to have a chance at a bowl game.