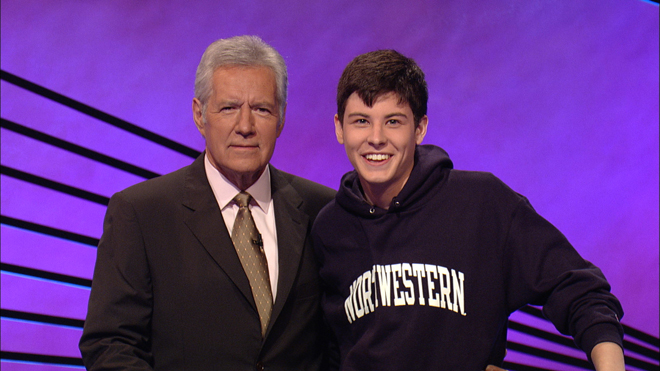 Communication junior Daniel Donohue may have just taped his Jeopardy! episode on April 8, but his experience with the show's annual College Championship — a tournament in which only undergraduate students compete — began more than a year ago, when he took the online test in March 2012.
The test, which contains 50 clues and for which one must register in advance, is the first step to auditioning for the show itself. It is only after passing the online test — which Donohue did — that one can proceed to an in-person audition. The in-person audition consists of another 50-question test, a mock game of Jeopardy! and an interview. Donohue went through both the online test and the in-person audition twice, and the second time, he made it through to the show.
Donohue's preparation strategy for the online test and in-person audition was not too intensive. His face lit up as he explained that he had been watching Jeopardy! for years, and he picked up this habit again by watching many episodes of the show prior to the online test. For the audition, he rehearsed his interview several times and had to come up with five anecdotes about himself. This is how host Alex Trebek — whom Donohue said he was extremely excited to meet — knows what to ask the contestants during the short interview portion of each episode.
But after he got the call on Feb. 19 inviting him to participate in the tournament, Donohue said he started "preparing in earnest," though not by traditional means.
"I was really very interested in this guy named Roger Craig who won the Tournament of Champions two years ago," Donohue said. "His whole argument was that you can try to study facts for Jeopardy! but the idea that any of those facts comes up on the show is not all that likely… So what he was saying was that you should try to get a sense of how well you know what you already know, and that way you can make really smart bets on the Daily Doubles and Final Jeopardy and things like that."
To practice making such bets, Donohue frequently visited the J! Archive website, which is an archive of old Jeopardy! episodes that have been fully transcribed. Donohue explained how he looked at past tournaments to see how well he could do on Daily Doubles and to assess his strength in certain categories.
Donohue also studied the scores past participants typically needed to advance to the next round of the show as a wild card, which is an alternative way to advance if a participant does not have the highest score. Additionally, he discussed different scenarios from the show with a friend who plays poker in order to receive advice about betting strategies.
Donohue did not resort to flashcards and trivia to prepare for specific questions or categories. Instead, he determined in what subjects he needed to improve and took a different path.
"I knew that my biggest weakness was geography," Donohue said with a laugh. "I'm shockingly ignorant of how the world is laid out so I did a lot of Sporcle quizzes on world capitals, rivers, mountains, things like that."
Although Donohue intensely prepared for the show in the month-and-a-half between receiving the call and taping his episode, much of his preparation has been in the works for years. He is the president of the quiz bowl team here on campus, and he has been participating in quiz bowl — which is also known as scholastic bowl — since the seventh grade.
"It really helps you with the academic categories on Jeopardy!," Donohue said of quiz bowl. "A lot of the other contestants… played quiz bowl in high school, so they had almost the same background I did, which was interesting, so they were really great competition… and it was just a very humbling experience."
Neva O'Laughlin, the varsity coach for Saint Viator High School's scholastic bowl team, coached Donohue during his first three years of school at Saint Viator, and she said Donohue always had a fascination with Jeopardy!
O'Laughlin explained that scholastic bowl actually strengthened Donohue's enthusiasm for Jeopardy! — not only because it helped him prepare for the show, but also because it allowed him to meet Ken Jennings, a former Jeopardy! champion who was the guest speaker at one of the tournaments Donohue and his scholastic bowl teammates attended. According to O'Laughlin, Donohue's ultimate goal may have been to appear on Jeopardy! but he was also extremely committed to improving the scholastic bowl team at Saint Viator, which may be why he became so skilled at it.
"At the end of his freshman year, it was like he had found his calling, and he personally, single-handedly pulled Saint Viator High School into the tournament round of scholastic bowl," O'Laughlin said. "Our scholastic bowl program would not be anywhere near as good as it is today if it were not for Dan Donohue's devotion… it came very naturally to him. He has a fountain of information at his fingertips."
Donohue said that an unexpected facet of his preparation involved keeping his participation in the tournament a secret until he actually arrived on set. He and the other competitors were not allowed to share anything about their Jeopardy! experiences on Facebook or any other public platforms prior to filming for fear that they might discuss questions or conspire to share the prize money. Therefore, Donohue was able to share the information with his friends and family by word of mouth, but he generally had to avoid the public's prying eyes as he prepared himself for the tournament. Although this requirement did not significantly impact his specific preparation method, it certainly added to the pressure he experienced leading up to and during his time in the studio.
Ultimately, Donohue explained that while he thought his preparation was adequate, luck was definitely an important factor, and it is not possible to prepare for every single moment of an episode.
"There's really no way to prepare yourself for the immense pressure," Donohue said. "If we watch it at home, I'm just shouting the answers at my TV but when you're actually in the studio, you're so nervous that it makes you forget things. It makes you second-guess yourself… I very much went in with the mindset that just being there was winning."
Donohue already knows the outcome of the tournament, but the general public will learn whether or not his preparation was adequate when he appears on the Jeopardy! College Championship broadcast on May 7.