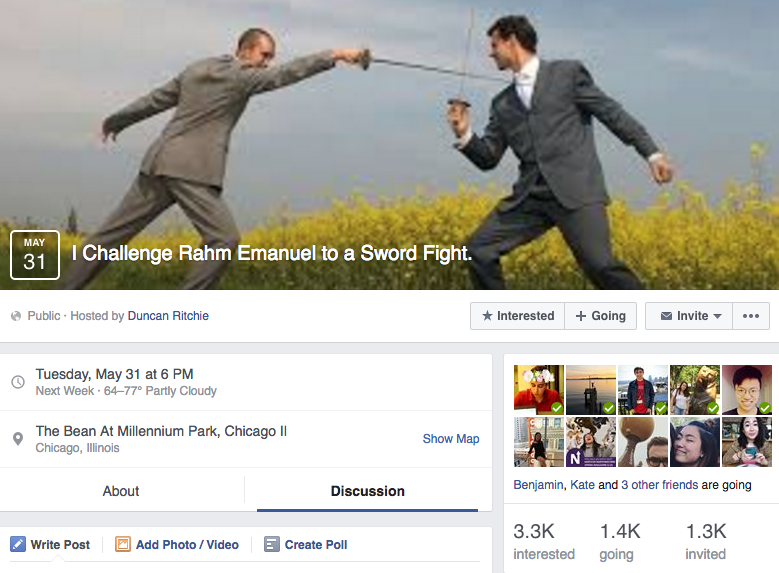 Mayor of Chicago Rahm Emanuel comes at you with his sword and nearly misses slicing off your arm. You retaliate by thrusting your sword toward him and making contact with his shoulder and he starts to bleed. The blood makes him hungry however, and he charges at you again while a crowd gathers at The Bean to watch.
According to a Facebook event called "I Challenge Rahm Emanuel to a Sword Fight." over 1,400 people would attend this duel, including several Northwestern students.
NBN talked to Laurie Schiller, who has been the fencing coach at Northwestern for 38 years (although he is due to retire after the 2015-16 season) as well as the co-captain of the club fencing team, Jeremy Kaish, to see exactly how this fight would go down.
Schiller said that the best way to attack the mayor would likely be to attack with a straight thrust going right through his chest. He also said this would especially be the best plan of attack for inexperienced fighters.
As for what kind of sword to use, Kaish suggests a sabre, an updated cavalry sword that is about 40 inches long. With a sabre, fighters can hit from the side of the blade. Kaish described the Sabre as fast paced.
The men both agreed that height plays an advantage if the sword can hit anywhere on the body. Emanuel is about 5 feet 7 inches tall, so taller fighters would have an advantage over Emanuel whereas shorter fighters would be disadvantaged. Kaish also said that speed also plays a factor.
Emanuel is also missing half of his middle finger. This, however, would not have an effect on his performance because, according to Schiller, fencing swords are handled with only the thumb or forefinger. Schiller said that if one of these appendages were missing, Emanuel would be at a "severe disadvantage."
NBN was unable to contact the creator of the Facebook event, so it is unclear if the fight is to the death, to the pain or would just consist of a few hits.
"When you're fighting for blood, every hit takes a toll, so I definitely think [a fight to the death] would slow it down, make everything a little more deliberate, a little bit more thought out," Kaish said.
He also added that the reflective surface of The Bean, where the fight is supposed to take place, could give fighters an advantage because they wouldn't necessarily have to look at their opponent.
It is likely that many more than 4,700 people interested in or attending the fight have grievances with Emanuel. According to a Chicago Tribune article written in February, 27 percent of Chicagoans approve of Emanuel's performance whereas 63 percent disapprove.
Emanuel did not immediately respond to a request for comment via email and could not be reached on the phone because his press voicemail was full. According to a post on the event Facebook group, Emanuel has also not responded to the duel request.
Schiller said he thought the event was a "silly idea" especially because of the lack of parameters and implied that the creator of the event may have seen "too much sci-fi."