As a new college student, it's quite possible that you haven't been responsible for taking care of your hair as you grew up. Sure, you may have a certain style of haircut that you prefer, but knowing how to articulate that vision to the barber may have been mom or dad's job – until now.
You're an adult! And, unless you're planning on only getting your hair cut during breaks until you move back into your parents' basement, it's high time you learned how to take care of your own hair. With that in mind, here's a comprehensive guide for both women and men. Now go and grow up a little bit.
Malloy's salon cut
By Malloy Moseley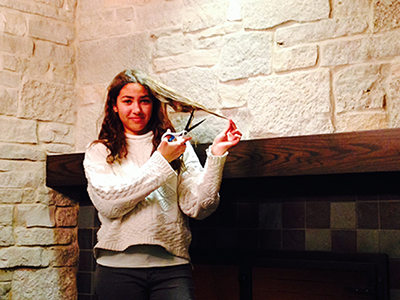 No Shave November offers an alternative for anyone looking for an excuse to avoid maintaining body and facial hair. Unfortunately there is no social movement you can use as an excuse to get around the fact that at some point during the academic year, you will most likely need to get a haircut. Whether short or long, unruly or vigilantly maintained, there comes a time when nothing feels better than a good trim.
A good haircut can make your day, but for those who have never had their haircut unaccompanied, or have been the in capable hands of the same stylist their whole lives, the first haircut of college can be intimidating.
Wading through a sea of Yelp! reviews and WildCard discounts can be helpful, but the real key to getting what you want at the salon is communication.
Talking to your stylist
As of this past summer, I had not had my hair professionally cut for at least five years. I strode proudly into a salon I had thoroughly researched, my hair at least a foot long, and boldly told my hairdresser to do whatever she wanted with it. This was a big risk for a biracial girl with a long history of uncooperative, frizzy curls, that didn't take well to any sort of agitation or change, but I was willing to go for it in the spirit of getting a fresh start. That, and I felt comfortable with my hairdresser, which is a crucial element for getting the look you want.
For those going it alone for the first time in college, this type of in depth research may not be possible, but Ken Omiridias, stylist at the Ergo Salon and Spa, has been cutting hair in the Evanston area for 24 years, and has seen his fair share of first-timers. The undergrads who come to his salon usually come in confused about what they want. "People are coming from different parts of the country and different demographics – big cities, small towns – they may have different expectations," he said.
People are often nervous about trying a new stylist, but Omiridias suggests that people just relax and be open with their stylist. "Communication is key," he said. He suggests that you bring in pictures on your phone, a modern update on the old tradition of offering magazine clippings for reference.
Long Hair
For folks like myself, who prefer to keep their hair longer, there isn't quite as much of a sense of urgency. "Women [that] age don't usually get haircuts, they keep it long and usually wait until Christmas or Thanksgiving, we have to wait until February or March to see new students," Omiridias said.
Longer hair works best with layers to keep the length from weighing your hair down, regardless of texture. Some well placed cuts around your face can really highlight your bone structure, and keep your hair from feeling like a ten-pound dumbbell hanging from your nape.
If you plan on maintaining a long cut, be sure to treat your hair kindly – don't comb through it too quickly, as this can create split ends. When using heat styling tools, like flat-irons, curling irons or blow dries, be sure to coat your follicles with heat-protectant spray. Those fried ends will become a lot more noticeable if you aren't trimming regularly, so even if you like length, consider a small snip every couple months for maintenance.
Short Hair
If you tend to wear your hair shorter with a look that requires a little more maintenance, you will likely find yourself in a position to get your haircut before your first trip home. Be sure to check your cut before you leave the salon to make sure there aren't any pieces that don't align with the rest; nothing is worse than taking the first shower after a fresh cut and combing your hair out to find and awkward long tendril.
If you're looking for a low-maintenance short hair look, try asking your stylist for something with a choppy fringe. The stylist should make vertical cuts into the ends of your hair to give you that cool rocker vibe. A bonus – it will be much less noticeable when your hair starts growing out.
Trendsetters
College may seem like a great time to change up your look by trying a new color, cut, or texture – my mindset coming in to school was that I wanted to look like a completely new version of myself. While a fun new 'do change change your whole attitude, it is not without risks.
A change in hair color, whether to a natural shade or something a little more vibrant, will require frequent upkeep. Unless you plan on making trips to the drugstore for touch-ups, a drastic change in tone can run you a pretty penny. It should also be noted that not every color looks good on everyone: that cool gray look you saw on a model on Tumblr might not be your best choice.
Bear in mind the one place where college kids usually falter: referencing a zeitgeisty figure as a starting point for stylists. "Most (stylists) have been doing hair for a long time," said Omiridias, "and don't always have pop-culture knowledge." If you aren't careful, your Emma Watson may come out more Emma Stone.
There is no doubting that hair represents a broad spectrum of textures, lengths, and colors, so remember that there is no panacea cut that will work the same for everyone (another reason to avoid referencing pop-culture figures). If you aren't satisfied with your look, it's important to keep in mind that it's just a haircut, and the hair will grow back, so don't worry too much about your choice of stylist. Omiridias added, "At the end of the day, we all cut hair."
Andrew's barber shop cut
By Andrew Simpson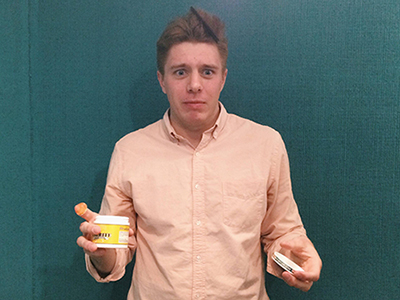 Sitting in my elementary school-sized leather chair, I couldn't help but stare at the men carving unkempt hair into model-like masterpieces. I was in Belmont Barbershop, and my heart was pounding in fear.
The barbers weren't particularly intimidating, with conspicuous beer bellies and thick, dad-like facial hair on nearly all of them. But this was going to be the first non-childish haircut of my life, and I had no idea what I was doing. I don't know which idea was scarier, considering giving the barber complete control of my hair or imagining the end result if I tried to give him instructions. The only thing looking at albums of "hair inspiration" had taught me so far was that models were probably born with great hair.
Luckily for me, it was Derek who read my name off the walk-in list. I told him I would be his project for the day, because I was clueless. He said he had had worse that day. I tried to garble out some words relating to hair, but he shut me up and grabbed a quarter out of his pocket.
"Heads, I get to pick your haircut. Tails, I still get to pick, but I'll ask for your opinion every now and then."
It was tails. Thank God for Derek.
Neck, sideburns and arch
Derek started me off slow. He asked how I liked my sideburns, if he should keep the arch of the hair around my ear and if I wanted the hair on my neck block or tapered.
Sideburns are easy. I can't grow facial hair worth a damn, so I keep my sideburns at mid-ear (about even with the actual hole part of an ear), a decent distance away from my stubble. You can generally just point to the length you like, but saying long means near earlobe length, and high or short draws a line about a quarter of the way from the top of your ear.
Most people should go with the natural arch of their hair around their ear, leaving the barber with only a slight clean up job. A high arch will add an extra quarter to half inch of empty space above your ear, and will make most people look goofy.
For the hair on my neck, I trusted Derek when he said I should go tapered, that is, that hair was slowly cut shorter and shorter down the length of my neck. As your hair grows out, tapers are built to naturally blend and look neat. A block (straight line across your neck) or rounded (block with rounded edges) nape looks sharp right after a haircut, but require weekly visits to the barber to stave off growing rattails.
Sides
Trying to keep long hair on my sides would have been too much change for me, so I went along with popular opinion and got my sides short. Also, having short sides means that I have to spend zero time working on them.
I chose a three to two fade, meaning the highest points on my sides are a number three buzz, and Derek slowly went shorter (in essence thinner) until he hit a number two near my sideburn length.
A number one buzz is essentially thick stubble. A number four is approaching workable hair that requires combing and product. Two seems to be a nice middle ground, and is what you should probably get if you're still into undercuts. When going short on the sides, think about how thick you want your hair to be, not how long.
Tops
The tops are the most obvious and distinctive factor in most barber shop hairstyles. Two people can both have short sides, but it's the top that will tell you if they're a conservative businessperson or the artsy-fartsy type.
If you have no idea what you're doing, like I did, just bring in pictures of styles you like. This removes the need for instructions.
Don't worry if people on the L see you basically staring at pages and pages of models. If your barber doesn't know what you want to look like, he can't turn you into that.
It was when I was showing pictures to Derek that he informed me that my hair was too short to do anything fun, and that he was going to give me a flat side part, the standard men's haircut. Of course, the longer you hair is, the more you can do with it. Instead of a style, a side part can turn into a foundation for various directions, shapes and lengths.
3 Final Tips
Accept that you should get a blow-dryer. In simple terms, your hair is long strands of proteins, and heat can rearrange or degrade proteins. So instead of trying to use product to force your hair to go in a shape it doesn't want to be in, use the heat from a blow dryer and guide it into that shape with a comb. The heat rearranges the proteins, and the hair now "naturally" lays in the way you wanted it to go.
Pomades and gels are the lightweight stuff to keep a side part in place or keep hair in going in one direction. Some leave your hair stiffer than others, and gels are generally shinier than pomades. Creams are great for people with thick or curly or wavy hair. They can shape hair while leaving it looking mostly natural.
Listen to your barber.