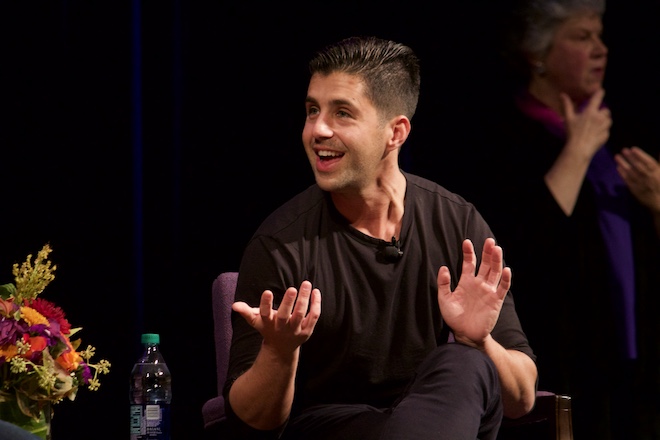 If you saw a mass of students near the Sheridan/Chicago crosswalk Thursday night, they were waiting in the bitter cold for good reason. They were there for Josh Peck.
The 31-year-old actor and new media comedian of Drake & Josh fame spoke about his experiences in the entertainment industry and his Jewish faith Thursday. The talk, which took place in Cahn Auditorium, was Northwestern Hillel's fall speaker event, and attracted both Jewish and non-Jewish members of the Northwestern community. The discussion was moderated by Communication junior Grady Jensen.
Through anecdotes of a Broadway-themed bar mitzvah and a joke made about the similarities of Catholicism and Judaism (food and guilt, according to Peck), the actor gave a lighthearted take on a topic that is clearly important to him.
"I think what's incredibly cool about [Judaism] is that it's something that feels so deeply ingrained in all of us, whether we're necessarily more religious or not," Peck said. "There's this ethnic, cultural integration that happens at a young age."
When an audience member asked about what influenced his increased interest in the religion as he got older, Peck said he couldn't quite put his finger on it.
"I don't know what it is. Maybe you guys don't identify, but as a kid, I wasn't like 'First I'm going to play Super Nintendo, and then: Hebrew school!'" he said. "I wasn't stoked."
As he aged, though, Peck was less inclined to resist the wishes of his parents, and he worked in an industry in which fellow Jewish actors made him feel like he was among his peers.
"There's this second-hand nature when one Jew's talking to another that's like this - I don't know what it is - it's a short-hand," he said. "It's a common understanding that we probably have a similar mom, and we know what chopped liver is when other people would be like 'Yo, how can you eat that shit?' And it's amazing."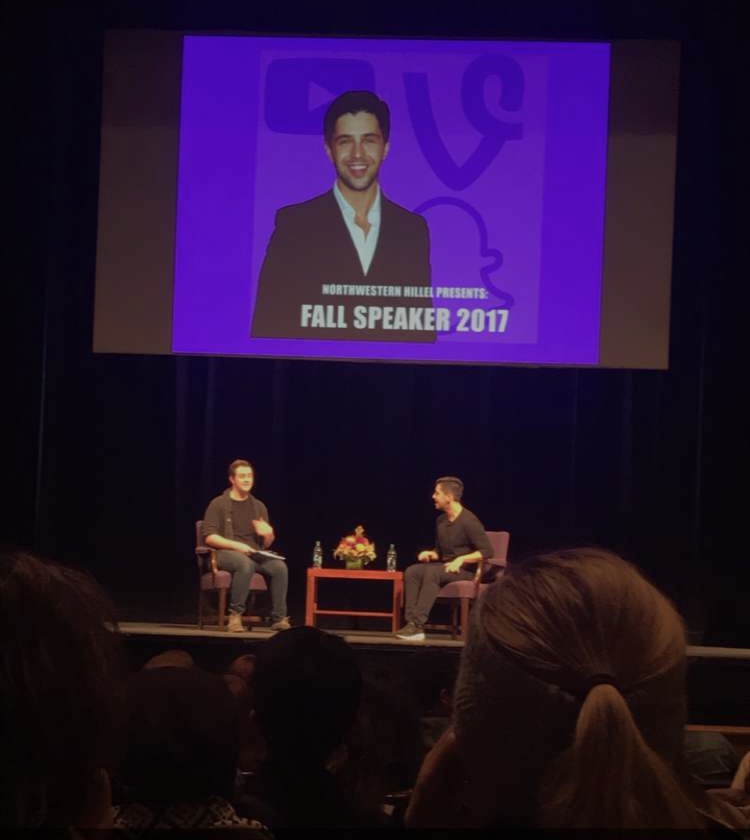 In addition to discussing his Jewish identity, Peck talked about his work after Drake & Josh, including Red Dawn (2012), Grandfathered (2015-2016), which also also starred John Stamos, and a few indie films. He also addressed his presence in new media, on sites such as YouTube and Vine (when it was a thing; R.I.P. Vine).
"It's looking for ways in which to create," he said. "As an actor, you sort of always need people's permission to do what you love … so I think that's why I got so into Vine and so into this stuff was that I could go directly to you guys and not have wait for a year for something to come out."
Medill freshman Shannon McPhee liked the way Peck spoke candidly about the role body image played in his life and his transition from the "chubby" kid on Drake & Josh to the accomplished actor he is now.
"He's really become a brand," McPhee said. "He's that funny guy - now he's that funny guy who lost a lot of weight - and he's just created this whole big career based off of his looks and he hasn't let any personal comments get to him, and I think that's just really commendable."
Whether speaking about religion, family or the show that catapulted him into stardom, Peck kept the crowd laughing all through the night. He got friendly with moderator Grady Jensen, going so far as to even sit on his lap, in an act that had the crowd rolling, and even threw in a few obscure Northwestern references he'd clearly been briefed on shortly before.
The crowd got a chance to give back some love when an audience member asked Peck how he planned to celebrate his birthday (which was the next day, Nov. 10), saying that "Nevin's is open at midnight." The audience responded with a jumbled rendition of "Happy Birthday," which started off strong but fell apart at the end.
"I'll see you there," he said. "Order me a ginger ale."
Weinberg freshman Jesse Cortez came to the event because he was a fan of Peck's work on Nickelodeon. Though he is not Jewish and doesn't know much about Jewish culture, he thought the talk was a good way to learn about the Jewish experience.
"People think 'Oh, this is Josh Peck,' but then he comes in and talks about stuff that's not necessarily something people know a lot about, but will learn about through that," Cortez said. "I think that's cool."
Weinberg freshman Robby Winter, who is involved in Hillel, said Peck's pop culture status helped make Judaism more accessible to people who don't know much about it otherwise.
"He's incredibly funny, but what I appreciated most was his more sincere responses to how Judaism impacted his career, his relationship with his mom, with his wife," Winter said. "I feel like it's so easy to hear his humor through the media, but I think hearing some of the more personal stuff made him more real."
If you missed Peck's talk, worry not. He's probably already vlogging about the highlights - or maybe you'll see him at Nevin's.