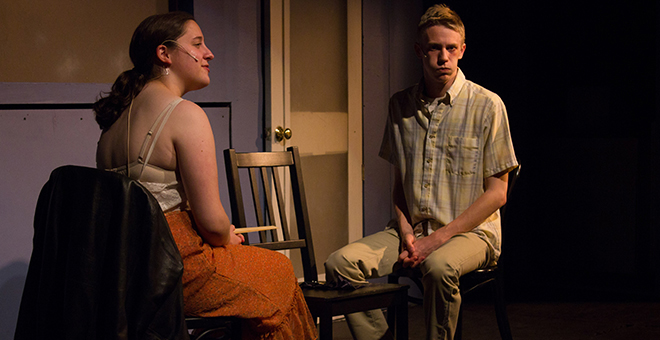 With a talented group of singers and actors presenting themes of body image, sexism, and violence, Garden Party's fall musical Dogfight is sure to stir up conversation around campus this weekend.
With students coming together from all areas of the Northwestern theater community, director Dylan Pager was excited to see how well they would work together on the Arts Alliance-sponsored show.
"What is great about the Northwestern theater community is that while we are all trained differently, people are involved in so many different things on campus it makes it easy for us to collaborate with each other," he said.
"From the outside, the a cappella community, as well as the theater community, may seem like they are at war with each other, but in reality we're all friends and respect the work each other does," actor Kyle Sherman said.
Sherman says that because the cast has been working together on this show since before classes started, "it has created a real comraderie among the cast," and in turn has made them comfortable being honest with each other. "We've created a really supportive space," he said, "We're all there to applaud each other, but we are also there to say 'that really didn't work for me.'"
According to Pager, this talented cast has found the balance between hard work and play.
"When we need to get it down, they're ready to work but when we're playing around and feeling the energy of the show, they're also excited and willing to have fun with it," he says.
Dogfight follows the story of marines the night before their deployment to Vietnam. The men decide to play "dogfight," a cruel game in which they attempt to bring the ugliest girl to a party in order to win a pool of money. When one marine's date discovers this bet, she leaves distraught. Feeling guilty, he follows her, and this is where the unconventional love story and coming-of-age journey begins.
"I hope that anyone who sees the show experiences a full range of emotions," says producer Alex Wolfe.
Actress Myrna Conn says this is a show where "characters go through such an emotional arc," and "as devastating as some of the subject matter and some of the moments are, it leaves you with a lot of hope. As horrible as [Dogfight] gets, it gives you something equally as beautiful."
"The premise of the show might seem either outdated or irrelevant and outrageous, but I hope that students and the community takes away that the underlying ideas about women, about heterosexual relationships, about social status, those are all still relevant," says assistant director Rachel Leshin.
Instead of the worn-out 'let's get a couple lines of dialogue in before our next big musical number' attitude of musical theater, Sherman calls Dogfight "a play that wraps itself in a musical," because of the grounded and real scenes throughout the show. "You get to find true characters in the dialogue, you get to work through those ideas and then after you see that development, you get to experience it in a musical aspect," he says.
Originally based off of the 1991 film starting River Phoenix, Northwestern alumni Peter Duchan is responsible for adapting Dogfight to the non-musical potions of the script, along with Benj Pasek and Justin Paul, the trio adapted the story into a musical theater piece. Peter Duchan is going to attend the Saturday night showing of Dogfight at 8pm.
Dogfight is set to run Oct. 2 at 8 p.m., Oct. 3 at 8 p.m. and 11 p.m. and Oct. 4 at 2 p.m. and 8 p.m., in Shanley Pavilion. Tickets are $5 for students with ID and $10 at the door for general public.