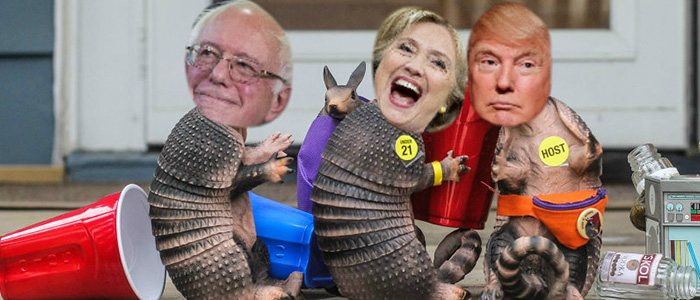 Political candidates are just like us: balancing extremely busy schedules, constantly being tested on the depth of their knowledge and in desperate need of a break. As Northwestern students prepare to spend this weekend forgetting all of their pressing responsibilities at Dillo Day, NBN outlined what some of this year's presidential hopefuls might be up to if they attended the festival.
Jeb Bush
Jeb! went home for the weekend, worried that Dillo Day would just be too "high energy" for him to handle. When his family went out to dinner, his parents repeatedly asked him why he couldn't be more like his brother, who was the president of Mayfest. Trying to distract them with the news that he had finished his dissertation, Jeb raised a glass to celebrate but faced a stony response. "Please clap," he whispered to the waitress who, upon seeing his enthusiastic gesture, thought he needed a refill.
Donald Trump
The Donald spent most of Dillo assisting NUPD with their border security problems, promising that next year, he would help them construct a wall to keep out students who swim across the lagoon in the lakefill in order to avoid checkpoints. Even better, he said, he has a plan in action to make Evanston taxpayers finance its construction.
Ben Carson
Carson volunteered in the health tent, but was disappointed when he was unable to use his medical expertise to perform emergency brain surgery. Although his patients complained of dizziness, it turned out they were just drunk, so his "gifted hands" were not put to the test. He was also seen passing out belt buckles to protect students from knife attacks.
Ted Cruz
Ted Cruz, taking issue with this year's Dillo lineup, tried to shut down the whole event in an attempt to make himself more popular. After filibustering ScHoolboy Q's performance for 34 minutes, he was booed off the stage and the rapper called him "Lucifer in the flesh." Afterward, Carly Fiorina tried to debut an original song, but fell off the platform and everyone pretended not to notice.
John Kasich
Kasich spent Dillo just trying to forget that he only won a single state in the Republican primary contests. He was seen scream-singing "I'm Good" by the Mowglis with a smile plastered across his face while trying to convince everyone around him that he truly was a nice, moderate candidate.
Marco Rubio
Marco Rubio competed in Battle of the Bands, but for some reason, when he took the mic, only one lyric came out: Let's dispel with this fiction that Barack Obama doesn't know what he's doing. After the blunder was shared hundreds of times on social media, Rubio dropped out of the competition and announced his musical career was over.
Bernie Sanders
Bernie Sanders had two goals in mind for Dillo: make it free for everyone and get Vampire Weekend in the lineup. Although he failed with the latter, he spent most of his day rallying with students who thought the $10 guest ticket price was far too high.
Hillary Clinton
Hillary Clinton is a member of Mayfest and spent Dillo Day making sure everything went according to plan. Although the organization has a bit of a likeability problem following last year's weather cancellation, students generally know they can count on Clinton's team to keep things organized and running, despite what Yik Yak might say otherwise.