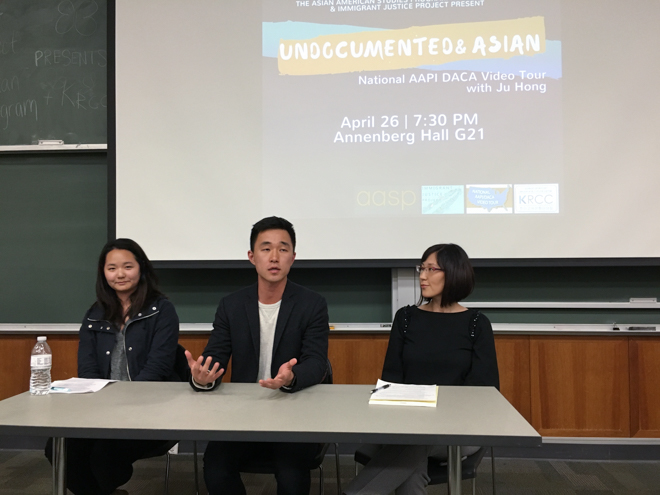 In American politics, much of the focus on issues of immigration, particularly during this election season, has emphasized the question of Mexican immigration to the United States. On Tuesday night, the Immigrant Justice Project took a different approach to the topic through "Undocumented & Asian," examining the experience of Asian immigrants and their challenges as noncitizens.
Earlier this month, seven Northwestern students who are members of the Immigrant Justice Project and MEChA traveled to Washington D.C. to demonstrate support of the DACA and DAPA programs which are currently under review by the United States Supreme Court. DACA and DAPA, which stand for Deferred Action for Child Arrivals and Deferred Action for Parents of Americans, are executive actions that give legal status to undocumented children and adults, respectively.
Tuesday's panelists were political science professor Julie Lee Merseth, activist Ju Hong and recent Northwestern graduate Yujin Maeng. They spoke about the importance of these programs for undocumented immigrants, noting how the discourse has often left out Asians entirely.
"Immigration in general affects everyone," said Hong. "There are about 11.5 million undocumented immigrants in this country and among those groups about 1.3 [to] 1.5 million undocumented immigrants are coming from Asia."
The panel also noted that the outcome of the current Supreme Court case over the legality of DACA and DAPA will affect around 5 million people.
Merseth conducts research for Northwestern on immigration, immigrant political incorporation and racial and ethnic politics, among other topics. Maeng works for the Korean American Resource and Cultural Center. Hong is the National Asian American and Pacific Islander DACA collaborative coordinator at the National Korean American Service and Education Consortium. He is also known for interrupting one of President Obama's speeches.
The panel was preceded by two documentaries. One focused on Hong's personal struggle with being an undocumented immigrant, including being separated from his family. The other spotlighted the Dream Riders Across America youth activism campaign. It was followed by a Q&A with members of the audience of about 40 students.
The event was put together by Northewestern's Immigrant Justice Project in conjunction with KRCC. It is just one stop on a tour to discuss these issues at various universities.
One of the most recent financial aid changes at Northwestern also concerns undocumented immigrants, who previously received no financial aid from the University but will be eligible for full scholarships beginning this fall.
A large part of the panel was a call to action, urging students to look to consider DAPA and DACA when voting in the next set of federal elections.
"These are temporary relief programs," said Merseth, "I think it's really important also to think about the longevity, the sustainability of those programs and the fact that that's actually in limbo."