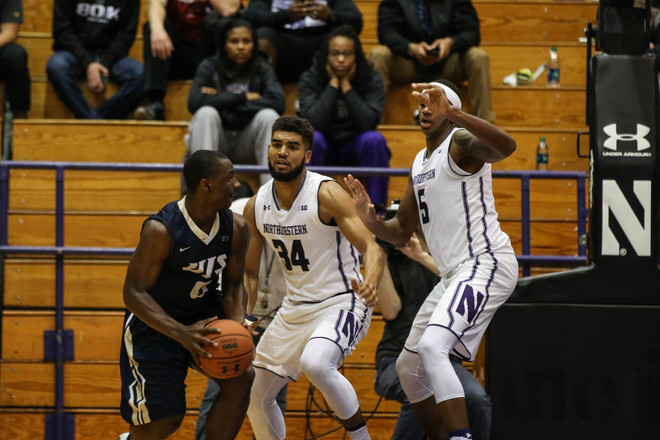 For the majority of college basketball programs, the most important player is the star – the player that leads the team in the most statistical categories, draws the most attention from professional scouts and brings the most fans to the arena on game day. But for Northwestern men's basketball, the importance of fifth-year senior and co-captain Sanjay Lumpkin is simply unquantifiable, something you won't find postgame in the box score.
"Sanjay is never going to be measured by his stats – he just isn't," said head coach Chris Collins, who has had the guard-forward hybrid Lumpkin by his side for his entire tenure as head coach at NU. "Maybe there'll be a game where he gets 10 or 12 points, but Sanjay is measured by what he brings to our team in terms of toughness [and] heart. He gives us our grit, he's a leader for us out on the floor, he's a defensive stopper [and] he can guard point guards through four-men if you need him to."
Lumpkin, who has started in 90 of the 101 games that he has appeared in over the course of his Wildcat career, has never scored more than 15 points in a game, averaging only 3.9 points per game along the way. He has a career .322 three-point shooting percentage, a .661 free throw shooting percentage and a total of 391 points, not eye-catching numbers by any stretch.
But Lumpkin has found other ways to make an impact. The hustle plays, drawn charges and unselfish extra passes are second nature for Lumpkin, plays that won't go down in the stat sheet, but ones that always grab the attention of his coach and teammates.
"He's a lead by example guy," said sophomore big man Dererk Pardon. "[Lumpkin] embodies what it means to be at Northwestern. [He's] a dirty work guy that'll get done what needs to be done, plain and simple."
Lumpkin's two strengths are defense and rebounding, both part of the dirty work Pardon mentioned. Unlike on offense, the stats reflect Lumpkin's contributions - last year, Lumpkin was first on the team in total rebounds (159), defensive rebounds (114) and offensive rebounds (45), and was third on the team in steals (17). For a team that often struggles in both of these areas, Lumpkin can be counted on to crash the boards, be a leader on defense and sometimes, shut down the other team's best player.
While grabbing the bulk of NU's rebounds and being a leader on defense, Lumpkin has also worked to strengthen his offensive game. Junior co-captain Bryant McIntosh was impressed with the improvements Lumpkin made over the offseason with his catch-and-shoot game, along with his overall confidence shooting the basketball. McIntosh also called Lumpkin the "grandfather" of the squad, emphasizing Lumpkin's ability to pass along his knowledge both on and off the court.
"Just having his experience and charisma … [is] very influential especially for our young guys," Mcintosh said. "Having him on the team and having him as a friend for the rest of my life is going to be really special."
Lumpkin's improvement on the court has been encouraging, but it's his leadership and influence on younger players that make him a textbook teammate and the ultimate role model. Lumpkin himself understands his role, embracing the fact that from the locker room to the practice court each and every day, he needs to be the backbone of this team.
"I feel like I have to be the anchor, the rock for all the younger guys," Lumpkin said. "I've been through everything they've yet to go through."
Perhaps the most important aspect of Lumpkin's presence for NU, however, is his drive and will to win. Lumpkin has been a part of four straight seasons without any postseason play and represents a program that has yet to book a trip to the NCAA Tournament – something that Lumpkin uses as motivation.
"I came here to be a part of the first team that goes to the NCAA Tournament," he said. "Not only do we want to make the tournament [this year] but we want to go deep in it."
With Lumpkin's final season set to begin, the Wildcats will sorely miss the hard work, dedication and consistency that he brought for five straight years. But they should be confident that their co-captain will leave it all out on the floor one last time, like he always has.
"It's all about winning for me, whether I'm on the court or off the court," Lumpkin said. "Winning is why I'm here and I will do whatever it takes to reach that goal."