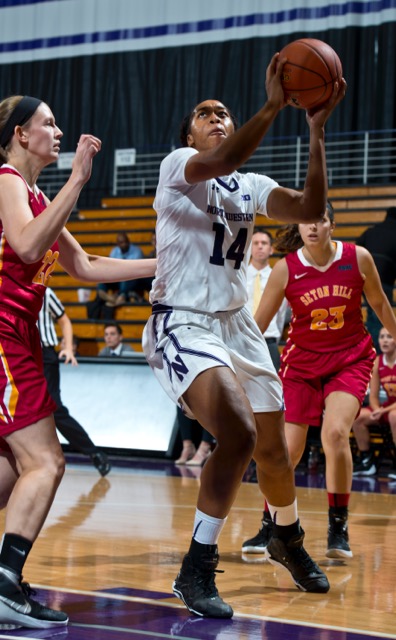 Start 'em young. That's the mantra in American sports, where children begin playing competitive sports at increasingly younger ages. They practice every night and play multiple times a week, honing their craft in the hopes that maybe one day they will be good enough to play in college, and then – even more unlikely – professionally. This philosophy makes every "late bloomer" seem that much more rare, but Northwestern freshman Pallas Kunaiyi-Akpanah was one.
Kunaiyi-Akpanah says that she was never much of a basketball player in her hometown of Abuja, Nigeria, and credits the beginning of her basketball career to the efforts of former Fordham star Mobolaji Akiode. Akiode is the founder of Hope 4 Girls Africa, a "non-profit organization dedicated to the increased participation and empowerment of disadvantaged young African women in sports and education," according to the organization's website. Kunaiyi-Akpanah was of the girls that Akiode's academy selected, trained, took care of and eventually even enrolled in an American school, so that the girls could continue their basketball careers in a new country.
And so, after a few years of training and preparation, Kunaiyi-Akpanah set off for the Untied States and the Rabun Gap-Nacoochee School in Rabun Gap, Georgia. (It's about two hours outside of Atlanta.)
"That was one of the schools [Akiode] found for me," Kunaiyi-Akpanah said. "I guess she had some connections with the coach. She thought it was a good fit, as a boarding school, since I was already a boarding student in Nigeria."
Despite being nearly 6,000 miles away from her lifelong home, Kunaiyi-Akpanah said that her transition wasn't too difficult, explaining that since she had been a boarding student at Hope 4 Girls, she was used to being away from her family. Still, she admitted it was a bit scary – as she smiled slightly, as if to indicate that she was downplaying her fear.
"The people in Georgia were very accepting," she said. "Also, everybody just wants to help, and the school itself was a very great atmosphere for someone coming from far away. There were a lot of people from all over the country and all over the world. Very diverse."
In high school, Kunaiyi-Akpanah utilized what many college scouts called her "raw talent" to play and excel at many other sports besides basketball. She forayed into track, tennis and volleyball, and was an All-State selection in track. "I just really enjoyed doing different things and trying new things," she said. "When basketball season wasn't in, I would just try something else. Turns out, I would most of the time be good at it. I guess I have natural athleticism, so when I have to do different sports, it's always an easier adjustment for me."
After her senior season, in which she led her Eagles to a 21-5 record as well as to a runner-up finish in the state tournament, Kunaiyi-Akpanah stayed with her aunt in Florida as her college recruitment process began. She said she got connected to Kenny Kallina, a recognized women's college basketball scout, whom she admiringly described as a "really good coach" who "knows everybody."
She received looks from a lot of schools, but her eventual college decision was basically a no-brainer. Out of all the schools that recruited her, Kunaiyi-Akpanah said, Northwestern was tops in academics. Once her playing days are over, Kunaiyi-Akpanah wants to pursue a degree in economics, envisioning a future business career.
That's all still a long way away for the freshman, who also dreams of playing basketball overseas or professionally. But for now, Head Coach Joe McKeown expects big things from her in college, primarily as a rebounder on both ends of the floor. One of the taller members of the team at 6'2", she made an impact in her first official college game last Sunday against Howard, when she recorded five rebounds and one block.
She may have only been in Evanston for a little over two months, but Kunaiyi-Akpanah seems to be well on her way to achieving her goals. Her humble attitude and reserved disposition belie her confidence in her abilities, to say nothing of her obvious talent. But even she, like any other new student from a warm climate, is not ready for the winters in Evanston.
"I miss my home, and I'm really going to miss it in the winter, because it never gets cold where I'm from," she said. She stopped for a moment and laughed quietly. "I saw the pictures, and it's terrible. But, hopefully, it won't be too bad this year."
For fans looking to escape the wind and snow in the winter, Welsh-Ryan Arena will provide some welcome refuge. Nigerian newcomer Kunaiyi-Akpanah and her team are heating up for what should be another great basketball season.