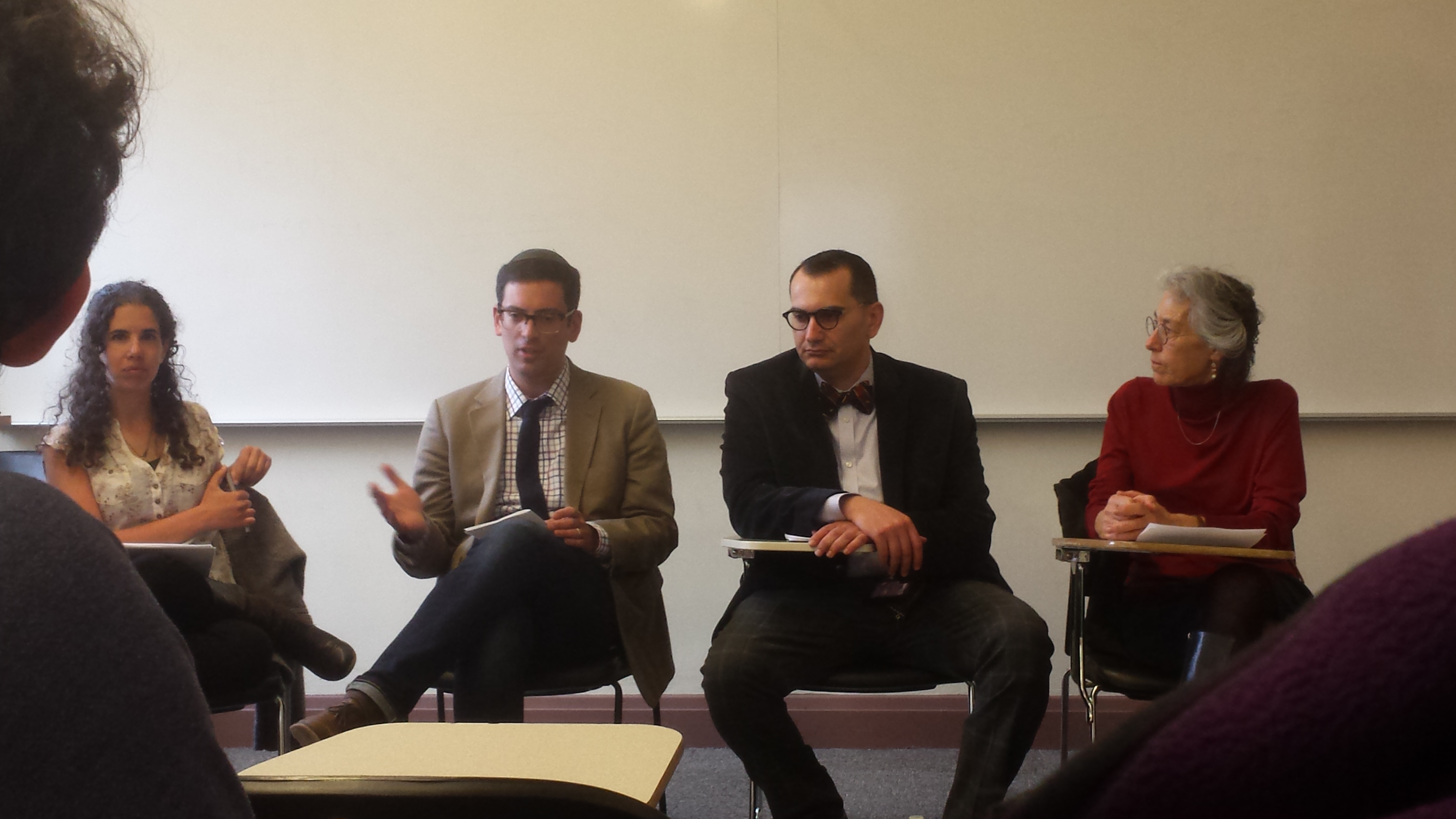 What, exactly, is Zionism? It is a word fraught with meaning, especially on Northwestern's campus, where debates about the role of the modern Israeli state and its relationship with the Arab people living in Palestine have defined campus discourse over the past few years. With one word coming to mean so much to so many people, Israel Week's Tuesday night event, "The Z-Word: What is/are Zionism(s)?" hoped to destabilize the notion of one Zionism, with the four professors each explaining their own approaches towards the term.
"Engagement with Zionism is often seen as only engaging with the establishment of the state itself, which in America on college campuses has turned Zionism into a one-meaning word, a dirty word in some places," said Weinberg freshman Adam Chanes. "But it is a word that needs to be destigmatized and unpacked."
On the day before Yom Hazikaron, or the Jewish national holiday dedicated to fallen Israeli soldiers and other victims of political violence, the panel sought to give a deeper context to the contingency of the idea of Zionism across time. History professor David Shyovitz explained that for every exposure to one form of Zionism, other forms are obscured. He argued that a turn away from Zionism in America, especially amongst younger Jews, is rooted in an inability to fully articulate an understanding of Judaism outside of the Israeli state. He described seeing people's unconscious biases show clearly their attitudes throughout history, and urged people to think critically about the historical contingency of political movements like Zionism and how they are constantly recreated across time.
"I can only assume that we in this room have blind spots too that will someday be as glaringly obvious to our descendants as our predecessors blind spots are to us," Shyovitz said.
This sense of historical difference was important throughout the discussion. Arabic professor Amjad al-Dajani explained the different ways Zionism has been understood in Jewish and Arabic communities throughout time. According to al-Dajani, both Arabs and Jewish people understand Zionism revolving around the question of homeland, with Arabs seeing Zionism as an attempt to steal their land, and Zionists hoping to return the Jewish people to their home. Still, before the creation of the modern Israeli state, al-Dajani described the "somewhat harmonious" existence of a Jewish population in the area now under Israeli control, neighborly relationships between Jews and Muslims that were challenged as Zionist forces eventually lead to the division existing today.
Jewish studies professor Yael Dekel elaborated an effort to see Zionism in a context harmonious to both Jewish and Arab populations. An Israeli citizen, Dekel described the struggles she feels towards Zionism, stating that she loves "individuals, not nation-states." Living in a bi-national community where Jewish and Arab children learn together, she said her views might be characterized as post-Zionist. Reading from an email sent by the head of her community, she sought an understanding of Zionism that balanced the needs of both populations in the area.
"The day-to-day routine in our community is the victory over the reality in the state of Israel, where Arabs and Jewish children are sharing psychological, symbolic and geographical spaces," she said. "We wish that each of us will find the empathy and forgiveness within themselves, and will live a happy life."
Even as Zionism is associated with the modern Israeli state, multiple professors expressed their disapproval of the violence perpetuated against Palestinian people. Religious studies professor Laurie Zoloth, a member of the national board of the American Zionist Movement, described her frustration with the violence perpetuated against Palestinian people, saying that she sees an embrace of these states as "difficult' but necessary to honestly express her identity.
"You would have to be a callous horrible person to not care about the suffering of the Palestinian people," she said. "I love America too, and America has contributed to violence and terror over the world. It doesn't diminish one bit my love for America and the American people, and it's the same for Israel."
On Northwestern's campus, Zionism has taken on extra significance in debates about the Jewish identity and the question of the Israeli state. In a letter published by North By Northwestern in March, Unshackle NU and NU Divest criticized the conflation of Zionism with Judaism, stating, "The state of Israel has attempted to conflate both in order to garner support for its apartheid policies." Tuesday's event hoped to unsettle this direct connection, showing that Zionism is many things to many people, even as challenging questions endure about what the state of Israel means for its population and the Palestinian people.
"You can support national liberation struggles for both Palestinian and Jewish people," Zoloth said. "I am a Zionist, not because it is perfect, but it is because that is where the Jews are."