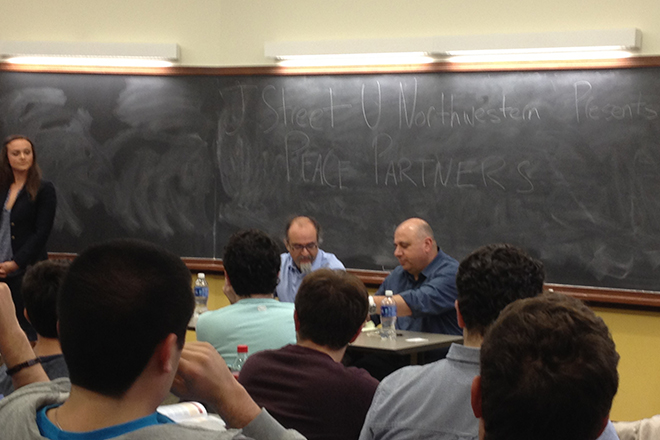 J Street U Northwestern hosted a discussion and Q-and-A session tonight with Ori Nir and Ghaith al-Omari, who argued that a peaceful two-state solution to the Israeli-Palestinian conflict is possible.
Ori Nir, a former Israeli journalist, is the national spokesman for Americans for Peace Now. Ghaith al-Omari has worked with the Palestinian Authority and is now the Executive Director of the American Task Force on Palestine. Americans for Peace Now and The American Task Force on Palestine have started a new collaborative initiative called "Peace Partners," which unites the two pro-peace Washington-based organizations.
Nir said the Israelis and Palestinians tend to treat each other as adversaries and dehumanize the other side. He said he personally recognized that this conflict was about real people when a young boy hugged him and mistook him for his father, who had been killed the day before.
"It was a realization that we're dealing with real people here, real suffering and real loss," Nir said.
Nir and al-Omari agreed that most Israelis and Palestinians want peace, but they do not think it is an achievable goal, since each side believes the other does not support a peaceful two-state solution. Al-Omari argued that people are "too scared to hope," and that separation between Israelis and Palestinians is a barrier to compromise.
"Over the last 20 years, there's been a system of separation that has happened," al-Omari said. "The two sides stopped meeting. The only Israeli that Palestinians meet is [at] the soldier check-point, and the only Palestinian that Israelis are aware of is the suicide bomber on a bus."
Al-Omari encouraged students to be active, saying that everyone who is not active is a lost voice. He said students should focus on similarities rather than differences and work toward common goals.
Both Nir and al-Omari said the United States is indispensable in reaching a peaceful solution. Nir said that the United States has a right to get involved, as it is a political issue rather than a human rights issue.
After the discussion, Medill sophomore Tal Axelrod encouraged students to continue the conversation and consider what actions we can take.
McCormick freshman Kelsey Burke said the information presented during the discussion helped her develop a more informed stance on the issue.
"I think I heard a lot of things I'd never heard before, so it helped me form more of a perspective than I already had," she said. "It's something I didn't know enough to really form an opinion before now."