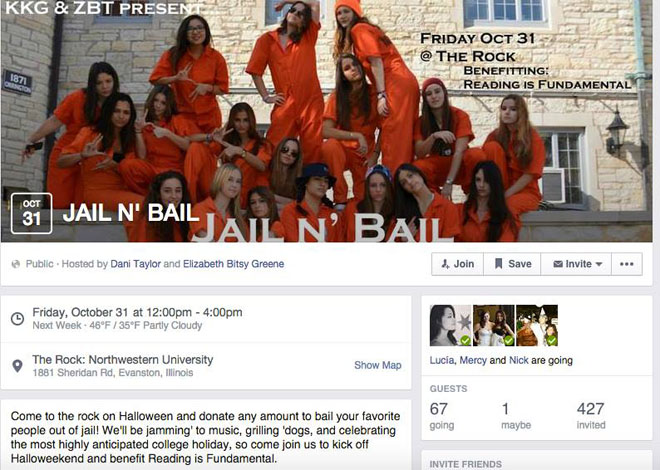 A philanthropy event planned by Kappa Kappa Gamma and Zeta Beta Tau was cancelled on Sunday night after public outcry about the event's offensive nature.
The event, called Jail N' Bail on its Facebook page, was supposed to feature members of the sorority in orange jumpsuits "arresting" friends by the Rock on Oct. 31 in return for $10 bail that would go toward improving literacy among underprivileged children through the charity Reading is Fundamental.
"Kappa Kappa Gamma regrets organizing the Jail N' Bail event due to its offensive nature," said the sorority in an official statement Monday. "We expect our members to promote integrity, respect and regard for others at all times and we apologize to the NU community."
The Jail N' Bail fundraiser is a popular event for the sorority and has been hosted in the past, but only now has received substantial attention from students on campus.
On Sunday night, debate over the event overwhelmed social media outlets such as Yik Yak and Facebook.
Ajay Nadig, a Weinberg sophomore, posted on Yik Yak and Facebook, and he wrote a letter to the editor in the Daily Northwestern in criticism of the event.
"I think Jail N' Bail is a symptom of the ignorance of the Greek system," Nadig said. "And it's not willful, but it's definitely concerning that this wasn't part of the thought process [behind the event], and that this has happened for multiple years."
Nadig noted statements on Yik Yak regarding the intentions of the event and the accusations of criticisms being too politically correct. He responded with his own counterarguments on Facebook but was also concerned with the effects of using social media as a medium for having deeper conversations like those of race and mass incarceration.
"Eventually, discourses like this get lost to the rage machine," Nadig said. "After I posted that on Yik Yak, I posted what I thought was a really specific thing that was really addressing this one particular instance, but people kind of went to town on it and some people posted things like 'oh Greek life is completely racist and inherently evil.'"
But Nadig didn't blame members of the sorority entirely in this particular situation. Instead, he sees the way Greek life exists on campus as problematic. "I'm a firm believer that nobody in Kappa Kappa Gamma intended to offend anyone," Nadig said. "It's really more of the fact that the institution in and of itself is racially and economically selective."
Sam Hart contributed to reporting.