The Chicago Humanities Festival and the Poetry Foundation teamed up to present "James Franco and Frank Bidart, Off the Shelf" at the Thorne Auditorium in Northwestern's School of Law on Wednesday evening. The conversation between Franco and Bidart was moderated by Robert Polito, the president of the Poetry Foundation.
Franco, an Oscar-nominee hailed as a "modern-day Renaissance man," and Bidart, a Pulitzer Prize-nominated poet, read from their own poetry and each other's. Franco also showed his short film Herbert White, based on Bidart's 1973 poem of the same name. Attendees had to have already bought an advance copy of Directing Herbert White – the actor's poetry debut, due out in April – to interact with Franco at the book signing that followed the event.
Though the event was sold-out, as the evening wore on, it seemed as though people were walking out during every smattering of applause. In the audience, far from the stage, two young women left ruby-red lipstick kisses on the front pages of their copies of his book. There are two extremes of Franco, it seems. To some, he is pretty and predictable, a Hollywood heartthrob with pretensions to art. To others, he is a kind of modern permutation of the Renaissance man, acting and directing all while he enrolls in institution after institution of higher learning.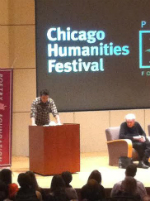 This characterization of Franco is nothing new. It is nothing new to Franco, either. He spoke of how "acting was the first thing that took off...but literature and the other parts of my life are very important to me." As he expanded his interests, he wanted people to treat him like a writer, not just an actor. So he separated the subject matter that he dealt with, until he realized that he actually had a unique perspective. "I didn't want to compare myself to my heroes ... but compared to my position, [they had] an outside [perspective on celebrity.]"
Franco began to write about what he knew and was interested in: Hollywood and adolescence. As for working with Bidart, Franco decided that he wanted to adapt Bidart's "Herbert White" after reading the work a few years ago. The poem is about a man who kills a woman and has sex with her corpse. But Franco was not interested in it for the morbid subject matter. Instead, he was more intrigued by the themes of secrecy and shame. "There were these other ... parts of the poem that almost had nothing to do with the murderer," Franco said.
Franco and Bidart eventually got dinner together. They ended up talking for 8 hours. Both recalled that their conversation ran so long the restaurant closed before they left. "I was so impressed that he ... was not only a fan of Milk, he was a fan of Pineapple Express," Franco joked.
One attendee, SESP junior Jenny Kwon, said that she was glad she had looked at some of the poetry before coming to the event, which allowed her to be more in-tune with some of the more subtle jokes Franco and Bidart made. However, not all of it resonated, particularly because Franco is, first and foremost, an actor. "I was disappointed by his reading [style]...he's very goofy," Kwon said.
Sophia Park, a Weinberg senior, said that she hadn't known that Franco was a poet until recently. But of what she's seen, she thought the poetry was honest and modern. Nevertheless, Franco's poetry is at the very least self-aware (one line in his poem "Film Festival" even says "You were so good in Freaks and Geeks…").
Thematically, Franco says that much of his work is "about celebrity, but it's also about Hollywood as a place that devours its young." Fitting, considering that the poem "Chateau Dreams" says this of a fictionalized Lindsay Lohan: "I read her a short story about a neglected daughter."