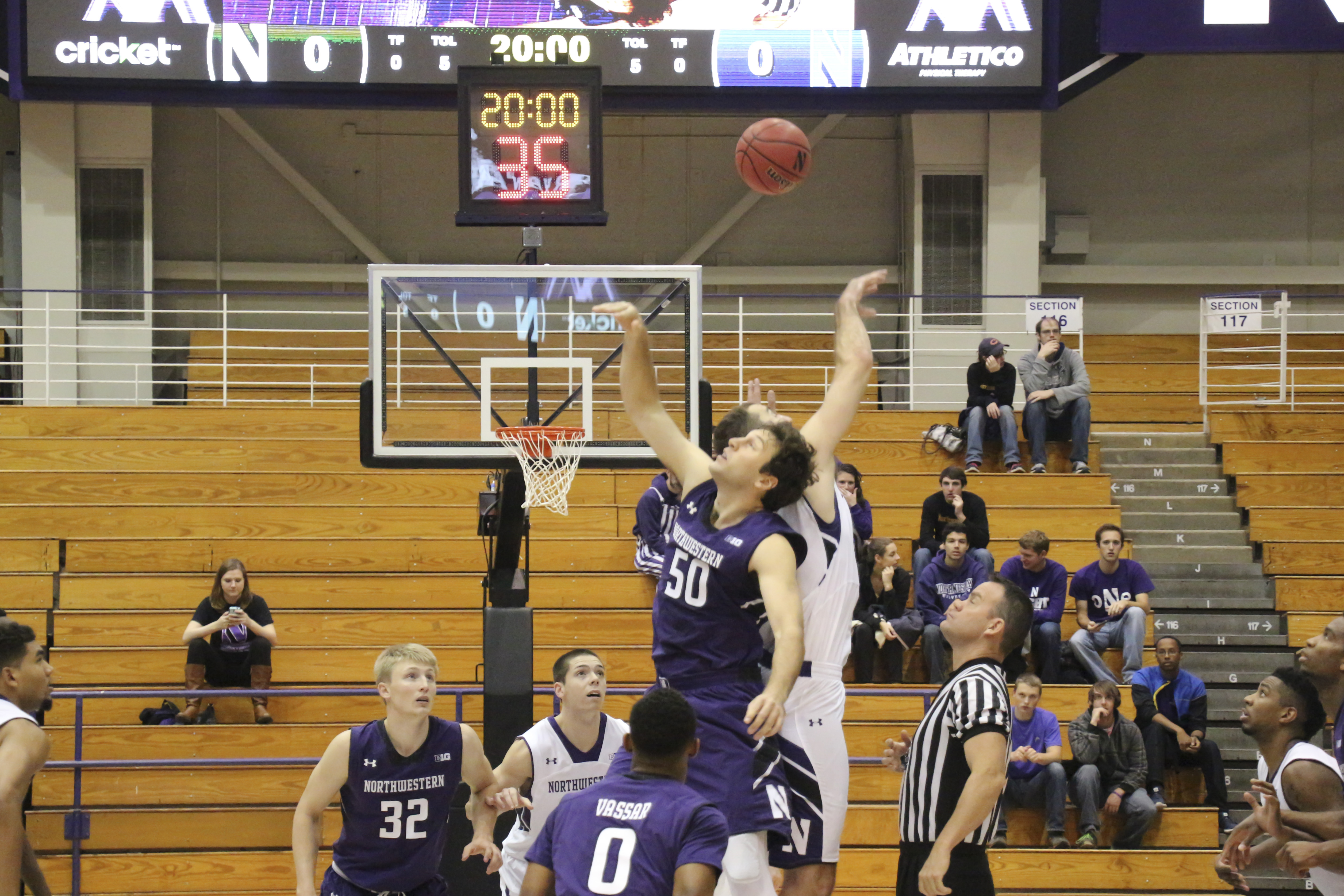 For a new face to Northwestern basketball, graduate student Jeremiah Kreisberg looked right at home in Welsh-Ryan before last Tuesday's practice. Whether it was playing around with the student managers or comparing Movember beards with a coach, the Yale University graduate blended in like he's been on the team for years. Kreisberg is a new face that seems to have meshed well into head coach Chris Collins' new program.
The 6-foot-10 center quietly joined the team this summer, almost lost in the shadow of the most touted recruiting class in Northwestern basketball history, after being convinced by Collins that he would contribute daily and help shape the future of Wildcat basketball. For a Yalie, Northwestern's academics were just the icing on the cake.
"Why Northwestern?" Kreisberg said. "Because of academics. Athletics. Opportunity. Like [we] only had one returning post player, so that's really a big way for me to contribute as a fifth year. A new opportunity. New coaching staff, players, everything."
More than anything, Kreisberg just wants an opportunity to play again.
After averaging 6.9 points and 4.2 rebounds per game for his first three years at Yale, Kreisberg suffered a season-ending injury that kept him off the court, but left him with an extra year of eligibility. During his time at Yale, he shot 49.8 percent from the field.
He has dealt with injuries the last two seasons, as his junior year was slowed by having back surgery in the summer of 2012.
Now feeling "stronger than ever," he used his time recovering to change reform his game and is now adopting this style to Collin's offense.
"I've always tried to be a diverse player on offense," Kreisberg said. "I've worked a lot on my outside shooting. But, we'll see what happens. Our offense is pretty wide open, it's great for the centers, [Alex Olah and I] can go inside, outside. There's a lot of freedom, hopefully that'll translate well."
As a five-year college basketball veteran, the only other major adjustment Kreisberg expects to make is adapting to the level of competition in the Big Ten. According to Kreisberg, it's the daily grind of playing extremely talented players; the difference between practicing against a six-foot-seven center at Yale compared to competing against the 7-foot, 270-pound Alex Olah every day.
Though he is not expected to play very many minutes in his final season of eligibility, he will be a valuable big man, able to spell Olah when he gets into foul trouble or into a funk.
Whether Kreisberg adjusts slowly or quickly, whether he scores 20 points-per-game or four, his plan to contribute is simple: do whatever he can.
"Right now that's mostly leadership in practice, giving things all every day," Kreisberg said. "When game starts, whatever my role is I'll do whatever I can to help."
Until then, Kreisberg is just enjoying being part of the new team. In Northwestern's exhibition game against McKendree University, Kreisberg scored six points and had three rebounds in 12 minutes.
"When you play five years of college basketball you see a lot of things … I'm a rookie but I'm a vet, so it's a little different," Kreisberg said. "I'm enjoying it a little more than I could've expected. Just, great group of guys, good coaching staff. It's fun again."