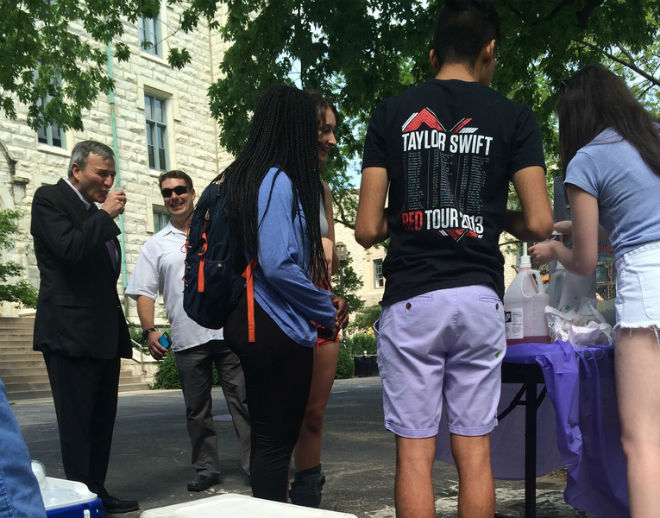 Standing in front of a Buffett Institute banner on the stage of the McCormick Foundation Center Forum, Karl Eikenberry opened his talk with a joke about the weather. Before the talk, he even had time to get a purple snow cone from a Wildcat Welcome pop-up at the Rock.
From the glowing accolades and introductions preceding the talk, some would have never known that Eikenberry, the former American ambassador to Afghanistan and retired Army lieutenant general, has been the subject of intense controversy following his appointment as the new executive director of the Buffett Institute.
Students and faculty were critical of Eikenberry's ability to lead the Buffett Institute, citing his lack of a Ph.D. and his ties to the military, as well as comments he made in 2014 about using the humanities as "soft-power" for foreign policy initiatives. After a tense Faculty Senate meeting debated his appointment and a long and contentious ASG meeting came to a stalemate on the issue, the University announced that Eikenberry would no longer assume his position at the Buffett Institute in fall 2016.
Even so, none of those issues came up until the Q&A portion, when McCormick junior Nick McCombe, a former ASG senator, asked Eikenberry point blank. "I recognize you have to be a little careful here," McCombe prefaced his question. "It seems like it's in your hand whether you want to come to Northwestern or not. What are your thoughts on Northwestern's campus and the opposition from faculty and students, whether on your views or qualifications?"
Eikenberry didn't comment on the search committee process which led to his appointment, which was also criticized for its lack of transparency. But he did address the concerns regarding his background.
"There was a second set of concerns expressed, that I was not qualified to be the executive director of the Buffett Institute," Eikenberry said, "and here I would say that some of the criticism that came public, they represent in my mind the very worst stereotyping of the United States Military that one could possibly engage in."
At this, the audience, which was largely made up of community members who had served or knew someone who had served in the military, gave Eikenberry a round of applause.
"The idea that someone as a result of military service is somehow antithetical to the arts and humanities, that someone who led military formations in combat, that this would disqualify a person to help students in their journey to learn more about arts and humanities and social sciences, to connect them to the world of global issues, I regret that I didn't, that it didn't come to pass," he continued. "That's the short answer. We could go on longer over a beer sometime," he joked with McCombe.
The majority of Eikenberry's talk didn't stray far from the title, "America and Its Military: Drifting Apart." He cited a Gallup opinion poll which found almost three-quarters of Americans say they "have a great deal" or "quite a lot" of confidence in the military as an institution – a greater share than those who trust the police, newspapers, church or Congress, which rounded out the bottom of the list.
Yet among millennials, only 3 percent of the generational cohort aged 18 to 33 are veterans, according to data from Pew Research Center. That's a steep decline from the Silent Generation between the ages of 69 and 84, of which 47 percent served in the military.
When another undergraduate student, who said he was 21 years old, asked Eikenberry how he would bridge the gap between millennials and the Armed Forces, Eikenberry flipped the question back, saying, "You'd be prime draft age if we did have the draft, but we don't. You're not going to serve, what would be some things you suggest we do to try to connect you and your generation to the volunteer force that's out there?"
The student responded that millennials' lack of military service isn't just laziness or a lack of investment. "I think a lot of people in my generation see wars in Iraq and Afghanistan as wars that people lied about and wars that don't have the same kind of moral necessity as [World War II] against Hitler did."
Eikenberry went on to say that increasing programs and incentives like the Reserve Officers' Training Corp (ROTC), a government program that offers scholarships in exchange for a period of service in the Army, could draw more of the millennial generation into service. He advocated starting more programs at elite schools, and started to praise Northwestern for its "robust" program, until members of the audience pointed out the program at the University is relatively small. Eikenberry admitted that even at Stanford, where he is currently a professor of practice, ROTC has failed to gain a foothold.
Eikenberry was also critical of the relationship between Congress and the executive branch of government, saying that even though Congress has the power to declare war, it does not provide enough of a check. He said most Congresspeople participate in "political theatre" when they go to visit places like Iraq or Afghanistan – taking photos with troops and ultimately not influencing important political decisions.
"I think one of the things that is particularly validating about his arguments is that he's very critical of a lot of the way in which military and civilian relations are unfolding, and he comes from impeccable political credentials," said Bruce Carruthers, the director of the Buffett Institute. "He obviously isn't going to be assuming a role at Northwestern, but it was a chance for a broader audience to appreciate what a smart guy he is."