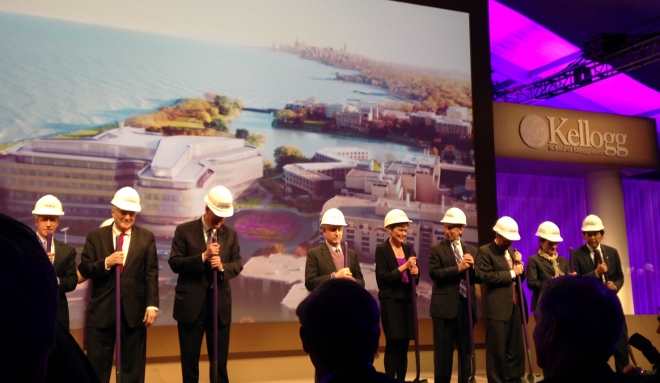 Dozens of Kellogg affiliates gathered Thursday afternoon to commemorate the groundbreaking of a new building and see renderings of the building's final design.
Kellogg's new home will overlook Lake Michigan and Northwestern University's campus with a large atrium in the center. It will be adjacent to the Allen Center, where many Kellogg classes are held, providing an easier commute for students between classes. Toronto firm KPMB Architects designed the building.
After spending a year surveying Kellogg students, Kellogg Dean Sally Blount discovered they were dissatisfied with their outdated learning facilities. She addressed this problem by including the completion of a new $350 million building in her plan to bring Kellogg to the top of global competition.
"It is not only beautiful, but unbelievably functional," said President Morton Schapiro.
Weinberg Dean Sarah Mangelsdorf said she hopes that the new building "will foster a close relationship between the two schools." The Department of Economics, which currently shares the Jacobs Center with Kellogg, will be following the business school into its new building.
After a set of speeches, several faculty members and donors were called up to the stage and given shovels to symbolically break ground on the construction site.
"We've truly created the new Kellogg," said Gordon Segal, chair of the Educational Properties Committee.