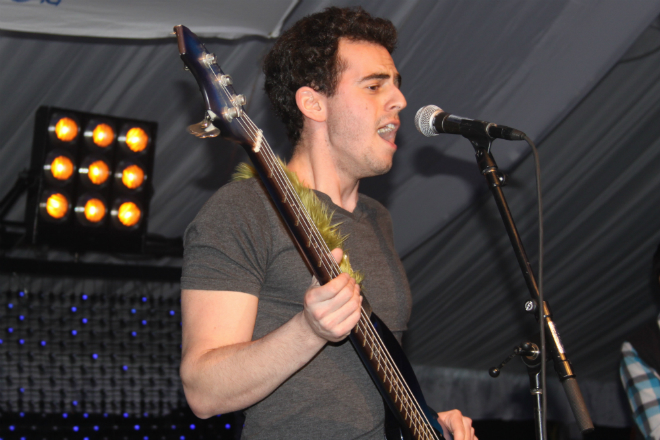 2014 DM Battle of the Bands winner King Cloud kicked off Block 8 with a mix of unique original songs and crowd pleasers, the latter satisfying this block's theme of "#tbt," or "throwback thursday." The laid-back vibes of King Cloud pervaded the rising sweat steam in the tent to set the mood for the final stretch of Dance Marathon.
"There's a Kings of Leon concert tonight, so we're glad you to chose to do this instead of that," lead singer and bassist Jordan Cohen said.
The set began with a faithful cover of Franz Ferdinand's "Take Me Out," followed by Oscar-winning Frozen hit "Let It Go" which spurred a crowd sing-a-long, much like the several times the song had already previously played during this Dance Marathon. While the covers were solid, the originals shone through with low-key grooves produced by Cohen, guitarist/keyboardist Patrick Leonard, drummer Carter Freeman and guitarist Mike Perri. "Bonnie" basically mirrored the progression of Dance Marathon, starting out with a bouncing, excited jam before slowing into a ballad, surely soothing to the deteriorating minds of dancers.
The band then performed two hip-hop covers, "No Diggity" by Blackstreet and "Roses" by Outkast, before closing with two original songs. Perri and Leonard launched into guitar solos and Cohen flaunted his vocal dexterity throughout the performance, as the final song ended in a frenzied instrumental eruption. All in all, the band showed serious musical flexibility switching between Drake ("Hold On, We're Going Home") and the instant classic "Let It Go" from Frozen.
Again, even though "Roses" garnered the first true excited crowd reaction of the set, the originals showed a very creative side of the student band that help put them in the league of past Battle of the Bands alternative rock groups Jet Jaguar and Nebula, from 2012 and 2013 respectively.
Considering three out of four members of the relatively young King Cloud are seniors (Cohen being the lone junior), this Dance Marathon performance will surely provide a lasting moment in the career of the band.