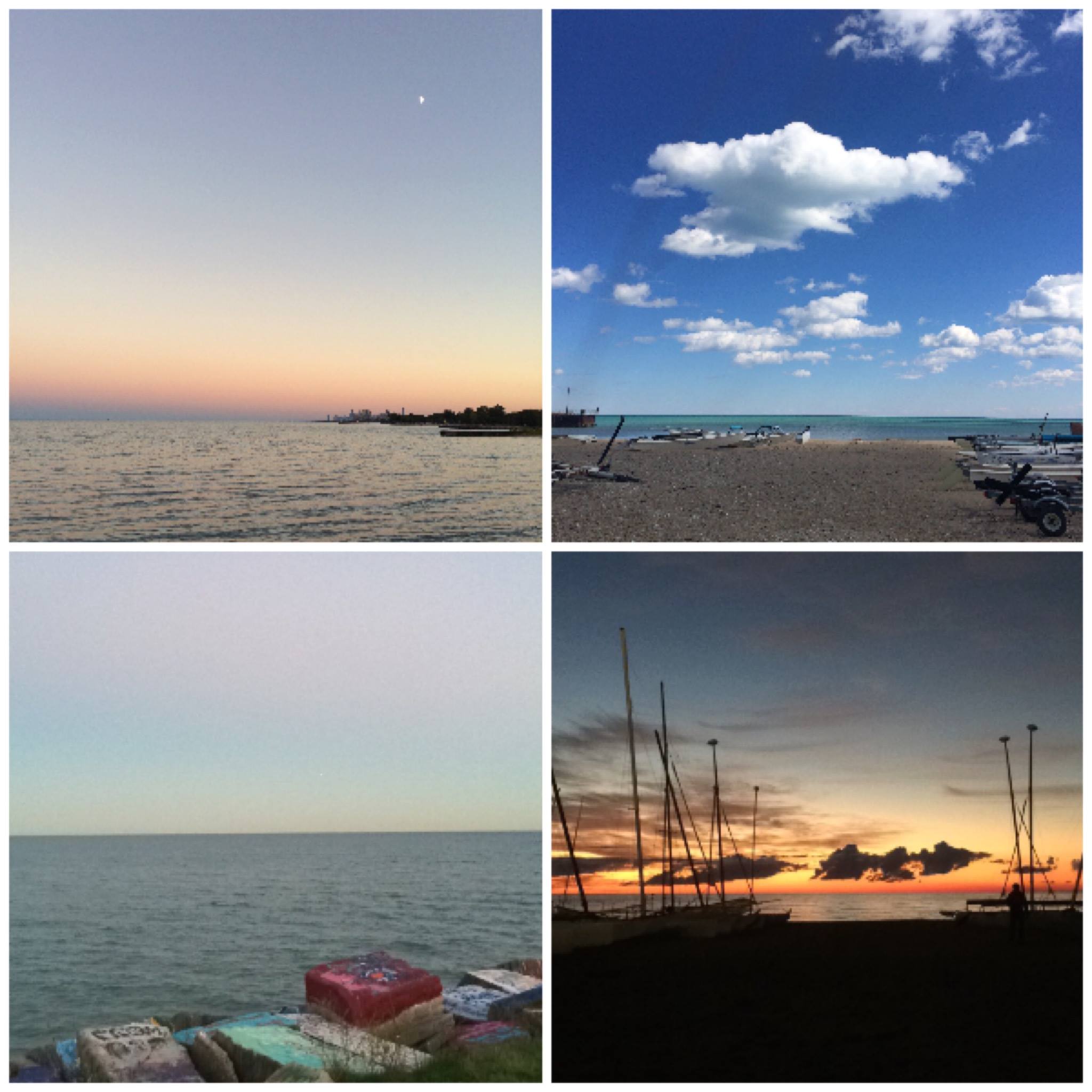 Day by day, it stays the same.
Moment by moment, it changes all the time.
Lake Michigan, as large as an ocean, stretches its arms long from Chicago to Evanston and further, welcoming visitors and walkers.
I've heard of how large this lake is even before I came to Northwestern University. I remember hearing the name of the lake and thinking to myself, "Why is it called Lake 'Michigan'?" When I visited Chicago for the first time during last year's Wildcat Days, I saw how wide and placid it was for the first time, as my mom drove me from Chicago to Evanston. We drove past people running alongside the sparkling blue water. Although it was an exceptionally cloudy and cold day for April, I was fascinated just looking at the lake.
One of my first and most mesmerizing impression of the lake was set during 6 a.m., sometime early in fall quarter. I forget why I was there out so early – or so late – but on the way back to my dorm, I saw the sun coloring the sky with glaring, powerful red. The top of the sky retained its black-blue darkness, but the sun seemed to slowly and gradually eat up, almost devour up, that darkness from the horizon. The water shimmered in silence, quietly reflecting the brightness. The silhouette of the boats on the sand seemed to glow too. Even though I was exhausted, I attempted to capture a glimpse of that moment with my iPhone camera.
I've been there at sunset, daytime, midnight and even sunrise. Living in 1835 Hinman, probably the closest residential hall to the shore, the lake inevitably became part of my daily view whenever I went back to my dorm. Every day during daytime, the clear blue sky blurred into the equally clear blue lake. The horizon simply became invisible. Even on a stressful day, the scenery cleared out my mind for a second.
The one time I watched sunset at the Lakefill was also memorable. The Lakefill is everyone's favorite place to go to when the weather actually (and rarely) becomes nice. On a sunny day, Snapstories overflow with people lying under the sun, and Facebook fills with people changing their profile photos to an aesthetic one with the lake, including myself. The few times I have been there, the lake was crowded, but people kept their distances from each other, creating an overall relaxing and chill atmosphere. Many people wore dresses and colorful summery apparels, even swimsuits, making the already vibrant place even more vivid. As I watched the sunset amid such atmosphere, the sky changed little by little from baby blue to baby pink – the kind of color that cotton candy or bubble gum would have. The brightness began to fade away, and calmness blanketed the space.
The lakeside, where people usually work out, means a lot to me as well, as the place I got my first interview for my journalism class. After series of rejections for interview requests on Chicago Avenue, sometimes more polite and sometimes more rude, I was a discouraged mess. I moved to the lakeside, dejected and skeptical as to whether I could really do this. When I spotted a friendly-looking man with white hair, I awkwardly walked up to him and asked if he had the time to do an interview. Surprisingly, he said yes, sure. He happened to be a very talkative interviewee, which made it a lot easier for me to write my story. Although it may have been a trivial moment, it was a turning point in my attitude and self-confidence.
The lake is a meaningful spot for me. It has been a consistent place for me to turn to when I'm stressed, and it has been an ever changing place for me to explore its many sides. It is the place I ran to and took photos of even at zero degrees Fahrenheit, until my phone died due to the coldness. It is the place I started dating. It is the place my roommate and I talked about taking each other's profile photo if we become too embarrassed to ask anyone else. Soon enough, Dillo Day will take place there, and who knows what memories that will create? For me, Lake Michigan is discreetly but definitely the core of my Northwestern experience.