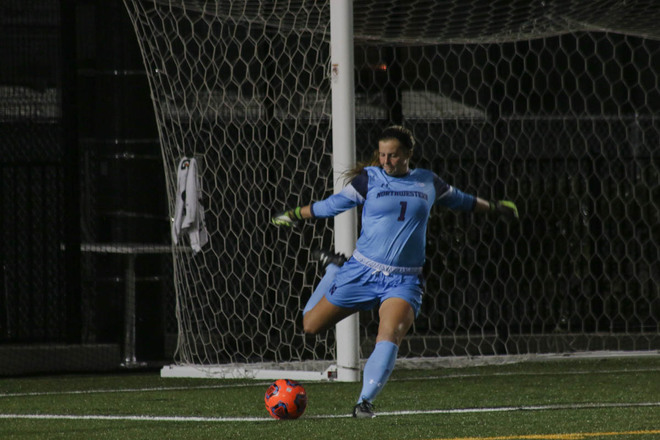 Of the 166 shots that have come flying toward junior goalkeeper Lauren Clem this season, only five balls have actually made their way into the back of the net.
Let's break that down: No. 25 Northwestern (13-1-2, 6-1-2 B1G) has played 16 games, but allowed just five goals. On top of that, in 12 of those 16 games, Clem has kept a clean sheet, matching the 12 shutouts she forced in her sophomore season - and there are still two regular season games left.
Clem leads the country with her 0.30 goals against average and boasts the second-highest save percentage in the country at .925. She also leads the Big Ten in shutouts.
Name a save, and Clem can make it.
"She makes a lot of things look easy, especially high shots, things like that, crosses that a lot of goalkeepers seem to have a hard time with," head coach Michael Moynihan said. "She just reads them very well."
Moynihan attributed Clem's success in the goal to her general athleticism. In high school, Clem was all-state in volleyball, basketball and soccer. As a three-sport varsity athlete, Moynihan said that she gained "experience in different types of situations." It's obvious that whatever that experience was, it set her up for success.
While Clem's goals against average and save percentage stats are among the best in the country, there are two goalkeeper metrics where she doesn't rank as high: saves and saves per game. The reason for this? NU's defense is the anchor of the team and prevents competitors from getting many shots off in the first place.
Last year, the 'Cats established themselves as a team with a strong defensive identity, and it propelled them to their first NCAA Tournament appearance in 17 years. That defense has only gotten better this year, as junior outside backs Kassidy Gorman and Nikia Smith, along with sophomore center backs Kayla Sharples and Hannah Davidson bolster a strong unit.
This defensive core has been playing together for almost two years now, and the trust and understanding between the defenders is the key to NU's dominance.
"Last year we found a groove, we stuck with it and we communicate a lot," Clem said. "If we ever have any problems we try to sit down and talk it over and get back to it. We definitely want to be a force in the back and I think a lot of teams are intimidated by us, and that's a good way to go out every game - to know that other teams are worried about how they're going to score on us."
Clem credits her defensive teammates for stopping most plays before they even reach the goal. She said she thinks of herself simply as the safety net in the backfield, always on guard for the moments other teams find their way past the defense, but trusting in the players in front of her at the same time.
"Anything that does slip through I'm there to clean it up," Clem said. "It just keeps me focused the whole game. I know I have their back and they have mine."
It's easy to see Clem's prowess through her stats and accolades. She's received three Big Ten Defensive Player of the Week awards and is the closest thing the Big Ten has to a brick wall in goal. However, Moynihan argues that Clem's greatest asset to the team is her demeanor. Clem is the player that other teammates turn to for motivation and reassurance. She's not only composed in the net, but composed in interactions with her teammates.
"The biggest thing is that in the heat of these games, she just remains very calm," Moynihan said. "She'll be stern at times when she needs to be, and get things organized. There's a lot of times where we'll make a mistake and she's a very calming influence."
Clem and the 'Cats will look to end their season on a high note, vying for a Big Ten title and ultimately building up for another NCAA Tournament run. NU has never made it past the third round of the NCAA Tournament, but with a star keeper and an impenetrable backline, the Wildcats are going to be a tough team to beat this fall.