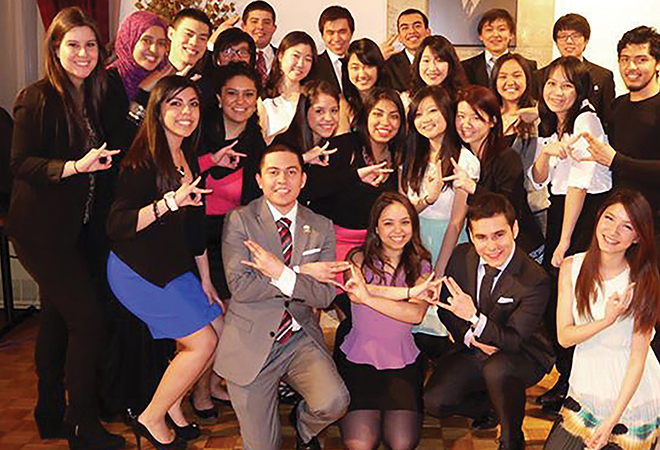 Size matters.
Out of the 2,766 students in fraternities and sororities at Northwestern, 96 percent belong to a chapter in the Interfraternity Council (IFC) or Panhellenic Association (PHA), according to the Office of Fraternity and Sorority Life. The remaining four percent make up Northwestern's multicultural Greek life.
The average PHA chapter size is 121 members, and 75 for IFC. The average size of a Multicultural Greek Council (MGC) chapter is about 13, and for the National Panhellenic Council, Inc. (NPHC) it's seven.
Before coming to Northwestern, Weinberg senior John Castellanos described himself as "anti-Greek" and considered fraternity life to be nonessential to the college experience. However, during his freshman year he began to miss his high school friends, realizing he lacked those relationships at Northwestern.Then he met the brothers of Omega Delta Phi Fraternity, Inc.
Castellanos joined Omega Delta Phi, Inc. in May 2012 and between January 2013 and 2014, served as president of MGC. For Castellanos, his chapter's size of 11 has had a huge impact on the relationships he made with his brothers.
"You learn everything about each other," Castellanos says. "They become your closest group of friends and they become your real brothers."
MGC adds four new chapters
Once made up of four sororities and one fraternity, MGC has added four new fraternities to its council in the last two years: Sigma Lambda Beta, Alpha Iota Omicron, Pi Alpha Phi and Lambda Upsilon Lambda Fraternity, Inc. Two of the four, Sigma Lambda Beta and Lambda Upsilon Lambda Fraternity, Inc., have reached active member status.
Active membership, the third and final status after interest group and associate, takes one to three years to achieve. The first step in adding a new chapter is finding a group committed to starting the organization. With support from its national organization, the group presents to the Northwestern advisory board. If the group can then gain a unanimous approval vote from the MGC executive board and a representative from each existing chapter, it can begin the interest group process. SESP junior Juan Cabrera got the idea to bring Sigma Lambda Beta, a historically Latino based international fraternity, to Northwestern two years ago with seven other students.
"We thought the eight of us could create a new outlet for incoming and current students, and potentially reconnect with current organizations on campus," says Cabrera, now the president of Sigma Lambda Beta.
For Weinberg junior Alan Ge, creating Pi Alpha Phi, a historically Asian-American interest fraternity with 14 members in its Northwestern chapter, was an opportunity to bring a new niche to campus.
"Achieving active membership hasn't been a huge focus for us because we have been trying to build a foundation for ourselves before we do anything bigger," Ge says.
NPHC members for life
Like Castellanos, Weinberg senior Leah Jones had no intention of joining a sorority as a freshman. But after spending time on campus, Leah had a change of heart.
Leah's mom, cousin, aunt and grandmother were members of Delta Sigma Theta, making her a legacy, but ultimately that wasn't what inspired her to join an NPHC chapter. NPHC is a historically African-American organization that, at the national level, was established in response to disenfranchisement and deep segregation in the 1930s.
"I got to campus and really felt that as a black woman, campus life is very segregated," Leah says. "I did not think it was going to be like that at all."
Leah isn't the only one to note racial segregation at Northwestern. SESP senior Tony Jones, a member of Alpha Phi Alpha, noticed it too, but "was not surprised."
Tony says segregation is specifically evident among the various Greek councils and because of this, one of his chapter's primary goals has been to collaborate with PHA and IFC more often.
"There is definitely a division and I'm not sure why," he says. "I have not been a part of my fraternity long enough to see how the dynamics of the relationships have been in the past, but I guess it's because this school is still pretty segregated."
For McCormick senior Savannah Enders, family legacy in a specific chapter played a major role in the decision to join.
"Coming into college I didn't know exactly how I wanted to be involved, but my mom and my grandma and my aunts were all a part of this sorority so if I was going to join one it was going to be [Alpha Kappa Alpha]."
Tony, however, is the first in his family to go Greek.
"I didn't have many family members that attended college," Tony says. "I'm trying to set the standard for my kids and grandkids, of going to college and pursuing your dream. Hopefully my son, my grandson will want to be Alpha men as well."
Tony adds that it would be OK if his future children joined a chapter besides Alpha Kappa Alpha, because "at the end of the day," he says, "all the NPHC fraternities are a brotherhood."
Editor's note: The print version of this story includes SESP sophomore Malik Dent. Dent has been removed from this version.