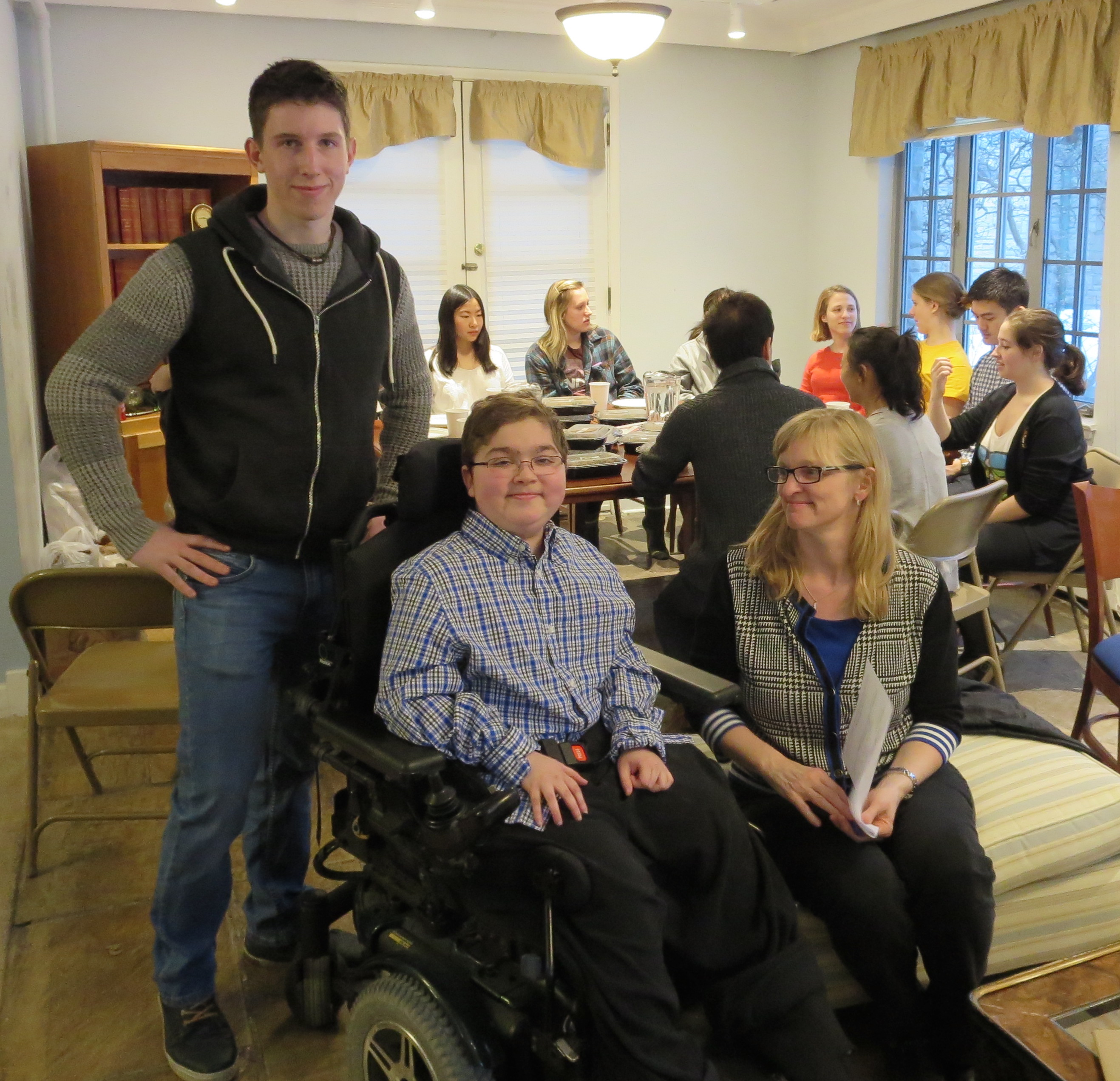 Adam, 17, was diagnosed with Duchenne Muscular Dystrophy at age three and a half. One of this year's Evanston NUDM Hero Kids, Adam and his family, were paired with team Chi Omega and Lambda Chi. While his condition had an impact on him and his family, it by no means has stopped them from reaching their goals.
When Adam was diagnosed, his mom, Karin, had one year of law school left.
"So, I had to get through my last year of law school, study for the BAR, pass the BAR and deal with my son's diagnosis of Duchenne Muscular dystrophy," she said. "But he is really sort of my hero because he has gone through so much and he just does it."
In the months leading up to Dance Marathon, the NUDM Hero Program aims to connect Northwestern with the children from the Starlight community and give the organization a face.
Each DM team has one to two Hero Families, though some teams share families depending on how often each family can participate. This year, the program has a total of 36 families involved from the Chicagoland area and three of those families are right here in Evanston.
For Weinberg senior Olivia Foster-Gimbel, the Chi O and Lambda Chi team co-leader, getting to know Adam is what really matters. She said she was relieved to find out that Adam was a 17-year-old.
"It is nice to be able to talk to someone who is closer to our age of reference and to see how this is impacting his young adult life," she said.
Now a junior at Evanston Township High School, Adam finds himself spending a lot of time studying for classes like AP Physics.
"School is pretty difficult but I work pretty hard and I don't really have a weekend at all, I just do homework every day," he said.
When he isn't in class or studying at home, Adam participates in school clubs like classic movie club and sci-fi movie club. His favorites include the Marvel movies and "any action movie with something funny in it."
In his free time, Adam enjoys video games and baking pies. Plus, he loves Thai food; his favorite dish is pad see ew.
"I make pie a lot," he said. "I get the dough from the store but I get peaches from the farmers' markets and apples from the orchard so it tastes much better."
Adam went to NUDM's Top Chef Competition and although he wasn't feeling well he tried some of the dishes and said they "tasted really good."
Adam wants to attend either the University of Illinois Urbana-Champaign where he would be able to stay in Nugent hall, a dorm that accommodates students with disabilities and allows them to get the personalized care they need, or Northwestern where he could live at home and commute. He hopes to study engineering and possibly food science.
With DM just a week away, Adam has really no preference about what songs are played but hopes the DJs play something that "will get the students rowdy."


"Maybe 'Let It Rock' by Kevin Rudolf or you could play maybe 'Let's Get It Started' by Black Eyed Peas or something," he suggested.
But when it comes to music he hopes the DJs never play, his feelings are strong.
"No Miley Cyrus," he said, "or any very very irritating songs like 'Friday.'"
Adam said he's pumped to see how much money is raised this year and guesses that it will be somewhere around the $1,385,273 that was raised last year.
Karin will also be at DM and said she has had a wonderful experience with both the Starlight foundation and NUDM.
"I'm very excited," she said. "I just think seeing all of these students dancing, it is such a big thing and you get wrapped up in all the excitement and the music and the dancing and I am sure I'm gonna be crying like a baby and making a fool of myself."
With her kids by her side, Karin said that they were her inspiration when she was finishing up law school and are still her inspiration to this day.
"They were just amazing kids," she said. "Even when I was studying, I would go to law school two or three days a week and I'd send them to daycare and I just studied on the El and it was always my kids who would say 'good luck Mommy.' I just wanted to give both of them all the opportunities I could and I didn't want the diagnosis to hold either of them back."
Karin's biggest piece of advice to other families who are dealing with long term medical challenges is to "make the most of every day."
"It may sound like the biggest cliché," she said, "but you really don't know what is going to happen and it may not have to do with a child who has a disability but just make the most of what you have. I tell my children I love them like 20 times a day just so there is no doubt."