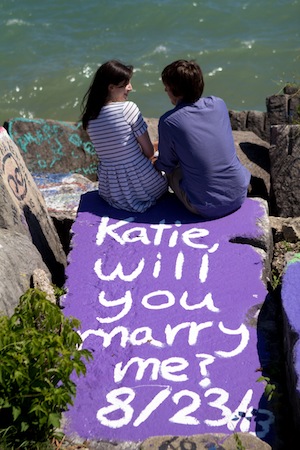 From watching the sunrise over Lake Michigan to painting rocks before graduation, the Lakefill plays host to many Northwestern memories. But for some Wildcats, the Lakefill is even more sacred: It's the site of their marriage proposal.
Katie Wells, who expects to graduate this March, had no idea that the Lakefill would be so important when she took a walk around campus with her boyfriend Keegan Dunn (McCormick '13) this past summer. As they strolled along the Lakefill rocks, Wells realized she never got a chance to paint a rock before graduating. This gave Dunn the perfect opportunity to take her to a rock he had pre-painted and pop the question.
"We had talked about [marriage] but I wasn't expecting it anytime soon," Wells says.
Dunn planned the proposal by painting "Will you marry me?" on a rock beforehand, and Wells painted on the date after accepting the proposal. Dunn says he thought about proposing for a couple of months before settling on the Lakefill because it's a "Northwestern tradition."
Dunn even arranged for a friend to take photos. The weather was on his side, too.
"It just happened to be a really, really nice day," Wells says. "The sky was really clear and you could see the city really well. It was great."
Even without a painted rock, the Lakefill is still a perfect proposal spot for many couples. Margaret Kaliski (WCAS '92) said "yes" to her now-husband there in 1990.
"The skyline of Chicago is absolutely beautiful," Kaliski says. "Having that in the backdrop was just lovely."
Since that day 23 years ago, Kaliski has returned to campus a few times because her daughter, Paige, is now a student. Kaliski says she has been to the Lakefill on these visits, and she has noticed that the rocks are used a lot more now than they were while she studied here.
"They were painted [when I was here], but I think you guys are a lot more creative now," Kaliski says.
With more than 150 uniquely painted rocks dating back to 1970, the Lakefill caught the eye of local freelance multimedia journalist Brian Cox. He published a book in 2009, Imprinted on This Rock Forever in Love, which is updated annually. Cox has seen a number of proposal rocks and talked to many who have painted them.
"One of the things I kept seeing over and over was this theme of love for each other," Cox says.
The marriage-themed rocks vary from a simple, "Will you marry me"? to designs that include dates of the proposals and subsequent marriages.
While the Lakefill's location makes for an idyllic proposal site, Dunn had other motives as well. Because Wells will spend the next few months in the Evanston area while he works in Seattle, Dunn wanted Wells to have something at Northwestern to remind her of him.
"I thought it'd be fun to have the rock there so she could go look at it while I'm away," Dunn says.
A painted proposal on the rocks endures as a physical testament to lifelong commitment.
"I think the people who did the rocks deserve a lot of credit," Cox says. "They didn't just go up here and do it in a messy way. It's a testament to the power of love."